EDIT: The search feature sucks, so if you're looking for some of my other threads here they are
Front Bumper Specs
Projector Build Thread
V-LEDS Dome Lights
OTRATTW Switches
PRO-4X 5 Switch Cluster
Brake MC Brace
TNX Build
New Rigid LEDs
Headlights w/Keyless Entry
Round 3 Projector Build Thread
x_mods Bumpers and Sliders
2WD to 4WD Conversion (Complete)

JeniorNV's thread to end all threads: Suspension Lift Info 05+


How she sits today: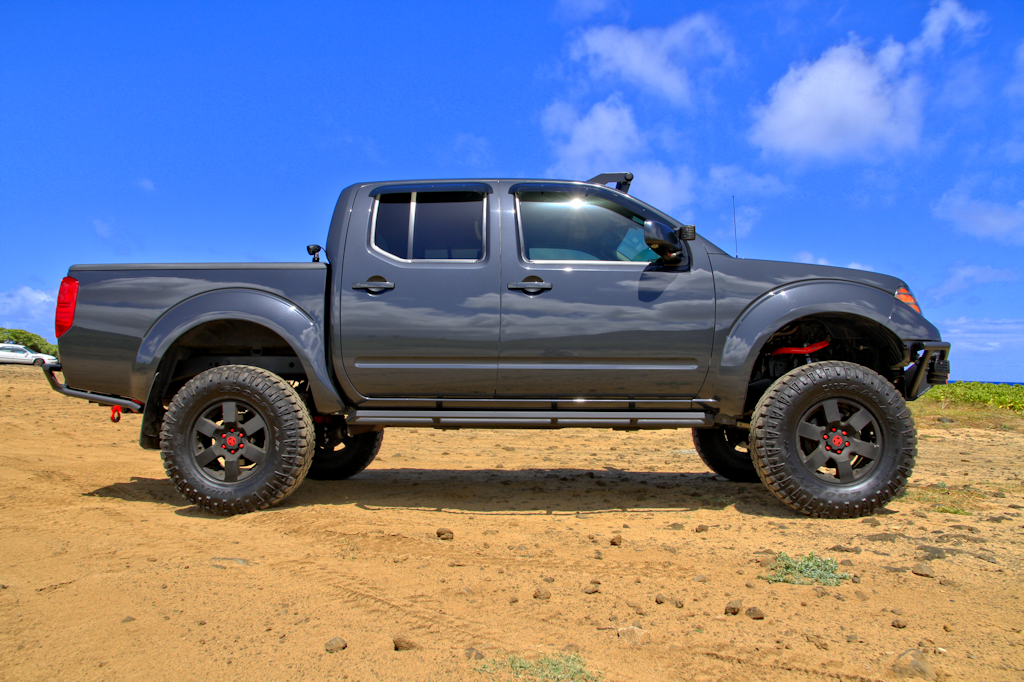 DISCLAIMER:
I'm not sure how my truck got this way, but I know it cost way too much...
I strongly urge anyone who is about to look at this thread to hide your wallets first. You'll thank me later.



Location:

Hawaii


Name:

Nathaniel (Nate)


Username:

x_mods


Vehicle Name:

Andromeda, Rommie for short


Year:

2010


Make:

Nissan


Model:

Frontier CC


Trim:

PRO-4X 2WD (Now 4WD)


Color:

Night Armor


Packages:

Power Leather, Rockford Fosgate, iPod Interface


History:

Other than the packages, she was as bare as a
PRO-4X can be.. I have done all of the work listed below myself with the exception
of mounting and balancing the tires, because of the Aluminum rims.
January 2012 ToTM
2012 ToTY


\/ Mods \/



Interior:


-Black & Orange Wet Okole Seat Covers
-Wheelskins Charcoal Steering Wheel Cover
-DashMat Charcoal Dash Cover
-Black WeatherTech Floor Liners
-BlendMount for Bully Dog GT
-Autometer Phantom II Vacuum Gauge
-V-LEDs Dome Lights/Map Lights
-PRO-4X 5 Switch Cluster
-5 OTRATTW Illuminated Rocker Switches
-Stinger Voltmeter



Exterior:


-OEM Rain Guards
-OEM Trailer Hitch
-OEM Trailer Wiring (4-pin)
-8 OEM Tie Down Cleats
-Smittybilt Hitch Shackle
-Masterlock Hitch Lock (blue)
-Bak Industries BakFlip G2
-Red LED Turn Signal Arrows in Mirrors
-EZDown Tail Gate Shock
-Bosch Icon Wipers
-De-badged
-Full Ceramic Window Tint to ALL Glass
-Orange Digital Camo Tailgate
-808UpFront Custom Front Burger (

Orange

)
-808UpFront Custom Rear Burger
-Custom Retrofit Tacoma Bakrack Rails
-x_mods Custom 1/3 Bed Rack
-x_mods Custom NMO Antenna Mount
-x_mods Custom Fender Liner Trim



Lighting:


FX-R's are out, TL's are in!
-x_mods Custom TRS Acura TL 3" Bi-X CL Projectors
-x_mods & 808UpFront Collaboration Custom Molded Vacuum Formed Shrouds w/Custom Trim Rings (

Orange

)
-Morimoto 5Five 55w Blasts
-Philips D2S 85122+ Bulbs
-x_mods Custom Rigid Roof Mount
-Rigid SRCW 40" light bar (Roof)
-Rigid SRCW 20" light bar (Front Bumper)
-Rigid Dually Hyperspot Pair (Inside Front Bumper)
-Rigid Dually Hyperspot Pair (Front Bumper) (

Orange

)
-Rigid Dually Hyperspot Pair (Front Bumper) (

Orange

)
-Rigid 10" SR2 Diffused (Rear Bumper, Dimmed)
-Rigid Dually Diffused Flood Pair (Bedside, Dimmed)
-Heretic Studios Cube Lites Pair (Mirrors, Dimmed)
-x_mods Custom Under Rail LED Strips
-LED 3rd Brake Light
-JLC LED Reverse Lights
-x_mods Custom V-LEDs Under Hood Lighting
-x_mods Custom V-LEDs Footwell Lights
-x_mods Custom V-LEDs LED Courtesy Lights in Mirrors
-x_mods Complete Custom Light Wiring (7 Switches, 15 Fuses, 18 Relays)
-x_mods Custom Relay Tray



Drivetrain:


-Radiator Cooler Bypass
-Filter Mag Transmission Magnet & Rear Differential Magnet
-2014 OEM 4WD RE5R05A Transmission w/Torque converter
-2014 OEM Transfercase
-2014 OEM Front Driveshaft
-2014 OEM Rear Driveshaft
-2012 OEM R180 Front Differential
-Lokka R180 Front Diff Locker
-PRG Poly Transmission Mount
-Nisstec TS Extended R180 CV Shafts



Suspension & Tires:


-Radflo 2.5 Non-Resi TS EXT (full custom valving)
-Bilstein 5125
-PRG 1" Top Plate Spacer w/Extended Radflo Studs
-Moog Titan LCA (

Orange

)
-PRG TS Adjustable Upper Control Arms (

Orange

)
-Retrofit Tacoma All-Pro AAL
-PRG Adjustable Shackles (

Orange

)
-PRG 1.5" Rear Lift Blocks (

Orange

)
-PRG SS Front Brake Lines
-4x4parts SS Rear Brake Lines
-Sway Bar Delete
-PRO-4X 16" Wheels (PlastiDipped)
-285/75R16 Hankook Dynapro MT
-High Polish .44 Magnum Valve Stem Caps
-2.5" Rear Wheel Spacers (to match the TS)
-4x4parts Poly Leaf Spring/Sway Bar Bushings
-808UpFront Custom Wheel Badges (

Orange

)
-Painted Spline Lug Nuts (

Orange

)



Armor:


-SHROCKWORKS C200 Skid Plate (

Orange

)
-Painted Factory Tin Foil Skids (

Orange

)
-x_mods Custom Tube Front Bumper
-x_mods Custom Tube Rear Bumper
-x_mods Custom Dual Front Recovery Points
-x_mods Custom Sliders



Performance:


-Injen Power Flow Cold Air Intake (

Orange

)
-Intake Manifold Spacer (

Orange

)
-Painted Valve Covers (

Orange

)
-Bully Dog Triple Dog GT
-Odyssey 34R-PC1500T Battery
-Variable Charge System Bypass (Constant +14.1V)
-VAIS Bypass
-K&N Oil Filter
-Dual Filter Mag Oil Filter Magnet
-Royal Purple MAX ATF/5W-30/Gear Oil/Purple Ice
-350z OEM T-stat
-Stillen Light Weight Under Drive Pulley
-Dynomax Cat Back (Black)
-Dynomax VT Muffler (Black)
-x_mods Custom Exhaust Dump
-Custom Saikou Michi Oil Catch Can (

Orange

)
-x_mods Custom Oil Catch Can Mount
-Clutch Fan Delete
-Dual 12" E-Fans
-x_mods Custom Dual E-Fan Shroud



Audio:


-Pioneer AVH-P3200DVD Head Unit
-Pioneer ND-BC4 Back-up Camera
-Alpine PDX-V9 Amplifier
-4x Polk Audio db5251 Component Speakers
-New Model Alpine R10
-SO Ported Box
-Rockford Fosgate Wiring
-x_mods Custom MDF Speaker Adapter Plates
-Baofeng BF-9500 Mobile 440 Transceiver
-x_mods Custom Mobile Radio Console Mount



Gear and Other:


-JetBeam BC10 (808UpFront Custom Engraved)
-Pelican Case w/2x Surefire G2
-Pelican First Aid Case
-Pelican Survival Case
-Fenix HL21 Headlamp
-Pelican 2745 Headlamp
-Pelican 2755 Headlamp
-Hotech True 5mw Astronomy Green Laser w/Red Light
-First Aid Kit
-Signal Mirror
-Leatherman
-Other Random Survival Stuff
-Fire Extinguisher
-Hatchet
-4AWG 17ft. Jumpers
-20' Hook Tow Strap
-20' Loop Tow Strap
-3x Smittybilt U.F.O. L.E.D. Safety Lights
-1 Gallon Folding Gas Can
-1 Can Fix-a-Flat
-Wrenches
-Clothes



In Progress:


Uh, 6-Speed swap??? I dunno I'm out of stuff to do...



Future:


-It Never Stops

-808UpFront Custom Steering Wheel Badge
-LT Headers
-B Pipes
-Rear Locker
-Illuminated Steering Wheel Controls
-Pathfinder Window Controls
-Oil Pressure Gauge
-Oil Temp Gauge
-Trans Temp Gauge
-m226 Swap (if I can find one cheap enough)
-More LED's

Day 1: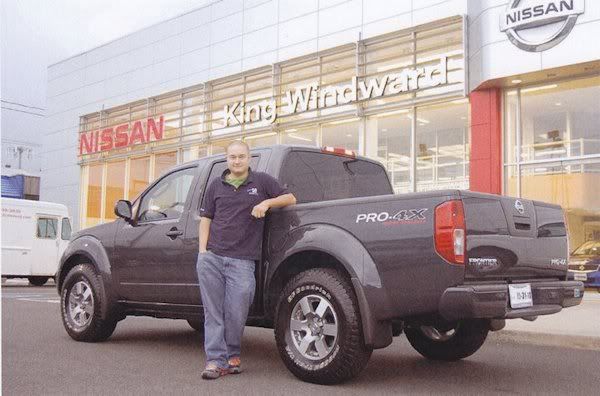 Wiring the Mirrors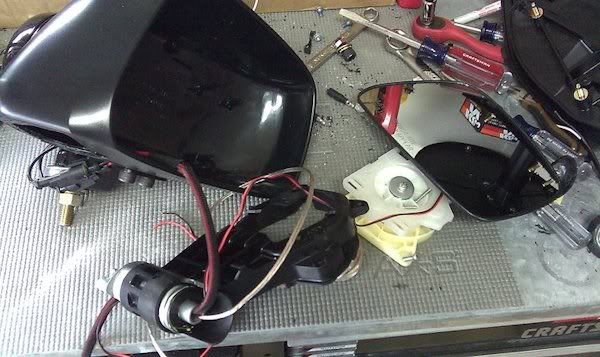 Tailgate Wrap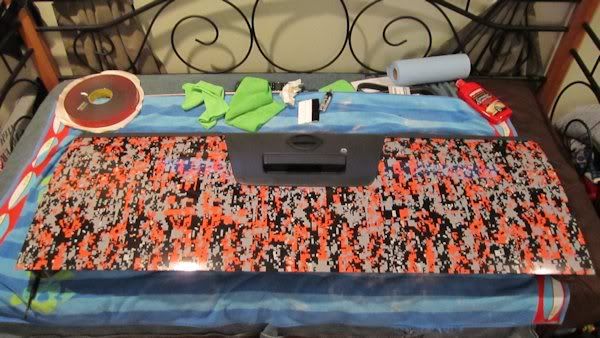 PRG Shackles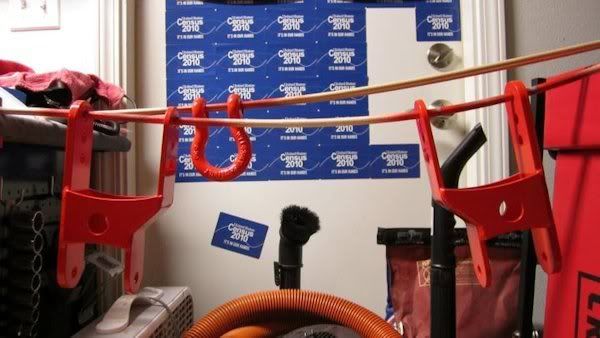 Spindles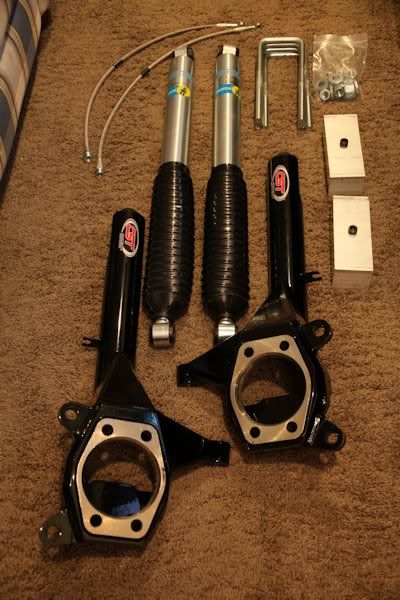 Rear Diff Filtermag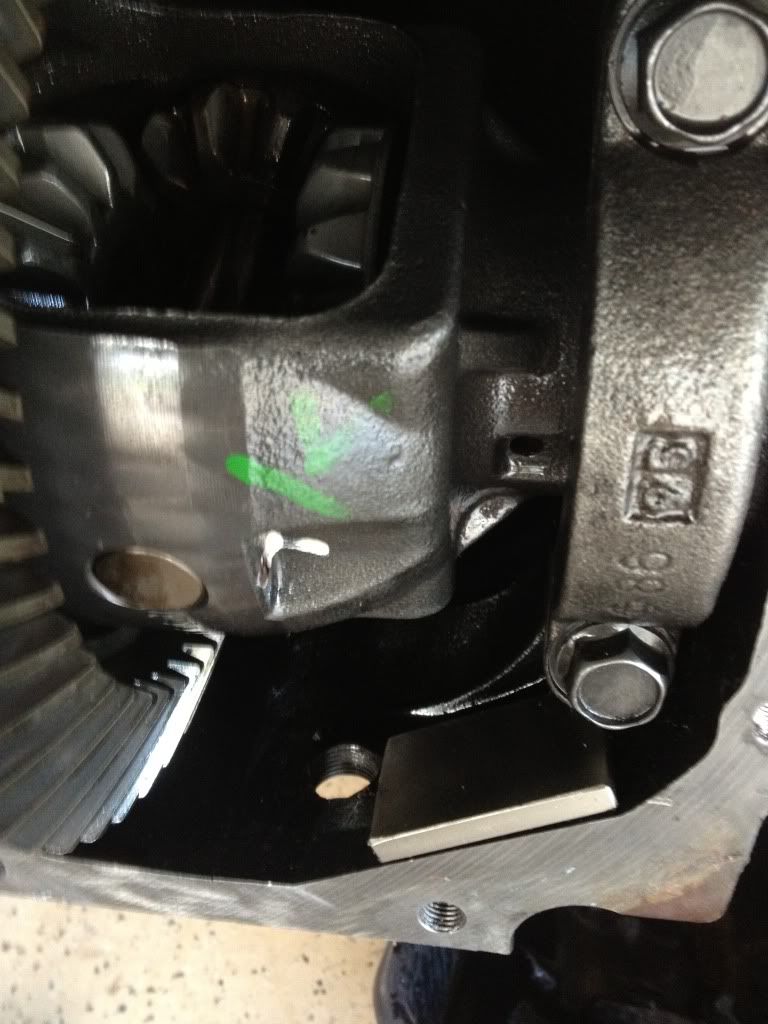 V-LEDs Dome/Map Lights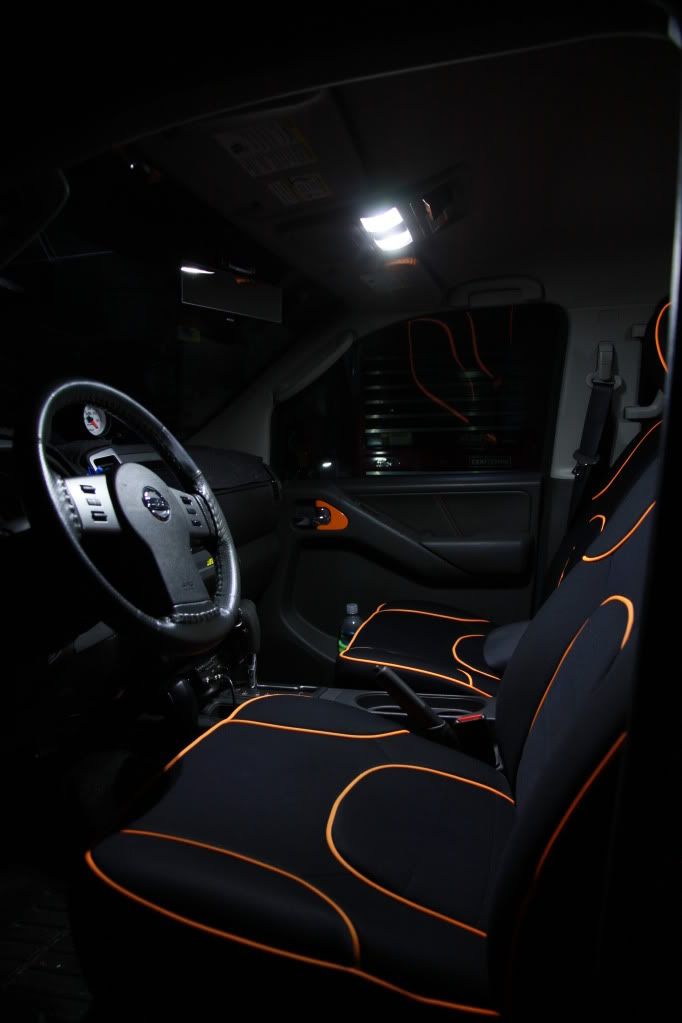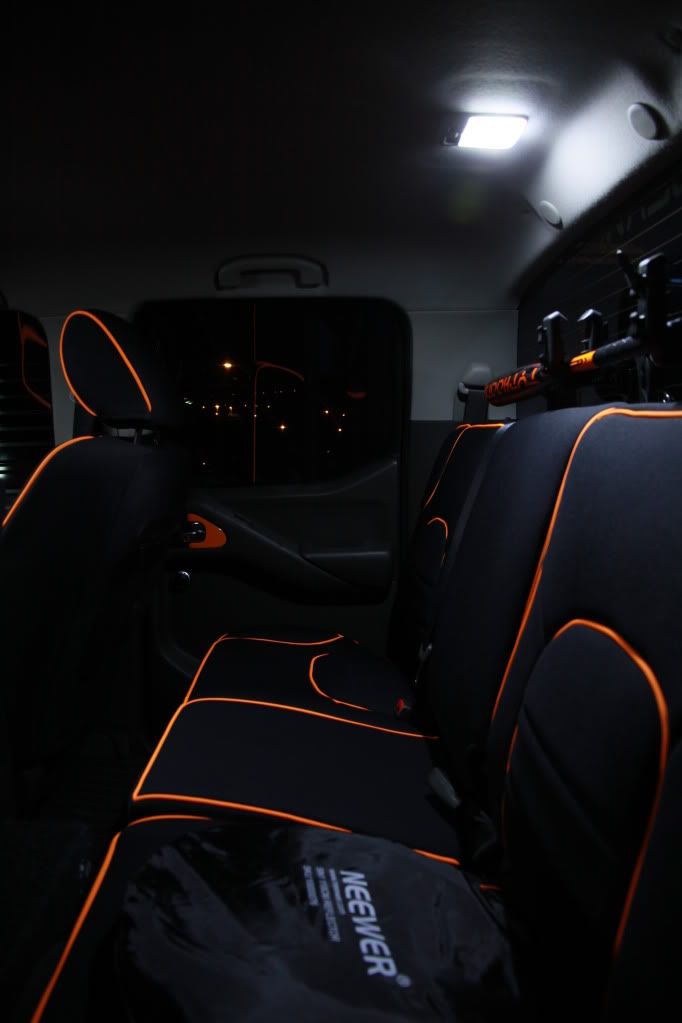 Stinger and Relocated VDC Switch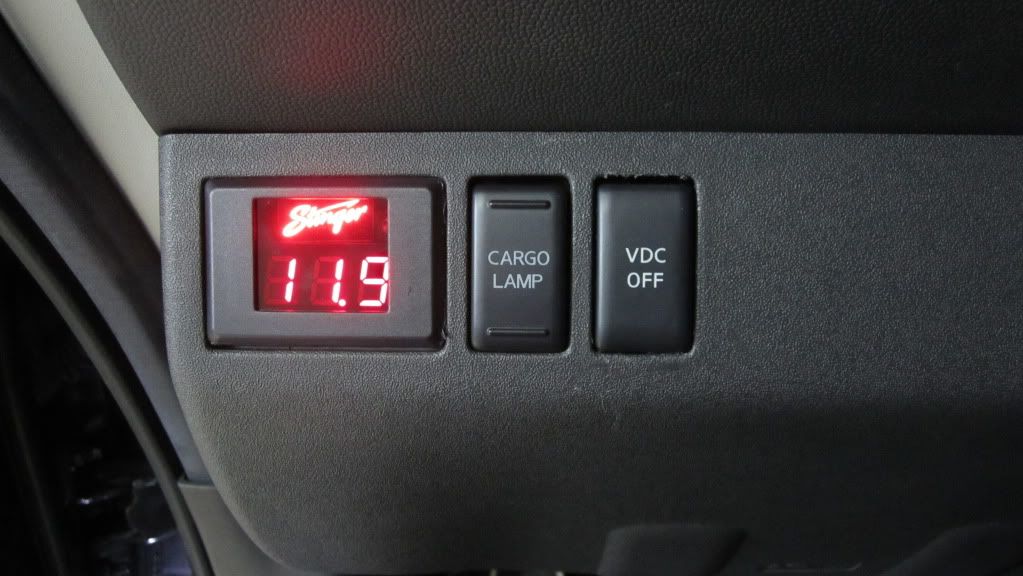 ========================================
I thought I would go ahead and start a build thread, better late than never. Nothing too extreme, I just love to turn wrenches!
========================================