Let the voting begin for the 2011 ClubFrontier Truck of the Year!
Voting will end on December 31, 2011.
January 11 - NISLO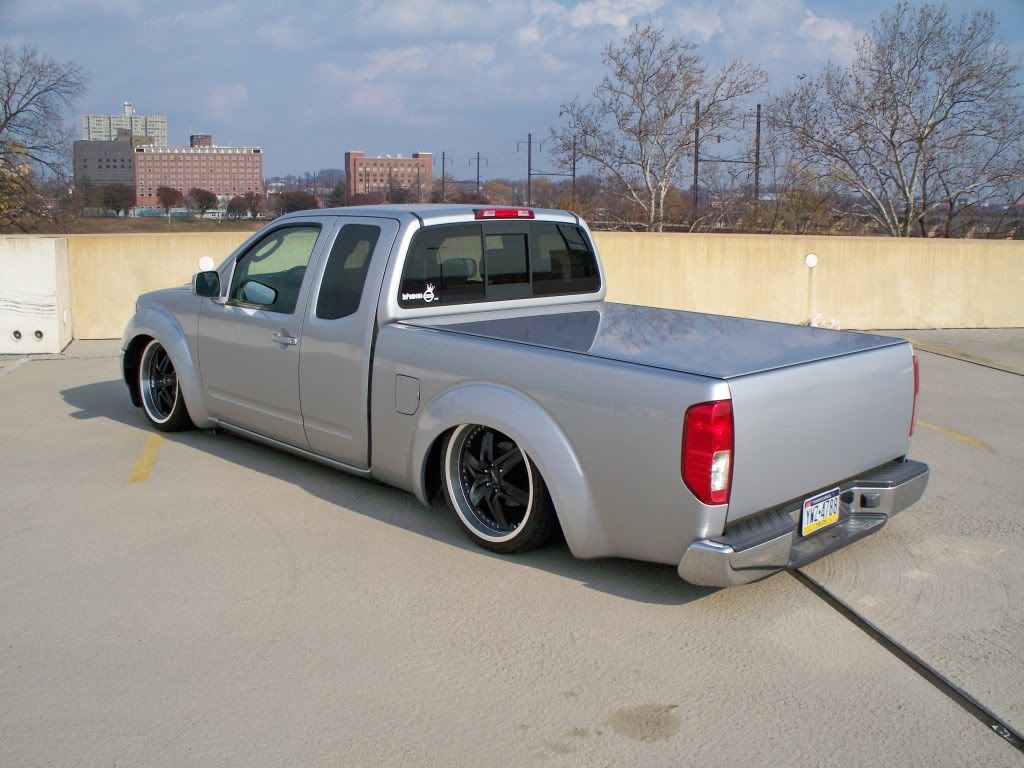 February 11 - jhughes328
2006 Black LE 4X4
Mods in order of appearance:
Volant CAI; Banks Monster Exhaust; Black 17 in. XD Addict's; 275/70/R17 BFG AT's; PRG 4x4 Titan swap w/ Radflo 2.5 coilover's front & PRG 10-pack leafs rear w/ Bilsteins 5125's; 55W 6000K Bi-HID's; 55W 6000K Fogs; Tiregate
March 11 - BRUTAL
OMF street-locked Nismo wheels
Shrock skids, winch bumper, 9500# winch.PRG 10 leaf packs, Radflos, TC upper arms.
KN CAI, BFG KM2 305/70/16
Confer roof rack, aluminum tool boxes, Piaa 525 driving/fog, projector HID headlights, self fabbed Jaguar HID projectors for fogs. Carbon fiber grill shell, CF hood, sliders, crossdrilled rotors, EBC pads, 1 touch windows. trans VB modded for faster firmer shifting, modifyed STILLEN SUPER CHARGER, 330 RWHP, NISMO T stat, UPREV tuned!!!
April 11 - JIX
May 11 - wolfman437
Exterior:
Bedlined and meshed grill, KC 130 watt day lighters behind grill, Level 8 strike 6 wheels in black with silver lip, 315-75-16 General grabbers with red letters, Tinted third brake light and tail lights, debadged tail gate, PRG carrier bearing drop bracket, custom tree branch pin stripes, axle breather mod
Armor:
Shrockworks front bumper, Shrockworks rad/engine skid, Shrockworks sliders
Suspension:
Cst spindles, Titan uppers, lowers, and tie rods, SAW 2.5 racerunner coil overs w/ rem ressi, 23" ss braided brake lines, Hybrid leaf pack (stock+silverado leafs), 4x4parts 1.5" lift shackles
Audio:
JVC dd hu with ipod and hd radio, Kicker ds components, 2 kicker comp 10's in ported boxes, kicker 300.1 amp mounted to one box
Interior:
Green skull shift nob, Blue led dome light(soon to be green), CB radio
June 11 - LoopOut
06 CC LE 4x4
Performance=
DT Long Tube headers, Hi-Flo catalytic converters, custom 2.25" Y pipe, Magnaflow 3"in/out muffler, Uprev Osiris Standard.
Suspension=
Titan UCA's/LCA's, PRG tie-rod extensions, PRG SS ext. brake lines, Radflo 2.0's @ 2.75" of lift, 2" lift Deaver Add-a-Leafs, Bilstein 5125's.
Exterior=
Lamborgini Arancia Borealis-pc:L0E2 (orange), custom fabricated flared fenders (all steel).
Wheels/Tires=
Stock Le wheels painted black, 285/70/17 GoodYear Duratracs.
July 11 - curtisonline
Suspension/ Tires/ Wheels:
AC Upper Control Arms, AC Add-a-Leaf + Shackles, Bilstein shocks , 1.5 " wheel spacers in the front, AC Longer brake lines, 33" Nitto Terra Grappler Tires 285/75-16, Painted the rims with black bed liner paint, Steering stabilizer
Armor:
Skid Row Engine/Transmission skid plate and Transfer case skid plate. Custom front skid plate. Rear axle skid plate. Trail Gear Weld on rock sliders.
Exterior:
Custom roof rack for high lift jack and storage box. Custom spare tire carier in the truck bed.
Interior:
7in touch screen radio/dvd/nav, Two 7in LCD's in the headrests for the kids, Brake controller for towing a 12 foot popup camper
August 11 - 5speed_Frontier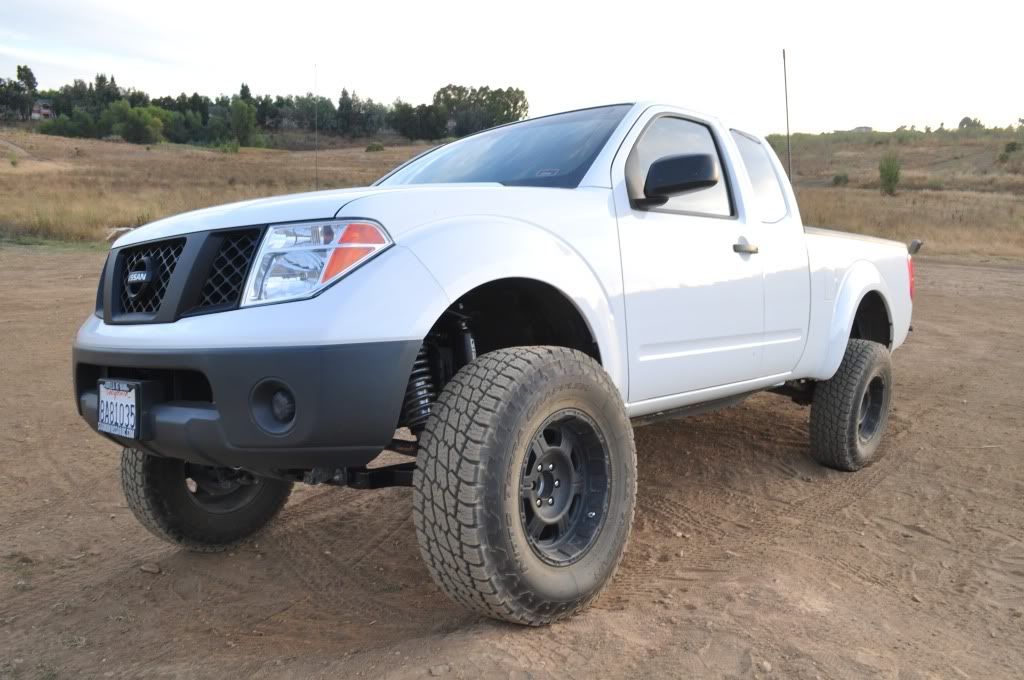 2006 Frontier XE, King Cab, 4 cylinder, 5 speed manual
Doug Thorley Long Tube Tri-Y Ceramic Coated Headers, 2.25" piping cat-back to 5" Round Magnaflow muffler w/ Turn Down Pipe, Custom Cold Air Intake w/ Extended MAF wires and custom heat shield, 2* Timing Advance, Exedy Clutch Kit, 16" Pro Comp 7089's, 265/75R16 Nitto Terra Grapplers, CST Spindles, PRG Titan Swap w/ 2.5 Radflos w/ 500lb. Eibach springs, 21" Steel Braided Brake Lines, Deaver AALs, Bilstein 5125s, Cobra CB in Center Console (with PA & Extended speaker), 3' Firestik Antenna, 5000k 55w DDM Tuning HIDs, hurst shift handle, weathertech floor liners, red underdash lighting, 35% Tint Front Door windows, and 20% visor tint, Bosch Icon Windshield wipers, blacked out grill/ front and rear emblems and lettering, custom rear prerunner bumper, Pioneer AVH-P3200BT head unit, Alpine PDX-F4 Amplifier, Polk DB651 speakers in rear, Polk DB691 speakers up front, Kicker 4 gauge wiring (Ready for sub and sub amp),lots more to come, and lots of XE POWER BABY!!!
September 11 - Islandraised_808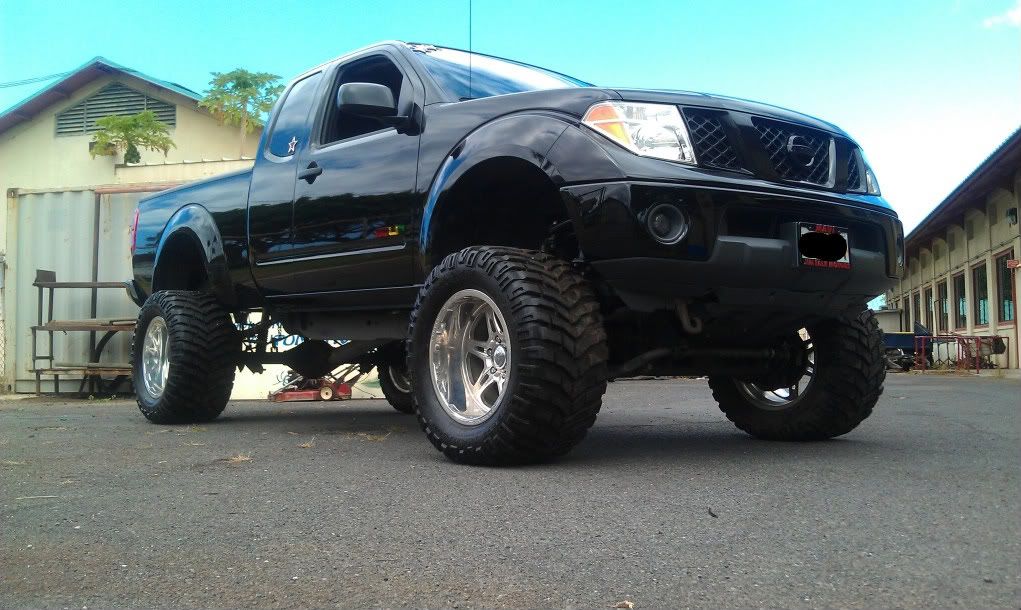 2008 BLACK KC SE V6 4WD 6-SPEED
Suspension:
5" DB Calmini, 3" AC BL, PRG adj. UCA, Rad coilovers, Extended U-bolts, 1" wheel adapters, 3" AC AAL, 18x12 Weld Cheyenne 6, 375/55R18 MT Baja Claws.
Interior:
Wet Okole Seat Covers w/ Armrest, Rugged Floor Mats, Dash Cover, Razo Rear View Mirror, Reggae Steer. Wheel Cover, Blue LED swap all lights.
Exterior:
Tints, Black Emblems, black bumpers, black bead lock, DDM tuning 55w 6000K HIDS
Sounds:
Kenwood KDC-x991 HU, ipod Adapter, 4 Guage Hooker Amp Kits, MTX TC-4004 4-Ch. Amp, Two 3-Way 6x9 N Two 3-Way 6x1/2 Audiophonics, Clarion EQS746.
Performance:SUPERCHIP TUNED! Super 44 Flowmaster Muffler
October 11 - TerribleOne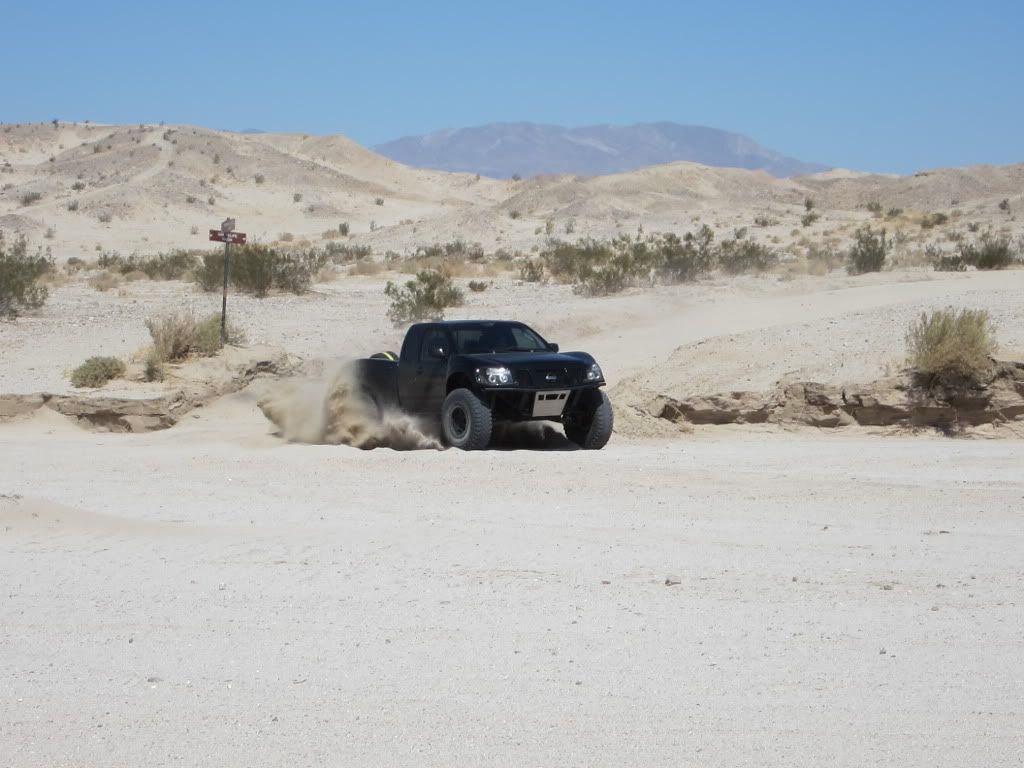 General:
17" Walker Evans beadlocks w/ 37" BFG's, FiberWerx Fiberglass front and rear (designed by me), BTF Fabrication front and rear bumpers, Hidden hitch with flip up license plate mount, 120 PSI compressor, 10 gallon freshwater camping shower, ARP wheel studs, extended ABS lines with terminator switch, Titan rear axle with 4:10 dodge viper gears and a TrueTrac
Front Suspension:
One-off long travel race kit (5.5" over w/ 18.5" travel)
10" 2.5 King Bypass, 10" Fox Coilovers, 2" SwayAway bump stops, quad stitched limit straps, Titan hubs & brakes
Rear Suspension:
One-off Giant 64" race kit (21" travel)
16' 2.5 King Bypass (relocated outside the frame), 9" Giant shackle, Giant spring hangers, wheel base extended 1.5", quad stitched limit straps, Titan hubs & brakes
November 11 - pathfinder
2005 Frontier KC NISM0 4WD
Suspension:
Titan Swapped, Radflo's 2.5" coilovers, Deaver 10-pack Leaf Springs, Radflo Shocks.
Wheels:
Pro Comp 7089. Goodyear Wrangler Duratrac 285/75/16.
Exterior:
CALMINI Front/Rear Pre-Runner Bumpers. Bi-Xenon HID's. DIY Blacked Out Tail Lights/Grille.
Interior:
Sony Head Unit streaming Bluetooth. 4/2 Polk Audio Speakers. Alpine 10" Subwoofer. Garmin GPS mounted.
Other:
Welded Rock-Sliders. Flowmaster 10 Series Muffler. Kobalt Tool Box. Hi-Lift Jack, mounted.
December 11 - bwarren228
2005 Nismo 2WD
Titan Swap'd, 8" front lift w/ CST Spindles, adjustable Bilsteins, 4wd Nismo coils, and PRG spacers. 6" of rear lift with a 2" block, 3 leaf aal, shackles, and Rancho 9000's.
Destination MT's, Shrock sliders, Calmini bumper, Hella 500's,
UpRev tuned, Magnaflow exhaust, Airaid intake, WRP IMS, WRP crank pulley, slotted rotors, SS braided brake lines... and the list goes on