Ladies and Gentlemen, let the voting begin for the 2009 Clubfrontier Truck of the Year!
Voting will end on December 31, 2009.
January 09 - Idleone
Exterior Mods: Custom Hanneman Fiberglass Fenders; Custom Rear McNeil Racing Fiberglass Bedsides; Hanneman Fiberglass Front Bumper; Custom Three Stage Paint Job; Painted Undercarriage; Custom Roll Pan; Custom Made Grille; Pro Net; Redline Tuning Hood Struts; HID's
Interior Mods: Pathfinder Billet Switch Set; Kenwood DPX701U; Kenwood IPod Adapter; Custom Switches; Kenwood Excelon KFC-X692 Front; Kenwood Excelon KFC-X1300 Rear; Two Kenwood KFC-W2505; Custom Fiberglass Box; Painted LOTEK gauge pod; Husky Liner Floor Mats; Homelink Mirror Mod
Drivetrain/Engine mods: K&N CAI Custom Painted; Custom Exhaust; 2* Timing Advance; Painted engine cover
Armor: Nismo Skids; Purple Cranium Diff Cover
Suspension Mods: Titan Swapped; AC Coils with Rancho Shocks; 3inch performance accessories body lift; 3inch Calmini spacer/shackle lift; PRG Steel braided brake lines; PRG tie rod extensions
Wheels & tires: Powder coated Pro comp 1059 16' wheels; 33x14.50 Nitto mud grapplers; 2inch wheel spacers
February 09 - penski61
Shrockwork skids; BTF rear diff cover; Front bumper, rear bumper , sliders, light bar shock hoops made by myself; Swapped nismo axle with 3.69's front and rear; Titan swap with SAWS; #500lb coils; PRG ext axles; Relocated rear shock mounts with prg 10 leaf pack; 1.5" calmini shackles; 14" travel 5125 bilsteins; 2" Body lift
March 09 - BRUTAL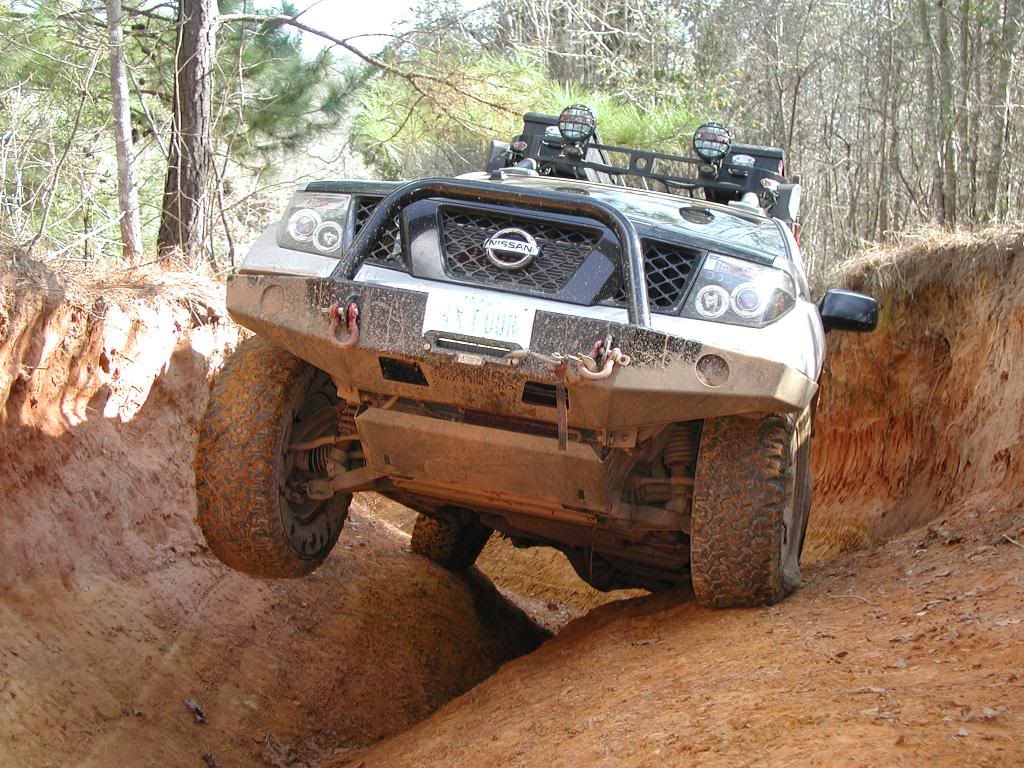 OFFROAD PROTECTION AND EQUIPMENT: 4" LIFT, PRG RADFLOS, AND 10 PACK LEAFS IN BACK, TOTAL CAOS UPPER ARMS, SHROCKWORK FULL SKIDS, SHROCK WINCH BUMPER WITH MILEMARKER 9500# WINCH, TRAIL GEAR SLIDERS, ROOF RACK MOUNTED HI LIFT JACK, FULL RECOVERY GEAR IN ROOF MOUNTED ALUMINUM TOOL BOXES, 285/75/16 BFG ALL TERRAINS ON BACKED OUT NISMO RIMS
LIGHTING: ROOF MOUNTED PIAA 525, 4 ROOF RACK 100W HALOGEN SWIVEL MOUNTS, HID PROJECTOR HEADLIGHTS AND FOGS
PERFORMANCE: MODDED STILLEN SUPER CHARGER SYSTEM, LARGER INJECTORS, LARGER FUEL PUMP, UPREV TUNED FACTORY ECU TO HANDLE FORCED INDUCTION, OBX HEADERS, FLOMASTER MUFFLER, NISMO EXHAUST, MODIFIED TRANS VALVE BODY FOR FASTER FIRMER SHIFTS, LARGER TRANS COOLER, NISMO THERMOSTAT, EBC GREENSTUFF PADS, CROSSDRILLED ROTORS, 308 RWHP, 290 RWTQ
COSMETICS: CARBON FIBER WRAPPED HOOD AND GRILL, FUNCTIONAL HOOD SCOOP, 1 TOUCH POWERED WINDOWS, 120HP WORTH OF BACKWINDOW STICKERS
April 09 - raceworx
Ironman 2" Suspension lift Kit, BFG AT's 265 x 75 x 16, Cooper STT 265 x 75 x 16 Muds, TJM "F.U.G" & Trans Guard, 160ltr Long Range Fuel Tank,
ARB Side Steps / Sliders, Nissan Factory Snorkel, Uniden UHF w/GME Antenna, Upgraded HID Headlights, (alot better) Upgraded HID IPF 900s,
Nissan Steel Bull Bar, Warn 9000lb Winch with Dynamic Rope, Electronic Anti-Rust Kit, Flexiglass Canopy custom window set-up, ORS Drawers w/Custom Dog Cage, 70 ltr Water Tank, TJM Heavy Duty Recovery Kit, Projector Dual Battery System, 2 x dual 12v outlets in rear, 100AH gelcel 2nd Battery, 60ltr Waeco, Piranha Fridge slide, Piranha Power Shower, 3' Full Exhaust turbo back, Steinbauer Chip, Magelan GPS, Custom laptop mount, High Lift Jack.
May 09 - sexy6chick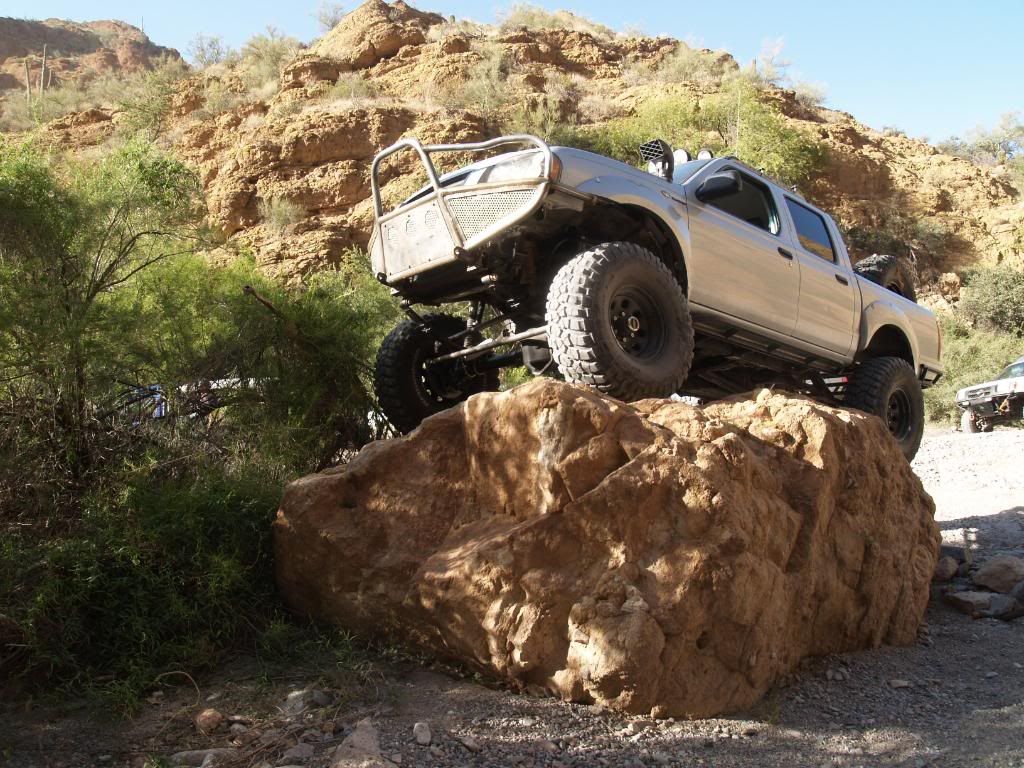 1980 Jeep Wagoneer Dana 44 Solid Front Axle
Toyota Procomp Front Springs
63" Rear Chevy Springs
Ballistic Fab Chevy Steering Kit
Warn Hubs
35" BFG KM2's w/ 15" Cragar Soft 8 Steelies
Custom Penski Tire Carrier/Rear Bumper/Front Bumper/Sliders/Roof Rack/X-Member
Ruff Stuff Diff Cover
June 09 - LanceSlide
2005 Nismo KC 4x4 PRG Titan Mid Travel; Titan Diff; PRG Heim Tie Rods; SAW 2.5 C/O's 2.25 Piggyback Reservoir and ext Axle Shafts; Deaver 10 Leaf Springs; Red Variable Shackles; Sly Tuna Prerunner Rear Bumper; Volant Cold Air Intake; Mag Hytec Diff Cover; Hanneman Fiberglass; Nismo Rims w/BFG KM2 35x12.5x18; Shrockworks Rad Skid; 6" Hella 500's 4" Aux Liight mounted behind modded grill; Custom 10" sub box mounted under Driver seat; Alpine Dvd Navigation with Playstation 2 and 3
July 09 - NISLO
05 KC 6spd 4x2 4.0L
Engine:Grounding kit, Airbox Mod, 2*adv.
Electronics:Hypertech Speedo Calibrator, Garmin Nuvi Nav. Accessory
Interior:Resin Skull Shift Knob, EAI switch box, Digital air gauges
Exterior:Factory Fogs, Shaved Tailgate, Shaved Antenna, 20" Driv Wheels, Gemtop GTC tonneau
Suspension: Custom front air suspension, Custom 2.5" drop spindles, Custom Rear Axle Flip Kit, Sway bar pulled and mounts cut off control arm, Bump stops removed, Rear air shocks, On board air 5gal tank-Viar 480 - 4 SMC valves
August 09 - roastbeef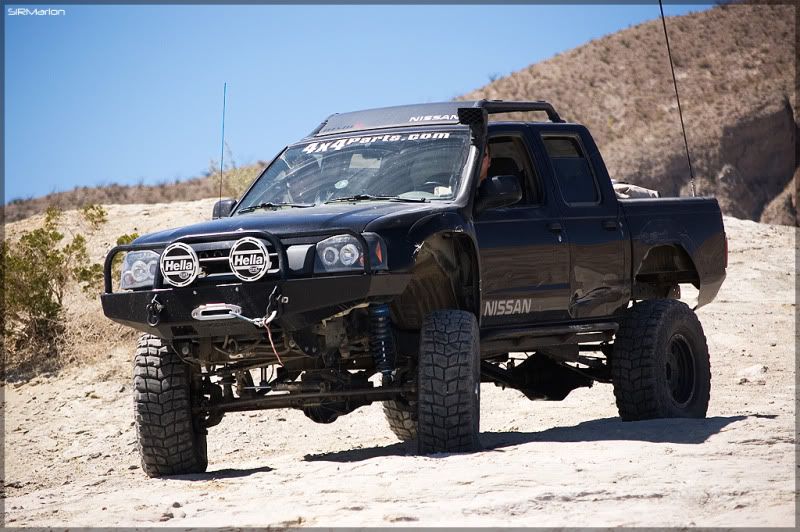 black 02 frontier xe with 4x4 conversion and sas'd three link front/rear
Front Axle: custom dynatrac pro rock 60 front axle. custom width, pinion angle, caster, pumpkin offset. 5.15 gears, arb air locker, warn heavy duty hubs. 35 spline chromoly shafts (inners and outers). bridge over pumpkin for upper link.
Rear Axle: nissan h233b rear axle. a/c 5.13 gears, arb air locker. custom plasma cut bracket for upper link.
Transfer Case: a/c crawler gears Drive Shafts: front/rear custom shafts by unitrax
Engine: stillen cold air intake, nismo cat back exhaust, permacool engine oil cooler with remote filter, permacool transmission cooler, flex-a-lite black magic extreme efan, optima yellow top, custom motor mounts
Armor: shrockworks front bumper, custom sliders, a/c rear diff skid Recovery: Warn M8000 winch, 60" hi-lift
Suspension: King 2.5", 14" travel coilover shocks (200/250 lb springs front), King 2.0", 14" travel coilover shocks (100/250 lb springs rear), 3" hydro bumpstop up front
Appearance: painted front/rear fiberglass, custom "nismo" logo painted into driver front fiberglass, halo headlights, painted front grill bar
September 09 - J_L
Shrockworks Bumper, Skids and Sliders | AC diff Armor | T-Max 10K winch | Radflos with TC UCAs | AC addaleaf | 33"BFG/AT KO | Injen CAI | PIAA bulbs | HF/VHF/UHF radio | A.R.E canopy
October 09 - mike
Super Black NISMO
Suspension/tires - ICON 2.5 coilovers, Stock NISMO Bilstein front shocks, Automotive Customizers 3-leaf 3" AAL's, Bilstein 5100 rear shocks, Performance Accessories 3" body lift, 305/70R16 Toyo Open Country M/T, American Outlaw Wheels COLT series.
Armor - Shrockworks Sliders, Shrockworks engine skid, Shrockworks transmission skid, Shrockworks transfercase skid, Shrockworks radiator skid, KMA rear bumper
Drive train - Factory rear locker (M226), Titan front diff (M205) with Pathfinder V8 half shafts
Accessories - 48" hi-lift, Home made utilitrac hi-lift mount, Home made utilitrac spare tire mount, Airflow snorkel, Rear tow hook, Tinted front windows, Cobra CB
November 09 - Andy4106
Suspension: 9 inches of lift, calmini 5inch, titan swap from prg. 23inch 650 SAW coilovers, made my own leaf springs, and 2.5 inch shackles in back, and 2inch blocks. 1.5in wheel spacers front,2in spacers rear.
Armor: shrockworks prerunner bumper, and sliders. KMA Rear bumper. 8000pound winch.
Rims & Tires: cragar soft 8s 16x8, 35x12.50 km2s
Other: 6inch eagle one hids, 3 -7inch black widow fog lights, hanneman front fenders, made my own snorkel.
Drive train performance: m226 rear axle, locked.
In progress: m205 front diff, detroit tt, vk5.6 motor swap, 3.36 rear ring and pinion. waiting on, kma bumper, saw piggy back shocks.
December 09 - Serrated
Dixon bros sway bar, 6 35" toyo open country MT's, 2 35" toyo open country paddles, 8 walker evans with wide bead locks, custom motor mounts, all Gucci interior, custom Gucci child's seat, prg/mazula/cst long travel, custom 4 link, Currie 35 spline 9", fuel safe fuel cell, battery moved to the rear of truck, k and N intake, throttle body spacer, jimwolf cams, rear cats removed, FULLY CAGED, haniman glass, 2 JLw2 12" subs, Dj safty 5 point harness's, 2 10" swayways coils up front, 2 16" swayway bypasses and 2 14" coild in the rear, HID headlights, 4 7" hids, 52" led light bar, wilwood brakes, back wall of cab all 120 wall plate and moved in 1 1/2"