Username: SinisterFrontier06
Year: 2008
Make: Nissan
Model: Frontier
Trim: SE
Color: White
Mods:
Interior:
Exterior:
Drivetrain:
Suspension & Tires:
Armor:
Performance:
Gear and Other:
In Progress: VK56DE swap repair.
Some of you might remember the Frontier dubbed the Fritan back in 2009-2010, if you dont here are some threads for reference.
http://www.clubfrontier.org/forums/f11/official-5-6-motor-swap-43001/
http://www.clubfrontier.org/forums/f11/andrewvk-friten-2008-nissan-vk5-6-a-54906/
This is AndrewVKs old truck and one of the first web documented VK 5.6L V8 swaps on a Frontier. His thread was very informative as far as parts interchangeability and helped tremendously when it came to making plans for my own personal swap. So much thanks to him for the info he had shared in those threads.
From what I gathered Andrew got it to run and drive and briefly shift right but shortly after the trans locked itself in second gear, discouraged and tired of working on it and or spending money on it (I would guess, I have been there, as i had some trans issues myself with my build but ended up being more related to the trans build then the actual swap. Short story: Trans was sent out to be built for high hp, trans was out of a flooded titan, due to that new TCM had to be installed, new TCMs have to be flashed by dealership, local dealership failed to flash TCM right even though they said it took the flash, because of this I spent weeks pulling my hair out thinking i did something wrong, but then eventually found TCM was not flashed right, swapped in new used already flashed TCM, problem solved.) He also told me he was never able to get 4wd to engage as well. These two things and plus the crap load of time he had invested into the swap is enough to make anyone throw in the towel, sell it and move on. Thats exactly what Andrew did, sold it and got another Frontier. Where the Frontier went from there it seemed was a mystery because I had never seen it pop up again. I thought it got parted out honestly.
Andrew, feel free to add anything or correct anything I might have wrong.
Some of you might have seen my own personal Frontier build thread. If you have not you can see it here:
http://www.clubfrontier.org/forums/f103/sinisterfrontier06-s-build-141705/
I was in Louisville on October 26th for a dyno appointment with a tuning shop known as Dynosty in Lousiville, KY. I trailered my Frontier down with my dads Titan to get uprev tuned for the supercharger. They took a picture of my truck on the rollers and posted it on Instagram (my instagram is @drivendesire). A few hours later I got a message from a guy who said his truck was "Titan swapped" and that nobody he has taken it to was able to fix it. Well we all know that "Titan swapped" is the term for swapping the front suspension with the Titan. I was confused and replied "Titan swap as in V8 swap or suspension?" He said V8. Intrigued as I have not heard of anyone else attempting the swap I asked about it more. He informed me the trans is stuck in 2nd gear and that he has taken it to several shops around Lousiville and nobody had any idea on how to fix it. I asked him who did the wiring and he said I got it from a guy named Andrew and at the same time he sent me a picture of the truck. Then it dawned on me, its Andrews old truck. He informed me its been sitting for the past 4-5 years. He asked me if I think I can fix it and if I would be willing to do so. I said "Absolutely!" We talked some more and we came to the agreement that since he had no way of getting the truck to me in Cincinnati, OH that I would trailer it back to Cincinnati. It worked out perfectly since he was 20 min away from the tuning shop and my trailer was now empty since my truck was tuned and I can drive it back. So we went over and picked it up.
It dosent look like it was ever touched other than being told it went through a handful of swaps. Some quick pictures: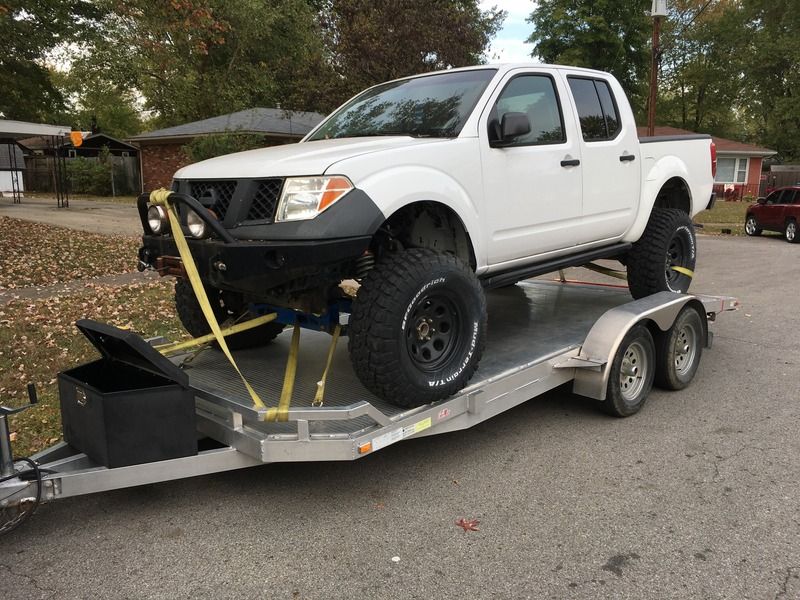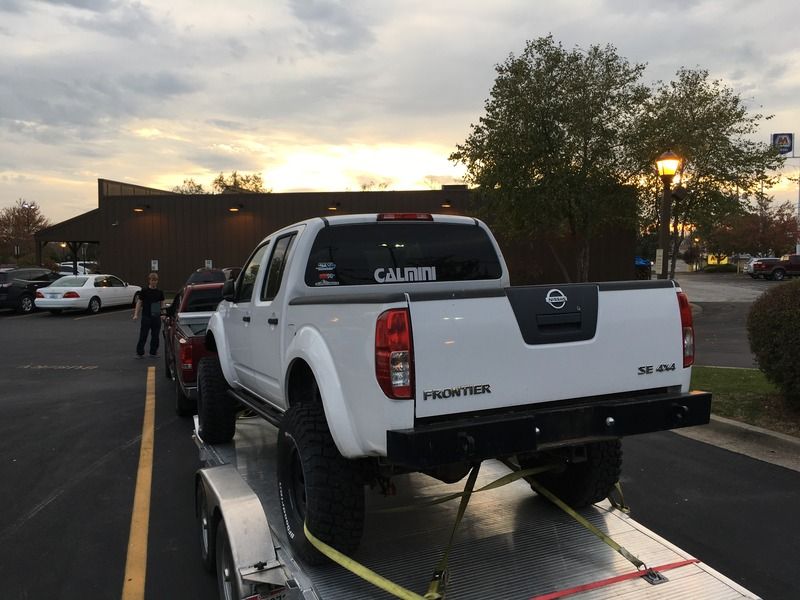 With this thread I will be outlining all of the repairs we will be doing to correct this Frontier's V8 swap.
Disclaimer: Let me clarify this is in no way a thread to bash Andrew or any other company that had their hands on this vehicle. Andrew I believe was 19 at the time, with limited resources for this swap and I am sure at the time, being that the truck was only 1-2 years old, it was a very expensive undertaking and some short cuts were taken not out of poor craftsmanship, but due to expenses. If I had to guess these short cuts were taken with the intent of getting the truck on the road and correcting them later. In my younger years I cant deny I wouldnt have done the same. I also dont know where the trucks status was when it left Andrews hands and how it was changed through the different shops it went to. So pointing fingers on who did what is impossible and I will not attempt to do so nor is that my style.
My goal is to inform people on parts interchangeability when attempting this swap for the purpose of reliability and aesthetics. When I do these swaps I strive for a OEM look. I want to share with all of the DIY guys on here on how to do this swap and achieve success rather easily. There is too much false voodoo thrown into this swap that scares people away. Part of that voodoo came from the original thread on this truck/swap. My hope is that I can help clear up the nonsense by fixing this vehicle and getting it to the fun v8 rig it was supposed to be, while sharing tips and hopefully help build the confidence of others who are thinking of attempting the swap themselves.
Trust me guys this swap is easy!