i have an 08 se kc, and always wanted some more bass, but never wanted to spend $3-500+ on getting it done. i had checked around a few times and looked around on ebay a lil, just didnt want to spend a bunch and loose what little room i had already. but, today i scored! i stopped by a stereo shop to get an outragious quote, to which i said no thanks. then stopped by the pawn shop next door. found a 500w sony xplode 10" sub in a perfect box "fits snug between the jumper seats and console" for $38.xx, then found a phoenix gold 400w amp for $78.xx, and i knew the guy who checked me out so he gave me a discount, for a grand total of $108, then got an amp kit from walmart along with conectors, speaker wire, test light, rca converter box, and a gallon of milk, for a $68, so $176 total. :thumbup:
a couple hours to install, and walla, sounds great, doesnt take up much room, not over bearing bass but it hits pretty good for a small box. i cant believe how much room is under the console in our trucks, would have come in handy in my stoner days lol.
im going to pull of the grey carpet, and cut off the flaired sides of the box so it will be an inch narrower, then recarpet it with tan to match the truck.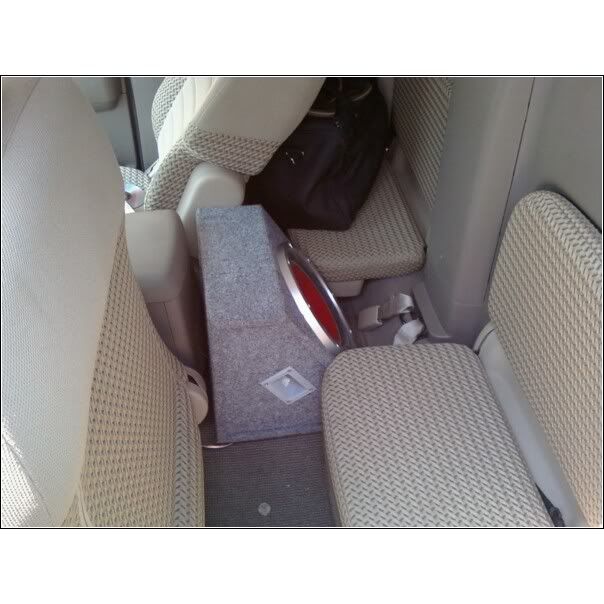 i was afraid it would drawn out my mids and highs but it sounds great, i just turned down the bass all the way on the deck, and turned up the gains on the amp, and it sounds perfect, wish i would have done it long ago.