Project save a ho is here!
I had a Thailand model 2008 with the YD25DDTi turbo diesel engine, GT2860RS turbo upgrade, custom 3" exhaust, alcohol injection, DTE injector and rail pressure chips along with a PRG advanced lift kit and a 2" body lift on 33's. It was around 200whp and 270wtq, not fast but it could tow anything I needed. For some reason I sold that and bought a 370Z.
The Z has a built bottom end, GTR turbo conversion with twin GTX2871R's and all the mods to support it.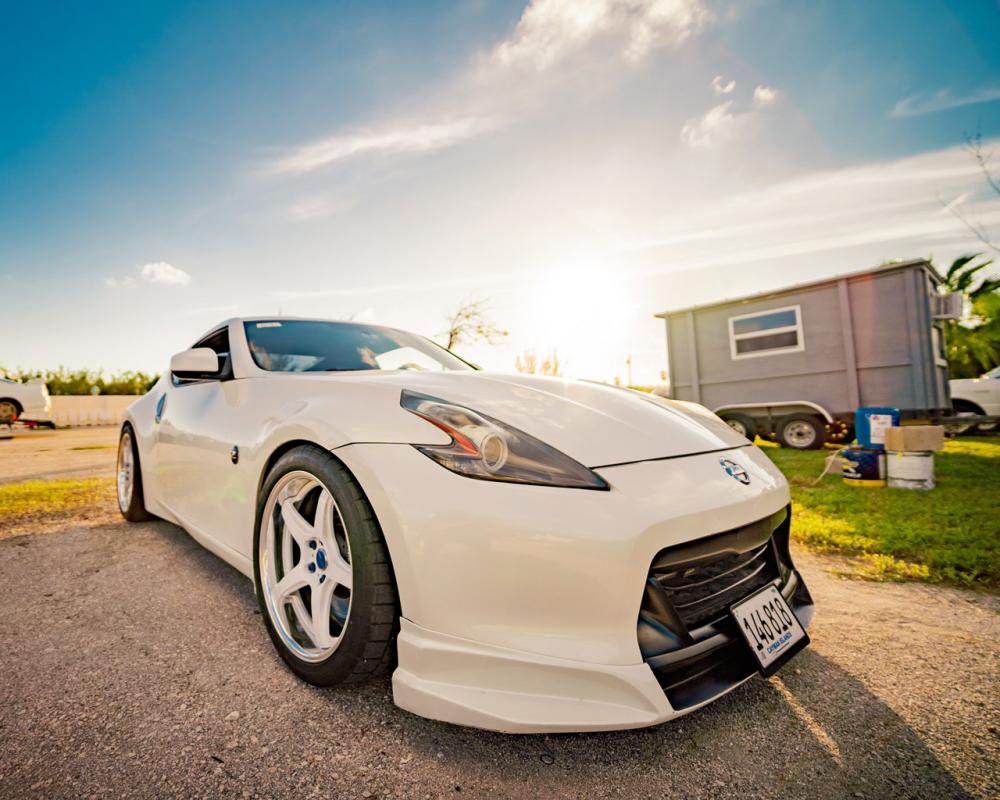 Street trim
Drag trim
Anyway back to the new to me Frontier.
My criteria was basically to find a not too banged up 09+ king cab Pro-4x since they have the newer AC controls, white gauges and factory E-locker. I found a 2012 that is a little rough around the edges and has 230k miles. The mileage didn't really concern me since the VK swap was a must.
It's with my good friend and tuner (
www.btwtuning.com
) in Michigan who is doing all the work so I can just drive it down to Miami whenever the US gets COVID under control.
The plan is as follows:
Ebay 4" intake meant for an 09 Cobra (replacing the shitty ebay filter with a Vibrant velocity stack & filter)
DIY/Custom VK45 intake manifold swap with LS3 90mm throttle body
JBA Long tube headers 1 7/8" primaries & 3" collector
Custom dual 3" to single 3.5" exhaust with Vibrant UQ resonators and Magnaflow 12909 muffler
R35 GTR injectors
AEM 340lph fuel pump
JWT C8/RZ2 cams & valve springs
Uprev tune from BTWTuning
CSF radiator
Dual E-fan conversion, Derale 2k cfm fans with DIY custom shroud
Derale 25row active transmission cooler
Level 10 torque converter & valve body upgrades
PRG engine & transmission mounts
If the suspension is good I will leave that alone while it's still in the US but I do plan to put the
PRG advanced lift it on it at some point since I was happy with that on my Navara.
DIY Bilstein based Titan swap
So far I have sourced:
43k mile engine
33k mile transmission
PRG engine & transmission mounts
Donor harnesses sent to Driven Desire
JBA long tube headers
Looking forward to being in a Frontier again with some decent power.
VK swap parts recap
2012 43k mile VK56DE
2012 33k mile Titan Transmission
2014 35k mile Titan transfer case
Driven Desire swap harness
PRG engine & transmission mounts
OEM Timing cover gasket kit from Z1Offroad
OEM bellhousing bolts P/N 01121-05671 from Z1Offroad
Denso upstream O2 sensors P/N 2349038 on Rockauto
NGK LFR6AIX-11 spark plugs on Rockauto
Wix oil filter P/N 57356 on Rockauto
Gates belt & tensioner kit P/N KIT3978716 on Rockauto
Gates radiator hoses P/N 23280, 23281 & 21592 on Rockauto
Titan lower water pipe P/N 13048-7S000 (my engine didn't come with one) from Z1Offroad
4cyl Frontier heater hose fitting P/N 92410-EA000 from Z1Offroad
Pathfinder V8 ac lines P/N 4812539 on Rockauto and 92480-ZS20A
(ONLY THE OEM LOW PRESSURE HOSE WILL WORK)
CSF AC condenser & drier P/N 10632 on Rockauto
CSF Frontier radiator P/N 7029
Custom DIY radiator shroud with dual Derale 12" fans P/N 16924 & Derale fan controller P/N 16795
Derale transmission cooler P/N 13960
Spectre 2009 Mustang GT 4" intake P/N 9924
JBA long tube headers P/N 6412SJS
Custom dual 3" into single 3.5" exhaust, 2 Vibrant UQ resonators P/N 1142, Vibrant 2-1 merge P/N 10362, Magnaflow 3.5" muffler P/N 12909
JWT C8 intake & RZ2 exhaust cams
JWT valve springs
OEM R35 GTR fuel injectors
Carter fuel pump module P/N P76358M with AEM fuel pump installed P/N 50-1200
Level 10 valve body
Level 10 3000rpm stall torque converter
BTW Tuning Uprev tune
Amsoil Signature Series ATF 4 gallons
Amsoil Severe gear 75w90 3 quarts
Amsoil Signature Series 5w30 2 gallons
Amsoil heavy duty coolant 50/50 3 gallons
Suspension recap
SPC Titan UCA's P/N 25560
SPC alignment cam bolts P/N 87520
Moog LH lower control arm P/N RK620512
Moog RH lower control arm P/N RK620511
Moog inner tierod P/N EV800216
Moog LH outer tierod P/N ES800031
Moog RH outer tierod P/N ES800032
Q80 front axles P/N NI-8433
Bilstein B8 6112 1st Gen Tundra coilovers P/N 47-260337
Energy Suspension 2" bump stops P/N 9.9101G
Bilstein B8 5165 shocks P/N 25-177510
Fox 19mm OD 14mm ID shock bushing sleeve P/N 213-28-011-B
Energy Suspension rear shock bushing P/N 9.8108G
Superlift 3* driveshaft alignment shims P/N 003
ARB/OME medium duty rear leaf spring packs/bushings/ubolts P/N CS150R/SB99/U53A
Nisstec adjustable shackle P/N N-ADJSKL
Belltech Titan 35mm front sway bar P/N 5457
Hotchkis billet front sway bar mounts P/N 23391375
Hellwig rear 22mm sway bar P/N 7694