Hello everyone! I decided to post some preview photos of my current project, a radiator install.
One big gripe I have always had with this truck is how low the stupid OEM radiator hangs. What kind of off road truck has the radiator as the lowest point in the front end!? Even with a skidplate I have always felt uneasy, especially when a decent impact pushed my skidplate up against the bottom of the radiator tank. I've had to straighten out the top radiator hold-downs before and I can tell they've been noticeably pushed up by the radiator lifting on impact. Not good, especially since I'm up in Michigan and finding a Nissan radiator up at the sand dunes is not going to be a quick process.
So, I browsed the Ron Davis Radiator catalog for a suitable solution. They actually make a radiator for the Titan, but it's about the same size as the Frontier and wouldn't help increase clearance. I went with one of their on the shelf off-road radiators in a 28" x 19" x 3" size. They rate this at 500 wheel horsepower for a vehicle in the 5,000 lb. range, more than adequate (for now at least).
Coupled with two shrouded electric fans tied into the OEM computer logic this should really help keep temps down AND dramatically improve ground clearance.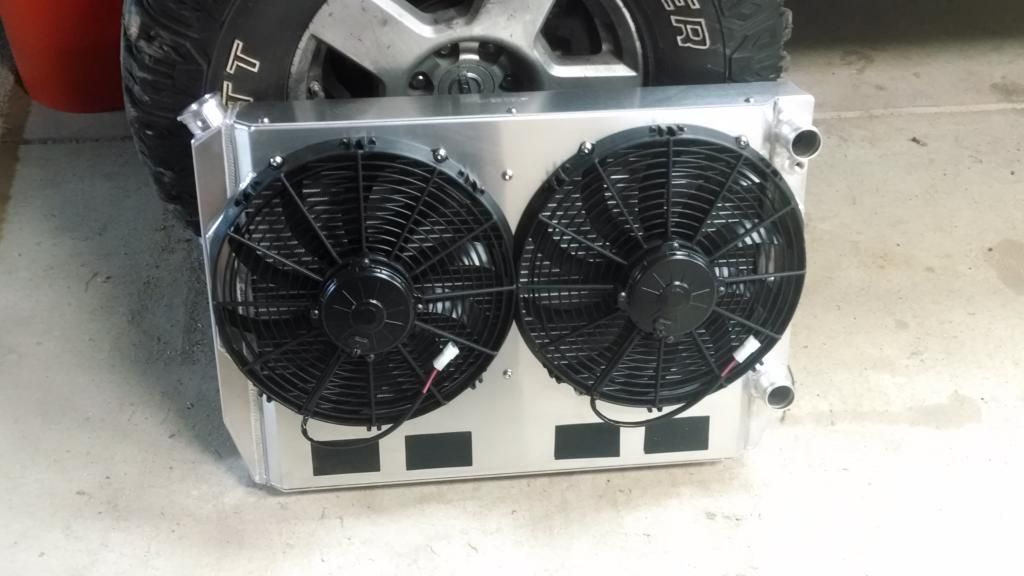 Of course, going with a custom size meant some fabwork would be necessary to drop this baby in. My goal was to do as little cutting as necessary and hopefully NO welding. So far, I have been successful and I believe it will make this a potential DIY project for just about anyone with a decent amount of knowledge and tools.