2014 Frontier SV CC 4x4 "KEIRA" Build Thread
Thanks for stopping by and welcome =)
LAST 5 UPDATES:
MORE THINGS WRITTEN BY ME:
If you want to read why upgrading the stock Frontier audio is recommended, read this:
Nissan Frontier Audio Upgrade Guide
To learn about camber bolts and upper control arms when lifting, read this:
The End-All Guide to Camber Bolts and UCAs for 2nd Gen Frontiers
To understand why you should rotate your tires on a regular basis, read this:
Tire Rotation: It's Worth It!
To properly re-aim your OEM halogen headlamps after an LED bulb upgrade, follow this:
How-To Aim Your Headlamps (with LED Bulbs Installed)
To read my testing and results regarding popular Bluetooth OBD2 mods, see these threads:
Idle RPM Bump
and the
2-degree Timing Advance
To see my build in a blog format, I have a dedicated website mirroring the content in this thread, here:
Project:KEIRA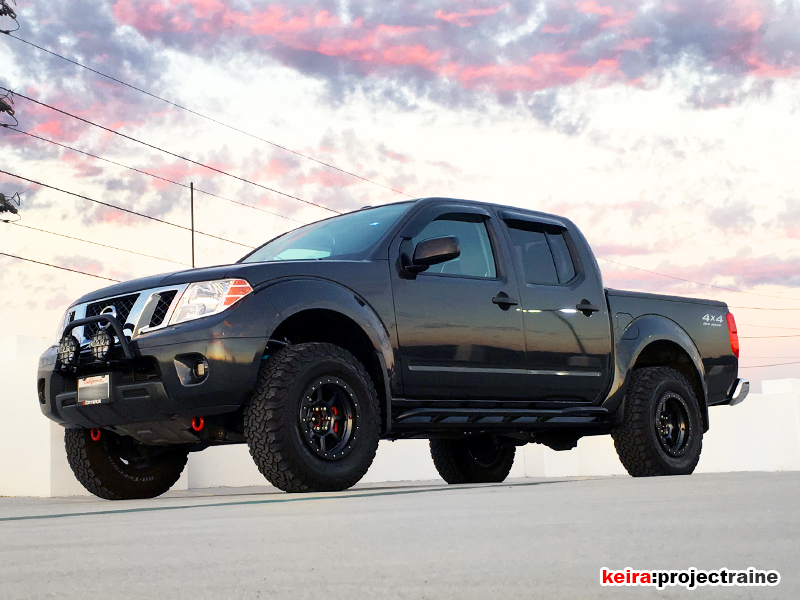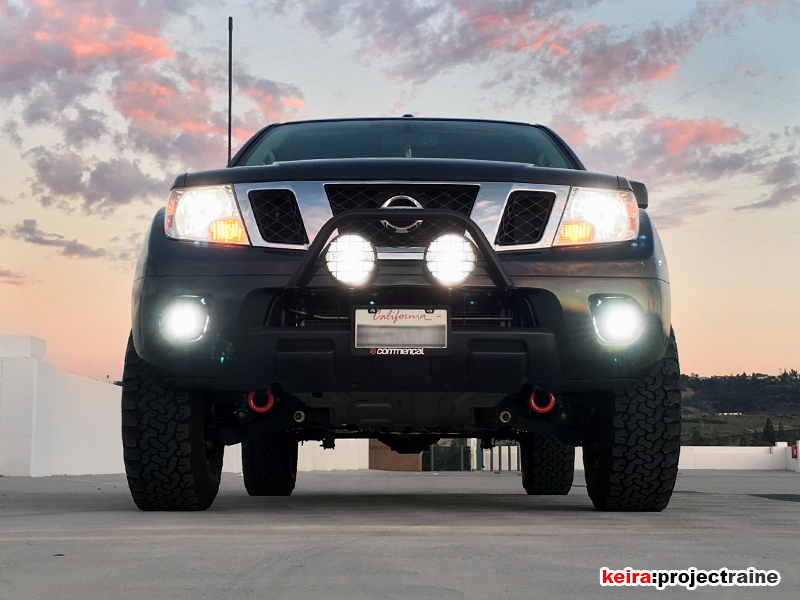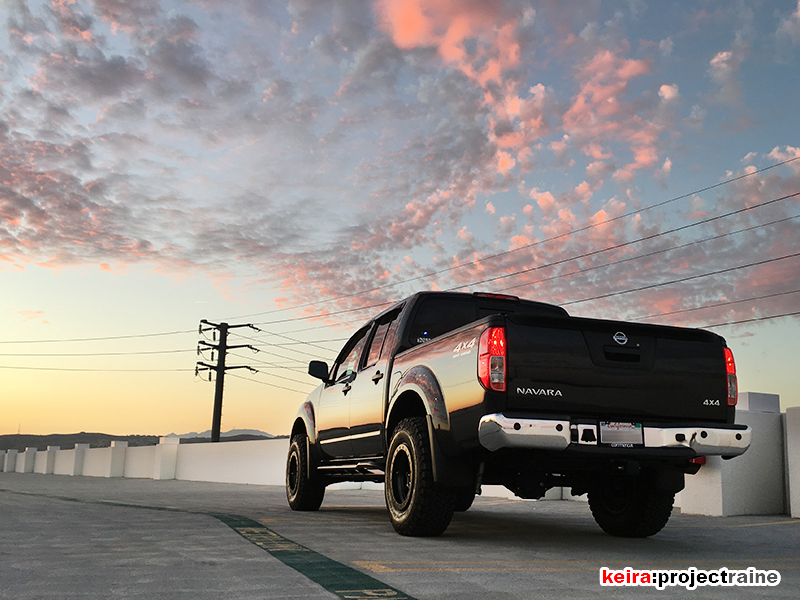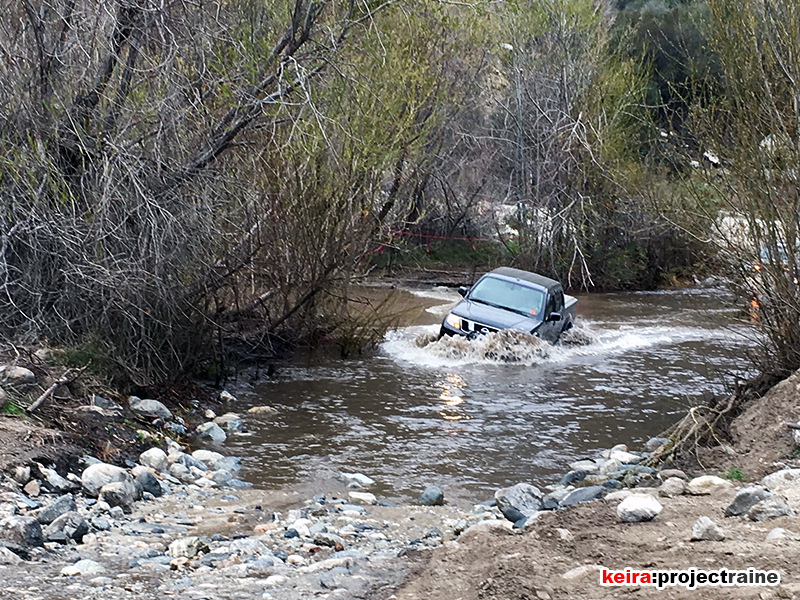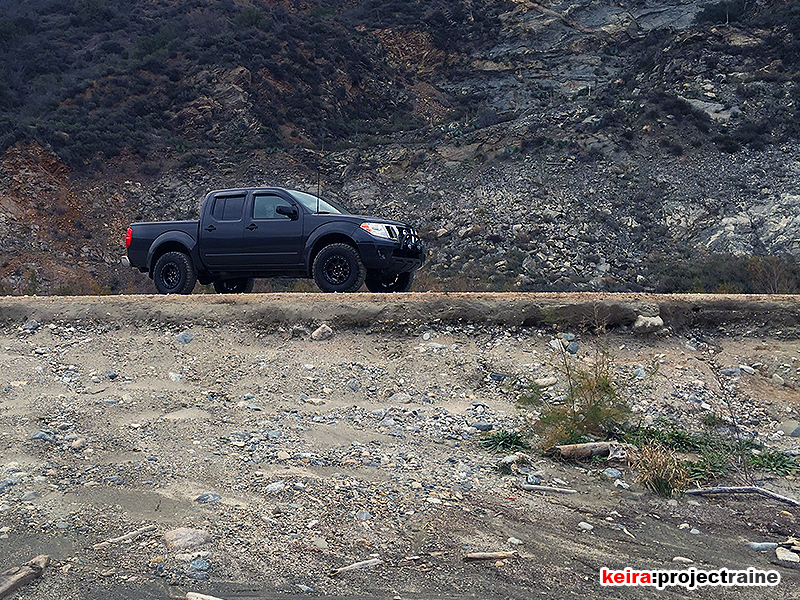 INTRO
Buy a truck, do stuff, take pictures, and end up with a build thread… by the time I started this thread I've had my truck for a little over a year now, and I've been steadily doing stuff to it since the first day I drove it home so I decided it was time to make my own build thread to keep track of everything I'm doing. Speaking of the beginning… without getting too complicated, I had a change in lifestyle. I started mountain biking, I started camping, and I started to realize that having a lowered SC300 was no longer practical. I was always a Nissan guy at heart (previously had a Maxima, Pathfinder, 200SX SE-R, 240SX... don't ask me how a Lexus got in there) so I knew the next vehicle was going to be a Nissan Frontier. That said, what basically happened next was: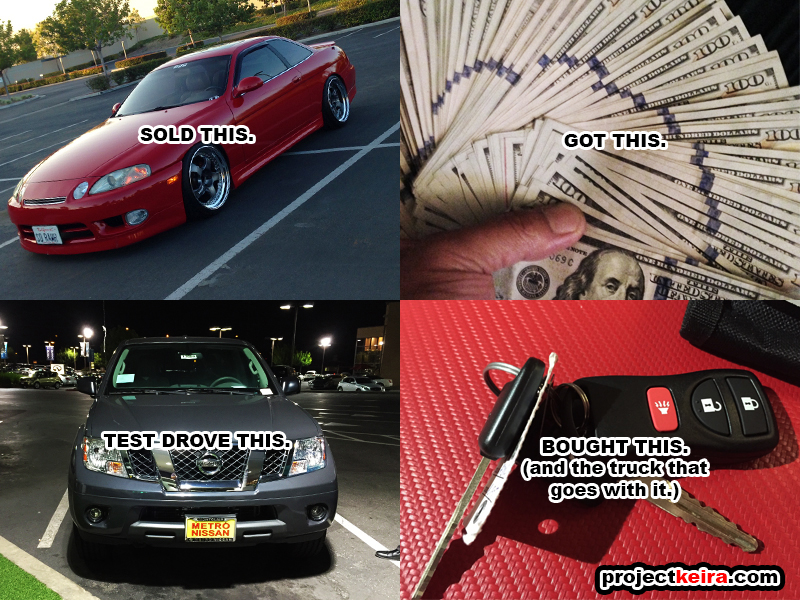 NOTE –This is my third vehicle named "Keira" because I'm in love with Keira Knightley. I had a Nissan 240SX named "Keira", my Lexus SC300 was named "Keira", and now my Frontier is named "Keira." We'll just leave it at that. Ok - with the intro out of the way, let's get to the thread, listed from oldest to current. Oh, and feel free to comment or ask questions if you like
----------------------------------------------------------------------
INFO
USERNAME:
Raine
YEAR:
2014
TRIM:
SV 4x4 Crew Cab
COLOR:
Night Armor
NOTE: List items in order chronologically. The
number at the beginning
of the list items below goes to the original post # in this thread - the
text link
goes to the project:KEIRA website post.
EOL
means "End Of Life" - the mod is old, removed, or replaced.
AUDIO/VIDEO
(
#022
)
Alpine PDX-V9 5-Channel 1000w Class-D Amplifier
(
#022
)
JL Audio 10TW-1 10" Subwoofers
(
#043
)
Modified OEM Bluetooth Microphone
(
#043
)
Working OEM Steering Wheel Controls
(
#043
)
Working OEM USB Port w/Audio
(
#043
)
Working OEM Back-up Camera
(
#398
)
JL Audio TWK-88 Digital Signal Processor
(
#399
)
Hertz Audio Hi Energy HSK-165 6.5" Component System
(
#401
)
Hertz Audio Dieci DCX-165.3 6.5" Coaxial Speakers
(
#425
)
Pyle PLCM38FRV "Shuttle Camera"
(
#485
)
Under-seat Amp and DSP Platforms
(
#584
)
Super NES Classic Retro Gaming Console
(
#642
)
Soundstream ST2.1000D 2-Channel Amplifier
(
#656
)
SiriusXM SXV-300 Satellite Tuner
(
#859
)
Kenwood Excelon Ref. Series XR DNX-995S Head Unit
(
#1082
)
Best Mod Ever - Sinjimoru Cable Holder
SUSPENSION
(
#179
)
Bilstein 5125 Custom Length Rear Shocks (for 2-3" Lift)
(
#179
)
PRG/Deaver 2-leaf AAL (for 2.5" Lift)
(
#179
)
Nisstec 2.5-degree Axle Shims
(
#179
)
Nisstec Zinc-Plated 7.5" U-Bolts
(
#185
)
OEM Nissan LCA Camber/Caster Bolts
(
#203
)
Custom King Off-Road Custom 2.5" Coilovers
(
#221
)
OEM Front Sway Bar Removed
(
#318
)
PRG 1/2" Front Lift Spacers
(
#455
/
#456
)
Custom External Mounts for King Reservoirs
(
#890
)
SPC Adjustable Upper Control Arms (UCAs)
WHEELS, TIRES, & BRAKES
(
#130
/
#131
)
Level 8 Bully Pro 6 Wheels
(
#142
)
R1 Motorsports Drilled & Slotted Rotors
(
#142
)
Red Painted Brake Calipers
(
#601
)
Modded FJ Spare Tire cover
(
#906
)
New Hubcentric Rings and Lug Nuts
(
#1053
)
Falken Wildpeak A/T-3W Tires
EXTERIOR MODS
(
#006
)
Truxedo LoPro Qt Tonneau Cover
(
#006
)
OEM Genuine Nissan Front & Rear Splash Guards
(
#006
)
OEM Genuine Nissan Side Window Deflector Set
(
#245
)
OEM Genuine Nissan Titan "4x4 Off-Road" Decals
(
#624
)
Dee Zee Heavy Duty Fitted Truck Bed Mat
(
#937
)
OEM Genuine Nissan Rope Hooks (w/added Security)
(
#1051
)
OEM Genuine Nissan Bed Divider
(
#1107
)
Rough Country Side Step Rails
INTERIOR MODS
(
#007
)
UltraGauge EM-Plus OBD2 Monitor
(
#026
)
Dynamat Extreme Sound Deadener (Doors)
(
#034
)
Dynamat Extreme Sound Deadener (Rear Wall and Floor)
(
#149
)
Raingler Rear Passenger Headrest Handles
(
#665
)
Center Armrest Cloth Cover
(
#1067
)
MaxLiner/SmartLiner All-Weather Floor Mats
OFF-ROADY THINGS
(
#114
)
White Rhino Fabrication Light Bar
(
#153
)
Genuine Nissan Pro-4X Oil Pan Skid Plate
(
#153
)
Genuine Nissan Pro-4X Transfer Case Skid Plate
(
#454
)
Painted OEM Radiator Skid Plate
(
#463
)
P&P Front Recovery Points
(
#996
)
Bond Mini D-Handle Shovel
(
#1011
)
X-Bull Recovery Boards
(
#1075
)
Genuine Nissan Pro-4X Fuel Tank Skid Plate
(
#1081
)
4-Way Air-Up/Down Equalizer
(
#1111
)
Custom iPad Pro + GMRS Radio Mount
(
#1133
)
Midland MXT-275 GMRS Radio
LIGHTING RELATED
(
#018
)
LED Interior Bulbs
(
#018
Phillips White Vision LED Reverse Bulbs
(
#018
)
UtiliTrack Bed LED Lights
(
#066
)
LED Footwell and Under-Seat Display Lights
(
#113
)
OEM Genuine Nissan Xterra "Off-Road Lamps" Switch
(
#118
)
PIAA 520 ATP 6" Off-Road Lamps
(
#426
)
PIAA 520 ATP Custom Wire Wrap
(
#431
)
Rigid Industries D-Series LED Driving Lamps
(
#455
/
#456
/
#553
)
Custom External Reservoir LED Accent Lamps
(
#747
)
Katana LED Headlamp Bulb Upgrade
(
#933
)
Remote Timed Bed LED Light Switches
ENGINE AREA STUFF
(
#006
)
Stant Locking Gas Cap
(
#105
)
Mitsuba SH-1/SL-1 Truck Horns
(
#122
)
Engine Block Ground Replacement Cable
(
#496
)
Off-Road Gorilla Hood Strut Kit
(
#595
)
Interstate 640 CCA Battery
TRIMMING FOR TIRE CLEARANCE POSTS
(
#152
)
Trimming Fenders For Tire Clearance (Part 1)
(
#169
)
Trimming the Front Lip For Tire Clearance (Part 2)
(
#171
)
Trimming the Fender Liners For Tire Clearance (Part 3)
(
#177
)
Trimming the Splash Guards For Tire Clearance (Part 4)
CUSTOM MODS & MISC INSTALLS
(
#014
)
Custom Power Tailgate Lock Mod
(
#454
)
Painted OEM Radiator Skid Plate
(
#455
/
#456
)
Custom External Mounts for King Reservoirs
(
#634)
System Refresh, Cable Management (Day 1)
(
#641
)
System Refresh, Upholstered A/V Panels (Day 2)
(
#642
)
System Refresh, New Rear Fill Amplifier (Day 3)
(
#643
)
System Refresh, Bass Controller + Voltmeter (Day 4)
(
#644
)
System Refresh, Reinstalling Everything (Day 5)
(
#696
)
Custom Speaker Pod Fabrication (Part 1)
(
#701
)
Custom Tweeter Pod Finishing and Install (Part 2)
(
#847
)
Custom Mounted JL TWK-88 Control Knob and LED
(
#940
)
Custom Rear Seat USB Charging Ports
(
#1029
)
Air Comp Project, Part 1: Viair Hard Case Mod
(
#1105
)
Air Comp Project, Part 2: Air By Numbers
(
#1130
)
EFX 4-Way Power Distribution Block
(
#1130
)
Blue Sea Interior Fuse Panel
(
#1132
)
Auxbeam 8-Gang Control Panel
(
#1136
)
Custom GMRS Radio Plug
(
#1146
)
Custom Nagoya GMRS Antenna Install
BUILD THREAD HOW-TO'S
(
#013
)
How-To Relocate the Trailer Plug
(
#018
)
How-To Delete the Trailer Plug Bracket
(
#067
)
How-To Do the Rear Axle Vent / Diff Breather Mod
(
#072
)
How-To Swap to Navara Emblems
(
#173
)
How-To Install or Swap Fog Lamps
(
#328
)
How-To Swap to a Genuine Nissan Rogue Key
(
#328
)
How-To Program Your New Rogue/Switchblade Key Remote
(
#411
)
How-To Swap to a Nissan "Switchblade" Flip Key
(
#536
)
How-To Install the EZ-Down Tailgate Damper Kit
(
#565
)
How-To Program an OEM Nissan Tire Pressure Sensor (TPMS)
(
#750
)
How-To Aim Your Frontier Headlamps the Correct Way
(
#937
)
How-To Install OEM Nissan Rope Hooks (w/added Security)
TRIPS AND OTHER STUFF
(
#004
)
The First Day Home
(
#021
)
Mountain Biking at M-Trail, Riverside, CA
(
#068
)
Getting Lost in Cleghorn Ridge, San Bernardino Mountains, CA
(
#073
)
Mountain Biking at Snow Summit, Big Bear, CA
(
#079
)
Camping in Cleveland National Forest, CA
(
#088
)
Azusa Canyon OHV Exploring, San Gabriel Canyon, CA
(
#108
)
Return to Cleghorn Ridge, San Bernardino Mountains, CA
(
#123
)
Mountain Biking at Marshall Canyon, La Verne, CA
(
#140
)
Some Photos Before the Rain at Pomona, CA
(
#162
)
Lytle Creek Afternoon Trail Run, San Bernardino Mountains, CA
(
#207
)
Return to Azusa OHV with New Suspension, San Gabriel Canyon, CA
(
#235
)
King Shocks Suspension Down Travel Notes
(
#263
)
Silverwood Trail Run, San Bernardino, CA
(
#797
)
My Truck on the White Rhino Fabrication Website
(
#936
)
Update: Rear Axle Vent Mod, 5 Years Later (?)
(#N/A) Guide: Why Outside Mounted Window Deflector Visors are Better
(
#1063
)
Sort-of Normal: First Trail Run in 2021, San Bernardino, CA
OTHER THINGS THAT TOOK SOME TRUCK MONEY
(
#375
)
2016 Commencal Meta V4 Mountain Bike
(
#520
)
2018 Commencal Supreme SX
(
#861
)
2019 Commencal Meta Power 29
EOL / ARCHIVED
(
#006
)
OEM Nissan Wheel Lock Set
(
#006
)
OEM Genuine Nissan Side Step Rails
(
#008
)
Rocky Mounts Clutch SD Bike Mounts
(
#011
)
How-To: Custom Center Dash Phone Holder
(
#012
)
Audio Control Epicenter Processor
(
#012
)
JL Audio XD300/1v2 Mono Amplifier
(
#012
)
Kicker C10 Subwoofers x2
(
#012
)
ASC Prefab Dual Subwoofer Enclosure
(
#018
)
Phillips Crystal Vision Headlamp Bulbs
(
#018
)
Phillips Crystal Vision Fog Lamp Bulbs
(
#021
)
Pipeline Rail Rack Bike Holder
(
#022
)
Alpine RUX Control Knob
(
#042
)
Image Dynamics CXS v.2 6.5" Components
(
#042
)
Custom Upper Dash Speaker Mounts
(
#043
)
Kenwood Excelon DNX-892 Navigation Head Unit
(
#043
)
Amazon Fire TV
(
#043
)
Forward Facing Camera
(
#061
)
MiniDSP DSP 2-Channel Processor
(
#061
)
MiniDC Regulated Power Supply
(
#078
)
Midland 75-822 In-Cabin/Handheld CB Radio
(
#080
)
Firestik NGP Custom OEM Location Install
(
#095
)
Fabricated Custom Mounting Base for Firestik NGP CB Antenna
(
#109)
Blue Sea Systems 6-Circuit ST-Blade Fuse Block
(
#131
)
BF Goodrich All-Terrain T/A KO2 Tires
(
#141
)
Quickie Firestik Antenna Shrink Mod
(
#173
)
Lamin-X Yellow Fog Lamp Overlays
(
#185
)
Total Chaos Upper Control Arms
(
#241
)
Remote HDMI+USB Connector
(
#303
)
White Knuckle Off-Road DOM Steel Rock Sliders
(
#305
)
Hi-Tech Industries GT-5000 Traction Tape
(
#485
)
Kenwood KAC-M3004 2-Channel Amplifier
(
#643
)
CT Sounds Universal Bass Knob w/Voltmeter
(
#901
)
Hankook DynaPro AT-M (RF10) Tires
(
#1018
)
Baofeng UV-5RTP FM Radio