Year:1998
Make:Nissan
Model:frontier
Trim: XE
Color:Crystal blue
Mods:
Interior:2003 xterra bucket seats, cobra cb w/p.a., RF P2D48 subwoofer in custom box, Jenson Power 760 amp
Exterior:american racing wheels painted black, painted badges, 5% tint back window, 15%tint front windows, painted grille, fender flares and other plastics, fiberglass antenna, leonard toolbox
Suspension & Tires:t-bar crank, 30x9.5 bfg at's, Ranchos all around
Armor:coming sometime
Performance:airbox mod
In near future: custom front/rear bumpers, 3 inch suspension lift, other small things.
Well i guess since i have changed a few things and have more mods coming up fairly soon(hopefully) i will put everything on this thread so i dont have a bunch floating around everywhere. I got the truck about two years ago before my freshman year in college. I had a '88 hardbody and upgraded to my '98 frontier.
The earliest picture i have of it is from my first night i "wheeled" it, which consisted of me driving it through a bunch of mud puddles lol
Next i did the whole t-bar thing because the front end was about three inches lower than the back. It still isnt even but its a lot better than it was.
the next night i did the spin around on the wet road and smash your front valance in a ditch mod. this is the best picture i have that shows the damaged valance
took off the white pinstriping which didnt actually go with anything on the truck(i assume the previous owner put them on because they werent even straight)
got busy with school for a while and didnt have time or money to do anything to the truck but after i saved up some money i got rid of those nasty stock wheels and the 235/70 sized road tires and put on some less ugly(barely) wheels and 30/9.5 bfg at's
this is what it looked like with the 235's
and heres the 30's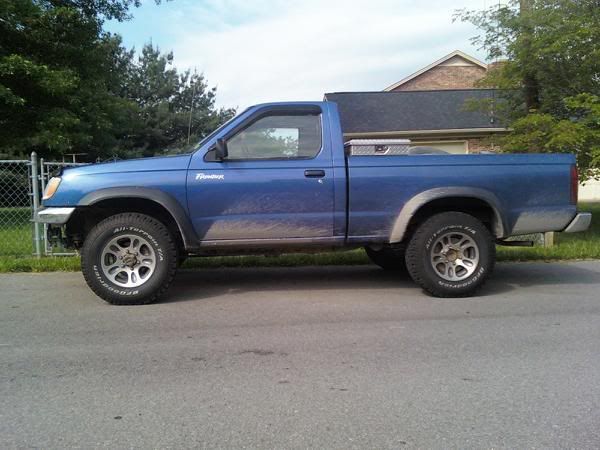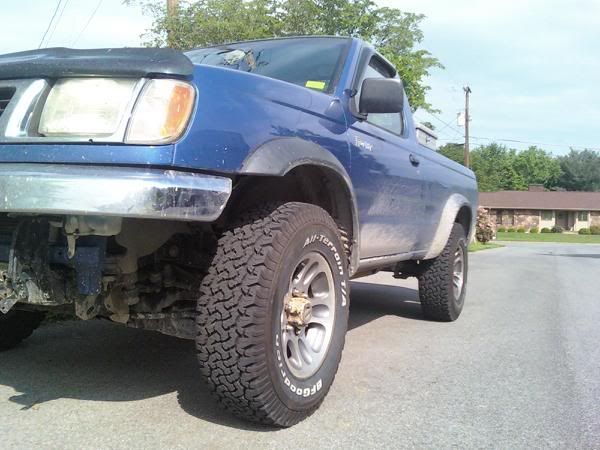 just for the record, i love these tires. they are 100 times better in all aspects than my old ones
Then i took off the "frontier" badges from the doors and sanded off the chrome and painted them black
and that is how she currently sits. Coming up fairly soon i am going to reindex the t-bars, switch the bench seat out for buckets, paint the wheels and toolbox black, figure something out for the front bumper, and a few other things. i will go ahead and apologize for updates being few and far between, but im a poor college kid as some of you already know. any questions, comments, suggestions, etc. are welcomed. i would love to hear what your opinions of what i should do with it are