Username: Okkomatz
Location: Hampton Roads, Va
Year: 2005
Make: Nissan
Model: Frontier
Trim: LE Crew Cab 4x4
Color: White
Mods:
Interior: Stock Le leather, oem Rockford system with after market touch screen head unit, Garmin Navigation Dock
Exterior: oem roof rack, sunroof, D40 Navara "catfish" Grill, Plastidiped rear bumper and Rear Burger, Debadged tailgate, Pro4x wheels, removed splash guards, removed front valance, Snugtop Camper Shell.
Drivetrain: Stock LE Rear, 2009 Titan M205 front differential
Suspension & Tires: Radflo 2.5 extended length Titan Swap coilovers w/ 700# springs, Dirt King Titan upper control arms, OEM Titan Lower control arms, Titan inner & outer tie rods, adjustable rear shackle, Deaver AAL w/Bilstien 5150's in the rear. 1.5" Wheel Spacer in the rear. 285/75/16 Toyo Open Country on Pro4X Rims
Performance: XTP IMS, BullyDog GT, Volant Intake, WRP lightweight under drive pulley(not installed yet...)
Gear and Other: Titus Products Hi-Lift mount, Yakima Fat Cat Snowboard rack(mounted during winter)
In Progress:
wish list:
Finish custom front bumper build, starting from a Calmini prerunner and building into a "hybrid" with winch mount.
Start on rear bumper tire swing out build, starting from a Shrockworks rear bumper.
**MOST RECENT**
Finished my Titan Swap!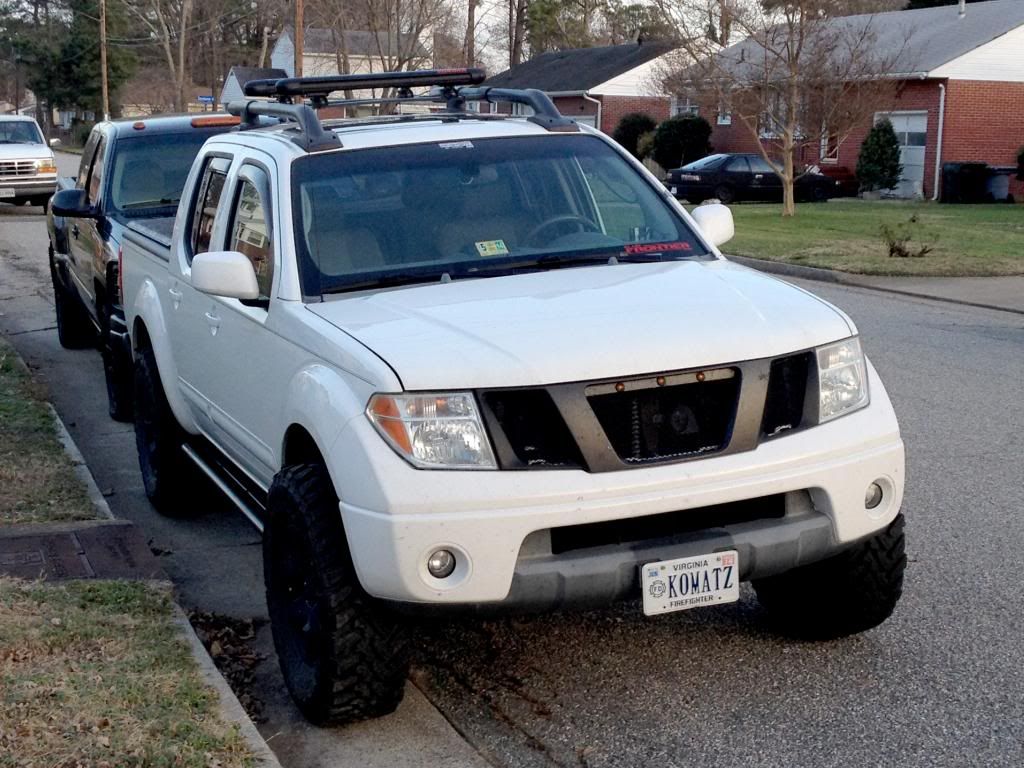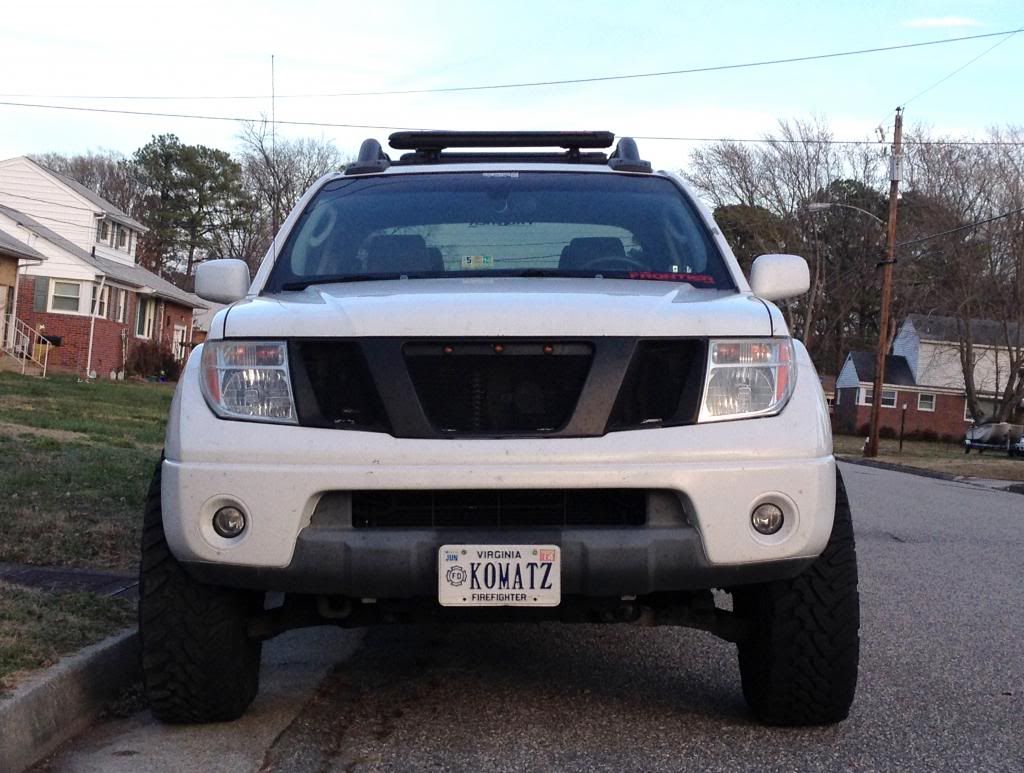 Injen CAI
Traded the ugly LE rims and 265's for some Nismo rims and 285/75/16's!
Now for pics... (after bringing her home May 2012)
The folding bed cover that came on the truck when I bought it was cool, but the vinyl at the folding joints was bad and leaked water into the bed. No good if you're trying to keep that area dry, so I took it off and trashed it with the intent of getting a new cover, probably a roll-up one.
After that I did some research and saw the threads about plastidiping things. SO, since I HATE chrome and the grill(in my opinion) looks ugly chrome, I plastidiped it so it would be black. Sorry no pictures of that, lasted a little while, then just looked bad. So I then decided to custom cut my grill, set mesh behind it, and then plastidip it again. I plan to set AUX lighting behind the mesh between the grill and radiator, going for the stealth factor..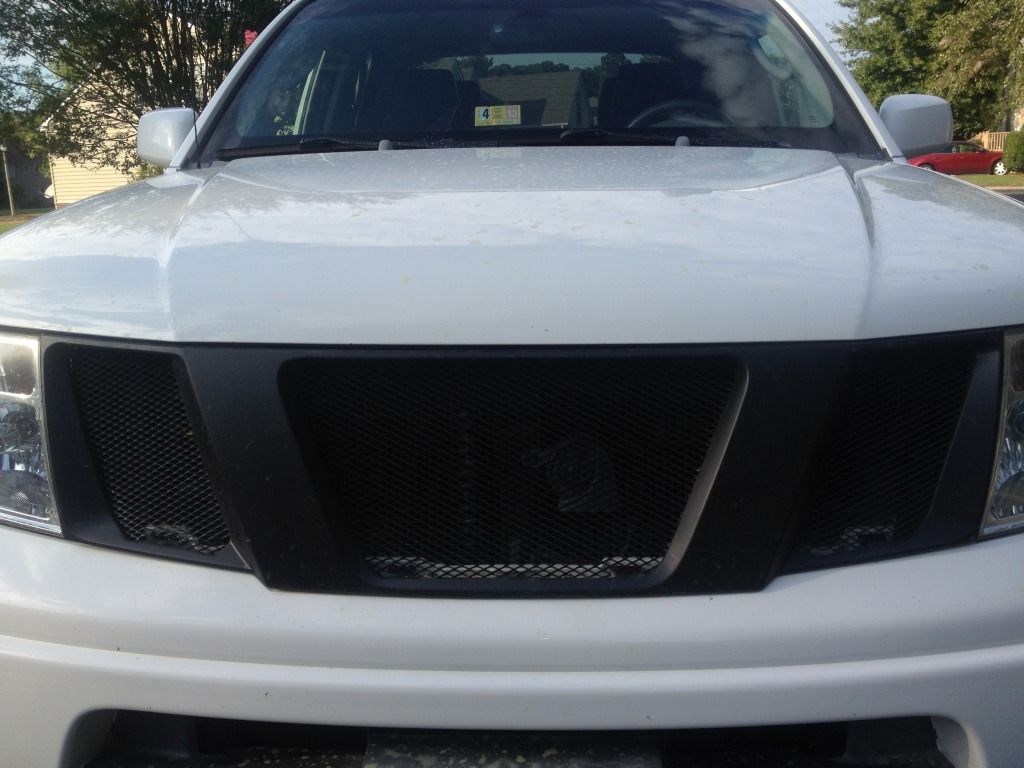 I then eventually decided to plastidip the rear bumper, as it was chrome and I don't like chrome. Plus everything seems to be going the route of white truck, black everything else.. (SNOW)STORMTROOPER!
You can see the Hi-lift mount from Titus, and my Yakima Rack on top.
Here she was in a little snow when I was on a snowboard trip in West Virginia.
3" spacer front w/SPC UCA & AAL rear