Discussion Starter
·
#1
·
Hi everyone,
I am switching from a tiregate back to a tailgate and need to replace all the original hardware for mounting a tailgate but I'm not 100% sure what I need. CourtesyParts.com is not the most user friendly for this and I don't think RockAuto.com carries all the parts.
Here is what I have: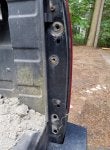 So I need a Striker for left and right. But what else? If you are super savvy and know the part # then awesome, but even the part name would be most appreciated and I will google to get specific part #'s.
Thanks!