Hey guys,
Some one had posted that they found this grille on ebay. I liked it, price was right ($80) so I ordered it up! I did not realize that shipping was $40 and it was coming from Taiwan! HA! Whoops. They did say it would take 15 to 20 days to arive, and it only took 10! So thats good.
Any way, lets get to the good part... PICs!!!
Here it is after I opend it from the box.
The one thing I did not like from the ebay pics was how see-through the mesh part was and how it almost looks like there is nothing there at all. But at least it looks like it can easily be replaced with some better mesh from a auto parts store...
The other down side to this, is the plastic is a little on the thin side. Its is not overly cheap, but I wish it was a little thicker. The snap in tabs that are on our stock grill, is mimicked on this one..... but with much less material... which equals a less sucure mount.
When the grille was installed, you could tell the snap in clips did not hold it as tight as the stocker did. It DID NOT feel like it would come loose, but it didnt sit as flush as I wanted it to. So I drilled one hole in the 2 main lower tabs, and used a zip tie to hold it a bit more snug. This help a ton, believe it or not.
Here you can see it is nice and tight and position as it should be.
The rest of the grill uses the stock hard ware,... well I should say plastic ware, lol. It uses the re-usable screw/rivots that are on top, just under the hood.
From begining to end this took about 20 - 30 mins, and that is including the removel time of the stock grille. So here is just a bunch of pics of my truck with the new grille.....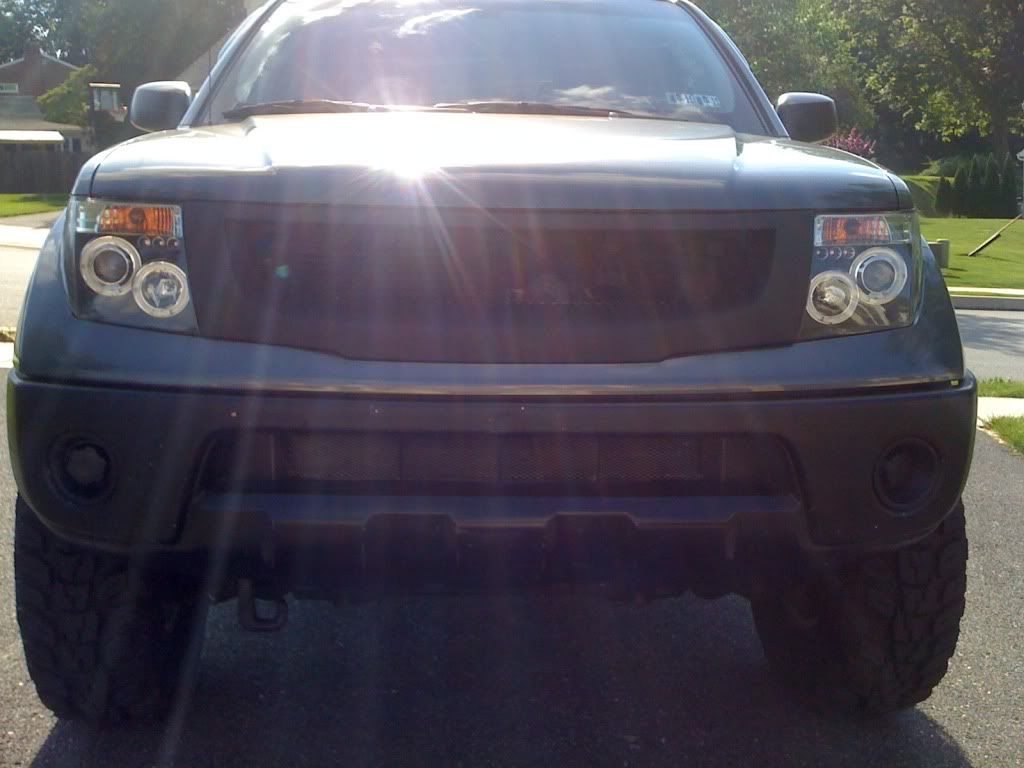 As you can see from this shot, when the sun is in front of you, it really hides the mesh that is so see through....
With the sun to your back.... the ugly comes out
This pic is a good one to show the gilles fit and finish. As you can see it lines up well with the hood, and as I showed earlier, it fits well in the trim between the bumper and the grille (after help from zip ties), but it does stick out a little bit by the head lights. These are aftermarket head lights so, its hard to know whos to blame on this.
Over all it looks decent in my book. If I were to rate it from 1 - 10, 10 being the best.... I would give it a 6.
My biggest gripe is the mesh, in fact some of the black paint from the mesh started to rub off already! I am very dis-pleased with this part of it. Also the thin plastic. At first I thought it was a total POS, but once installed it is faily ridged and succure.
It has not grown on me yet. I dont really know if I like it or if it took the Nissan identity away fron it. IDK yet, only a little time will tell. I think if I put better, thicker mesh on it, it should help the look. If not.... maybe you like it and can buy it from me.
Let me know your thoughts!