Front + Rear Differential &&& Transfercase Fluid Change on 05+ Gen 2 Frontier
Materials For Differentials:
1 & 3/4 Pints Front Gear Oil (GL-5 Spec 80w-90 Synthetic), 3 & 3/8ths Rear Gear Oil For
C200
Differential (GL-5 Spec 70w-90 Synthetic) and 4 and 1/4 Pint For
M226's
(GL-5 Spec 75w-140 synthetic), 2 1/8 quarts Transfer-case Lube (Nissan D-Matic, as required by FSM) I used my Amsoil Universal Automatic Transmission Fluid (meets D, J and K-Matic Specs), 10mm & 14mm Allen Wrenches (Note: the m226 requires a 3/8" square drive for both the fill and drain plugs), drain pan, and various funnels ( you could even use a fluid pump).
REAR DIFFERENTIAL:
Step 1.
I started on the Rear differential (C200), first break loose the fill plug using the 14mm Allen wrench. I've seen these stripped out or froze up too many times to check them last after the fluid has been drained, we were unable to refill! So break that thing loose first.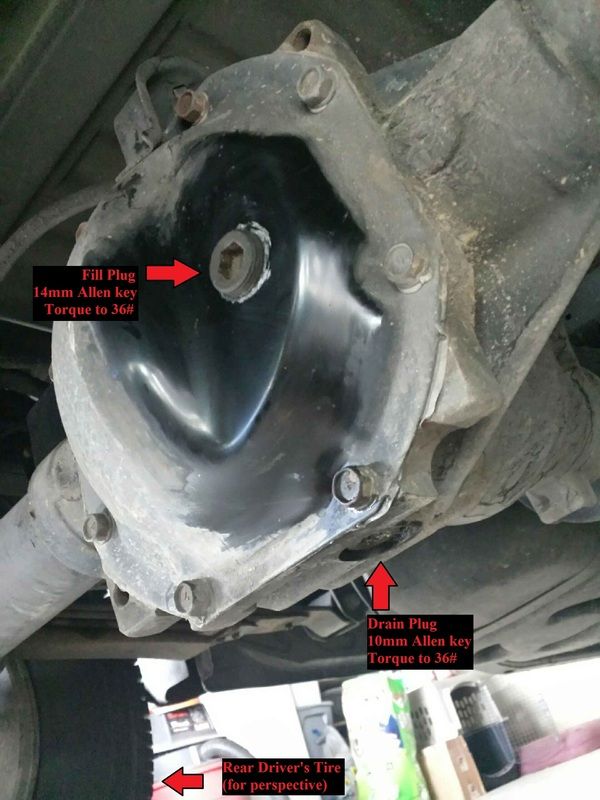 Step 2.
Use the 10mm Allen wrench to break loose the Drain Plug. Get your drain pan setup and ready to receive oil. Finish unscrewing the drain plug and let that drain. Watch out for the sealing washer on it, I almost lost mine.
Step 3.
While it's draining don't forget to wipe that MAGNETIC drain plug clean!! Just watch how many uglies come off of it! Mine wasn't too terribly bad, but afterwards it was good as new. Solvents can be used, but it's not imperative.
Step 4.
Re-install the drain plug and torque it down (make sure the washer is on it!).
Step 5.
Remove the Fill plug. Use your required gear oil to fill the differential. For C200 diff's use 3 & 3/8ths Pint GL-5 Spec 75w-90 Synthetic. For M226 use 4 & 1/4 Pint GL-5 Spec 75w-140 Synthetic. Fill em up! The fill plug doesn't have a sealing washer for my C200 diff. When the oil starts to run back out of the Fill Hole you can re-install the fill plug.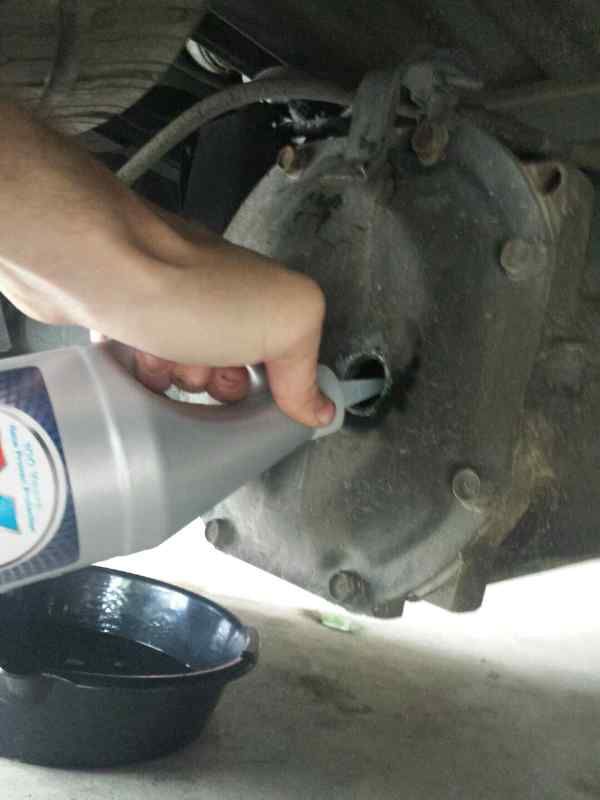 Step 6.
Use the 14mm Allen to re-install the Fill Plug. Torque it down too.
Step 7.
Wipe the differential clean and make sure it's not leaking. If anything is leaking you can use an application specific RTV on the threads, but it shouldn't take much. Sometimes it can be as simple as the plugs not being tight enough. That's it for the rear!!
FRONT DIFFERENTIAL:
Step 1.
Since Im not lifted I opted to put my truck on ramps. Jack stands work just the same, just be sure to Chock the rear tires and Set the Parking Brake. We wouldn't want the truck rolling/falling down on you!!
Step 2.
Again, start by breaking loose the FILL PLUG using the 10mm Allen wrench, it will be used on both FILL and DRAIN plugs for the FRONT DIFFERENTIAL.
Step 3.
Break loose the DRAIN plug using the 10mm Allen wrench. It's located on the driver's side just under the CV output. Get the drain pan ready to receive and finish unscrewing the drain plug and let it drain. Be careful not to lose the washer/seal that is on it. Mine was stuck to the pumpkin and I had to pry it out.
Step 4.
Its time to clean the Magnetic Drain Plug again. Just wipe it clean and make sure there aren't any metal fragments. That would be…Bad. Luckily mine was good, just the normal wear/tear. You can use solvent's if you choose, but it isn't necessary.
Step 5.
Re-Install the Drain Plug (making sure the sealing washer is on it). Now torque it down too.
Step 6.
Use the required fluid (1 & 3/4 PINTS GL-5 Spec 80w-90 Synthetic) and fill her up. I don't think I used a full 1 & 3/4 Pint on it but close. When it starts to flow out of the fill plug is when you know its full, now quickly put the fill plug back in (making sure the sealing washer is on it).
Step 7.
Now torque that Fill Plug down!
Step 8.
Wipe her clean and make sure there are no leaks.
Edit here:
I forgot to add, When I drained my rear diff fluid, it was pretty much good. I could have pushed it another 30k mi. But I wasnt about to do that since I had alloted this be its renewal time. The front on the other hand was slightly darker in color, and had some debris in the oil as it drained. After sifting through it it didnt seem metalic (as it would have been stuck to the magnet) but rather like dirt/burned oil/old sealant.
Thats it for this post, It will only let me do 25 Pictures per post. The transfer case will be in the next post!!!