After wheels,tires and lift, I've noticed my "panic" stops are lacking some
Umphhh
.
I decided to switch
front
pads to the Hawk LTSs that just came out for us.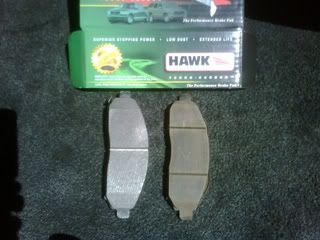 _ Hawk(L) / Stock(R)
After bedding them in properly, I went for a zoomy zoom to test them out. At the 1st stop sign I was greeted with the GRrrrrrrr... sounds of my 32s straining wayyy sooner and with less pedal effort than before. Further down, I did a Two footed oh' Sh*t stomp at 45 mph. GRrrrrrr!!! Thuda Thuda Thuda etc. Dayum ! These things Grab!
and
STOP!
Might get the rear pads too :laugh:
I really can't vouch for them in towing situations. But I'm happy so far.