The goal of this truck is to do it all, camping, wheeling, and daily duties. None of which can significantly impact the others usage therefore I tired to take the middle ground on all tasks. This has turned out to be a great truck and does everything I ask of it, of course I keep asking for more in each category
So it will never be "done" so to speak, think of Zeno's paradox
This is the sequel build of my truck as my last was totaled in a rear end collision(
http://www.clubfrontier.org/forums/f103/glamisdude72000s-build-thread-76827/
). So far this truck has been a substantial upgrade to the last one, having gained half the amount of miles, 2 model years newer, and 4x4 with a locker. This is the story of its progress, enjoy
Username: Glamisdude72000 (Chris)
Year: 2007
Make: Nissan
Model: Frontier (Annabelle)
Trim: KC Nismo 4X
Color: Avalanche White
January 2013, April 2015 TOTM, Thanks guys!
Current Pic: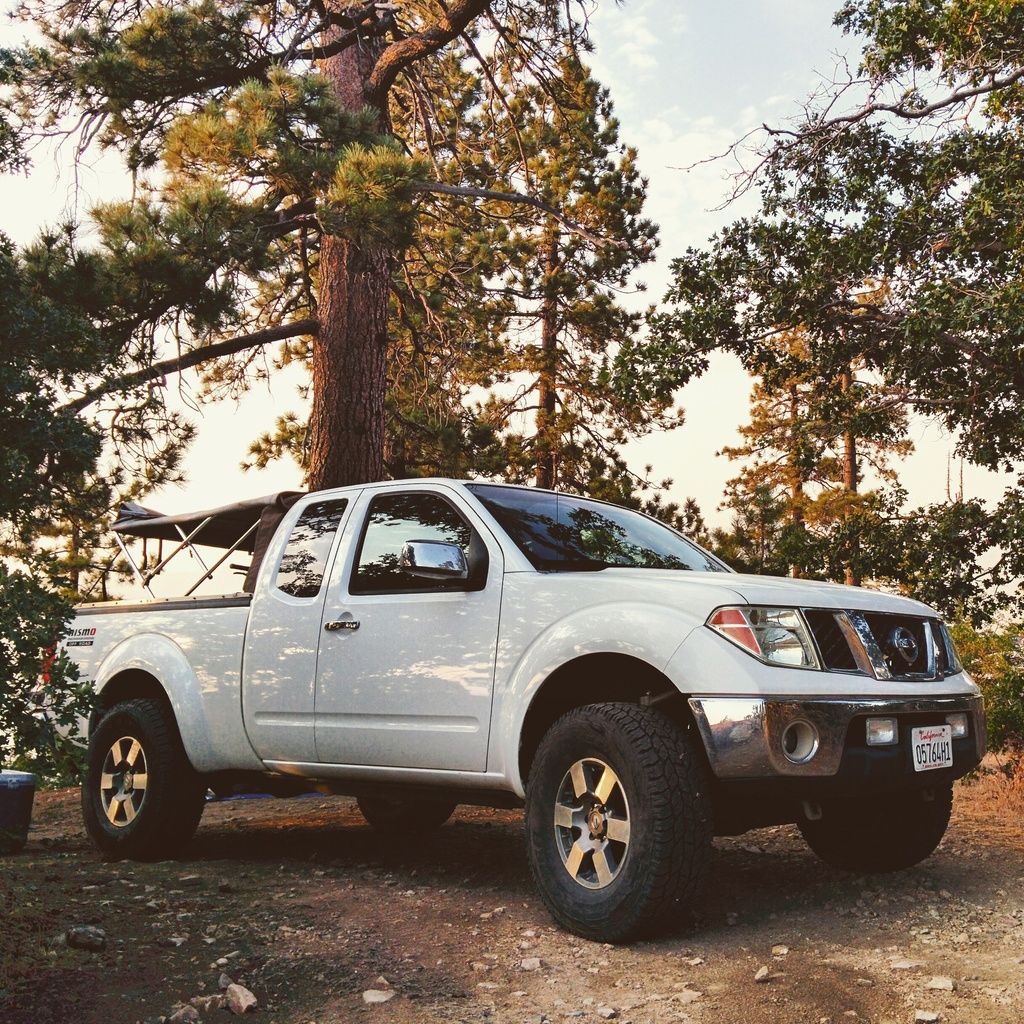 Mods:
Lower Bumper Valence and Mud Flaps Removed
Blue Sea 6 connection fuse block with ground bus under hood, battery terminal with voltage readout
Blue Sea 12 connection fuse block with ground bus mount under bed
Rear Diff Breather Extension
EVAP canister vent mod
Deck plate air box mod
Anytime E locker Mod
Trans cooler bypass with Hayden Aftermarket cooler
Camo tan accents (Foglight trim rings, plate lights, tow hooks)
Bedlined bumper step pads
Exhaust dumped just after axle
Hitch Plug Relocation
Cab Interior:
ZeroEdge front/rear dash cam replacement mirror
Magellan Touchscreen Nav
50w Inverter
Cobra 18wx ST II CB
LED dome lights
Stereo:
Kenwood Excelon KDC- x794
Alpine Type R 6 x9 coax. (front, amped)
Old school Infinity Reference 6.5 coax paper cones (Rear)
Polk db 1" Tweeters in factory dash location (amped)
Hifonics Zeus zxi 4406, 55w rms per/ch (FR Doors, tweeters)
Axxess ASWC steering wheel control adaptor
Dual amplifier 2 AWG wiring kit with power and ground distribution blocks
Switched remote turn ons for amps when power consumption matters
Exterior:
Tan Softtopper
55w HID Hella 550's in bumper mouth
KC 57 Series Spots behind grill
Kawell 18w LED Flood backup light mount to rear plate
Bed lighting, Dual 20" 15w Samsung LED light bars
Automatic under door entry lights
Custom LED Rock lights
Firestik II 4' CB antenna
Tail gate seal kit
U Haul Receiver
Nismo4X badge
Bed mounted mini toolbox for recovery gear and tie downs
Superstrut bike mounts and tie down points
Drivetrain:
Auto, 4x4 with rear e locker
Suspension:
Titan swap consisting of:
Gen 1 Tundra Bilstein 5100s (extra snap ring grooves and custom tophats) with gen 4 4Runner springs (580lb)
Total Chaos Clone uppers (FK uniballs + PRG hardware)
OEM Titan lowers
Moog HD serviceable lower ball joints
Energy Suspension polyurethane lower bj boots
Wheeler's Superbumps progressive front bumpstops
Belltech progressive rear bumpstops
PRG Tie rod extensions
Extended brake lines
Extended half shafts using OEM boots
Alignment cams
ProComp MX-6 Adjustable Monotubes
OME Dakar MD leafs (large overload removed)
Nisstec 3* billet axle shims
EZ Accessory 2" wheel spacers
Custom low rate off road rear sway bar
Overall Lift:
Front: 3"
Rear: 2.25"
Wheel Travel:
Front: 10"
Rear: TBD
Wheels and Tires:
Pro 4x Machined faced 6 spokes
Cooper Discoverer AT3's 285/75R16
Armor:
Stock Nismo Skids
Performance:
K & N Drop in
Group 34R Super Start Platinum+ AGM (Deka made)
Gear and Other:
Tow strap/ D ring shackles, Jumper cables, folding shovel, extra bolts, etc
Masterflow Tsunami Compressor (hi flow mods)
Mini hand picked tool kit
Snow Chains
California USFS Annual Adventure Pass
In Progress:
Leaf Spring mods
In the Foreseeable Future
Collapsible Bed hammock
Enjoyment!
Fixed Issues:
Timing chain guides at 56k
Fuel sender at 70k
Rebuilt transmission at 84k
Ongoing Issues:
Archive:
Gen 1 Tundra TRD Bilsteins with Tundra coils (too much lift and a bit firm)
Bilstien 5125's
Stock Frontier coilovers with 2.5" Calmini Spacer (springs sagged beyond usability)
MD TJM Extended Travel Coilovers (blew up wheeling)
Custom made roof rack powdercoated wrinkle coat black with 4 55w KC 57 series lights (2 driving, 2 spot)
Century Ultra shell with Thule Tracks, carpet kit, front boot, and passenger side windoor
Shell Interior:
Detailed Info
Quick glance:
Carpeted custom sleeping platform with storage
4" memory foam mattress
Hand made curtains
Logitech THX speakers with bullet tweeters (switched, deck power)
Switch panel for shell accessories
200w Inverter
If interested in pics of this setup see
post 10
below.
Pics:
On the way home from the Dealership in Vegas (Stock):
After first Lift and Tires:
just ext travel
After T Swap: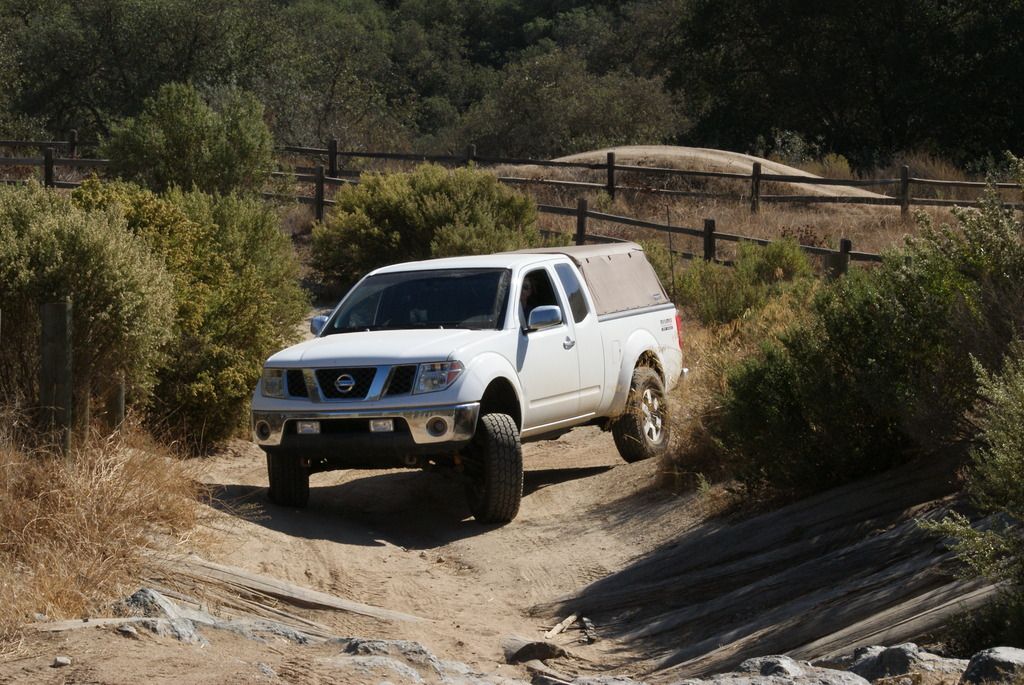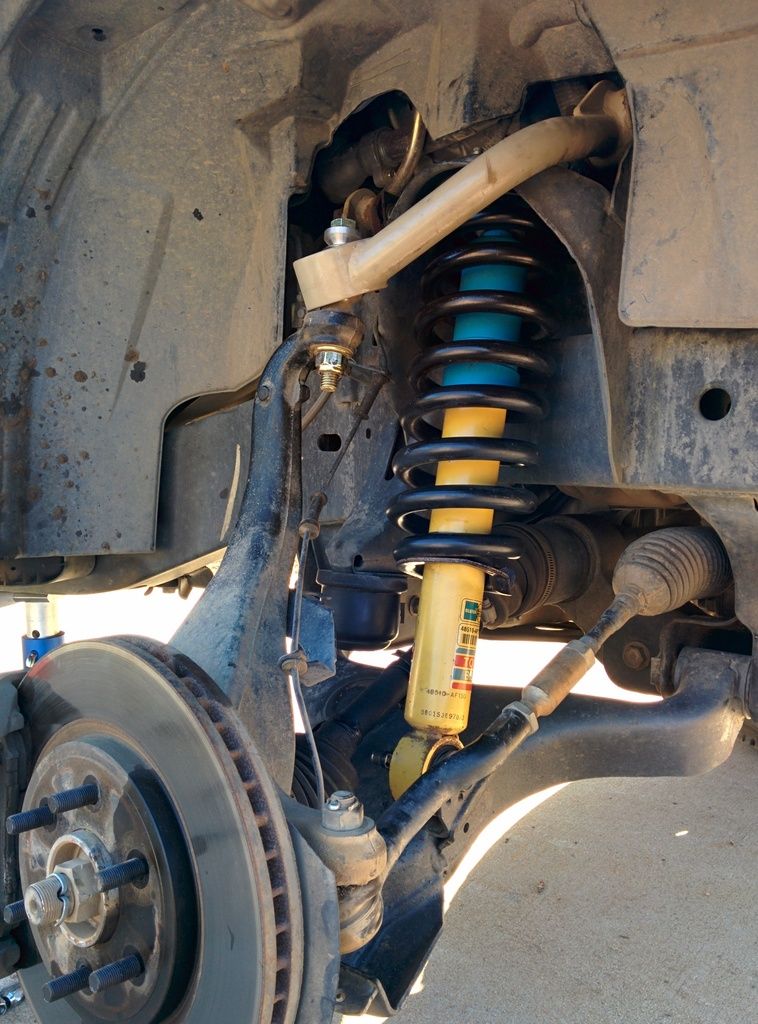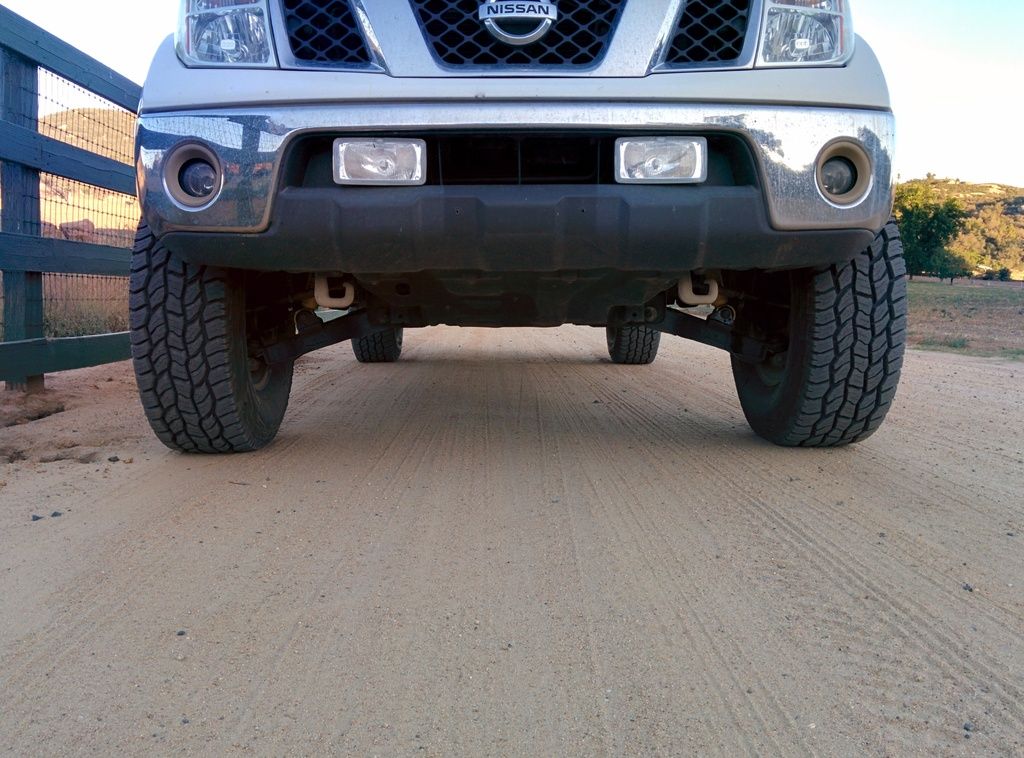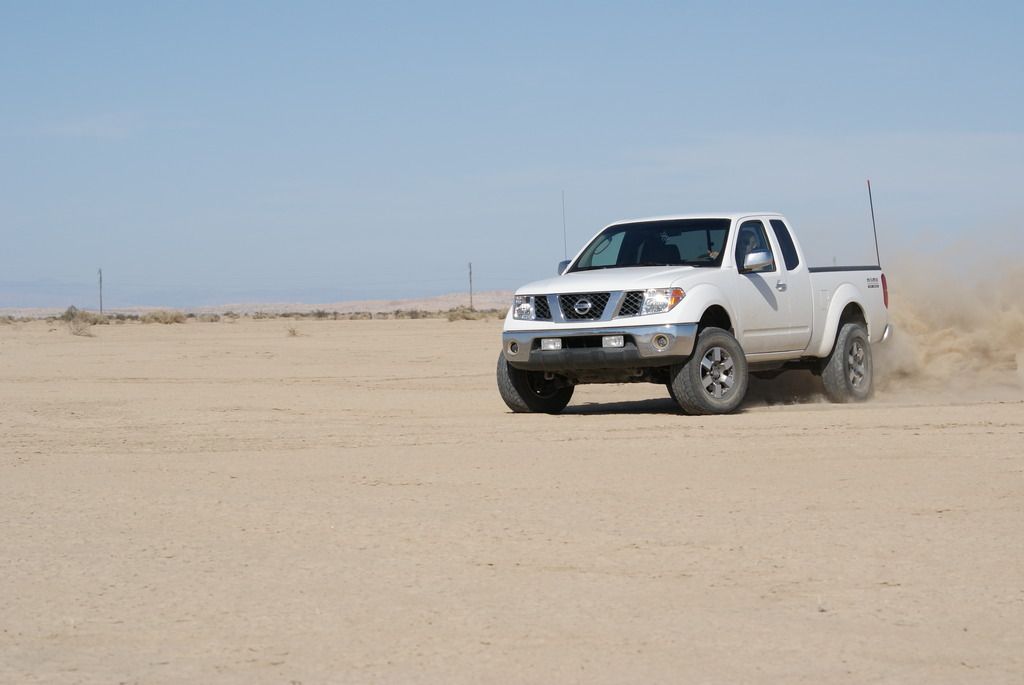 Lights: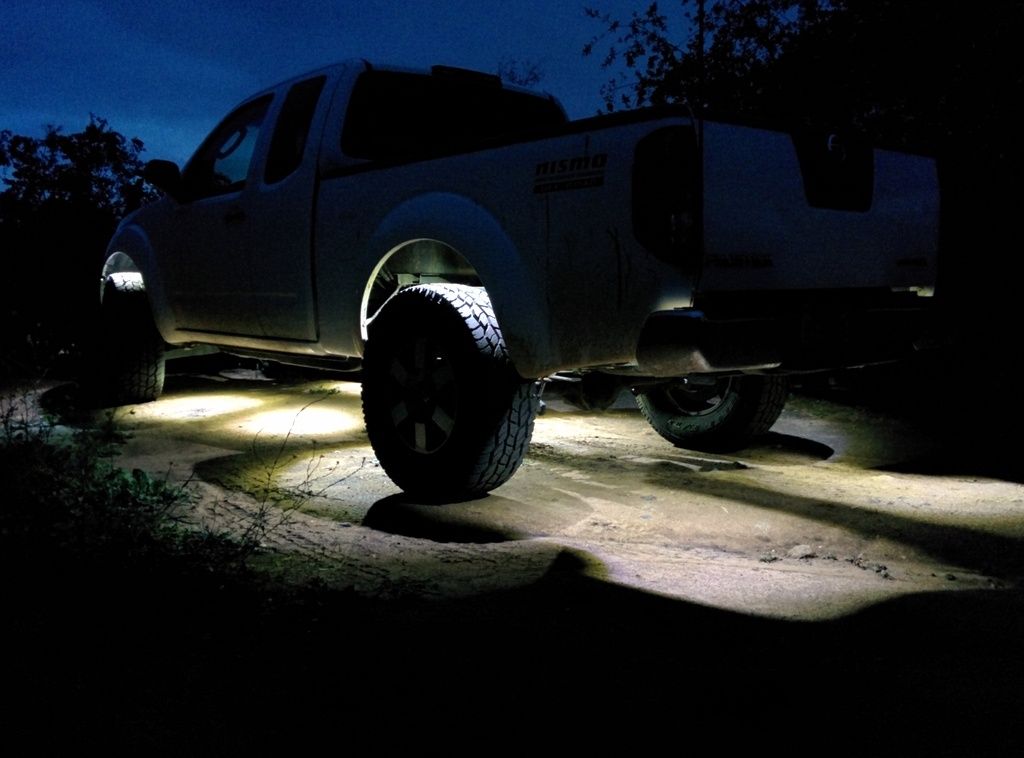 Electrical:
Under Hood: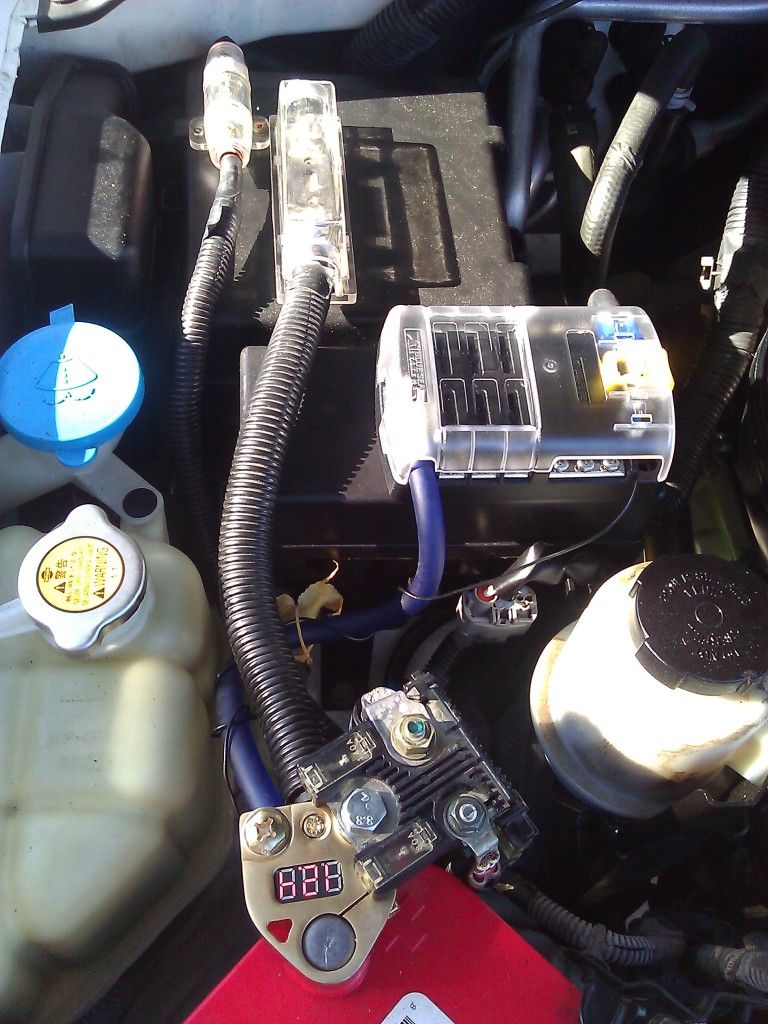 Under Bed:
Mods:
Wheeling!: