Fitting a 33" tire (285/70R17) on 2nd Gen Frontier W/ stock or aftermarket wheels
I know this topic comes up a lot so hopefully this will help some of you out..... Here is my personal experience
So it came time to put some new tires on my frontier and I, like many of you, wanted to go as big as I could go with a 2.5" leveling kit in the front and a 1" shackle lift in the rear. Here are the details for what I have done along with some pictures so you can see the results. If you have any questions by all means post them up, we are here to help.
Tire Choice: My frontier is a 2007 LE 4x4 with a 2.5" leveling kit in the front and a 1" shackle lift in the rear. Yes, I do take it off road. The last time I took it out, I found out the hard way that this vehicle will take you pretty much anywhere you want to go. Whether you should actually go there is up to you.... I busted one of the fog lights, flooded the horn and taco'd one of the stock side steps (now replaced with the rock sliders) all in one weekend fishing trip. :noworries: With this trip in mind I decided the next tires would be a little beefier than the stock option in both size and tread pattern. Considering my options I decided the 285/70R17 Nitto Terra Grappler, at about 2.25" taller than stock, would hit the mark. This size gives me about 1" more belly clearance and will stuff into the wheel wells nicely when mounted on the correct sized wheels. This size is also approved for my stock 17x7.5 wheels. (This is a big plus when it comes to getting the most out of your tires as for life and performance).
The tires came in and I mounted them up. Here are the results. These tires will may fit a fully stock frontier but would require quite a bit of trimming and cutting to keep them from rubbing. With stock wheels and the mini lift I have fit them with easy.
Stock 17x7.5 +30mm offset wheels 2.5" level in front 1" shackle in rear
285/70R17 Nitto Terra Grappler
***rubbed slightly on inner fender liner (front only when parking) minor fix.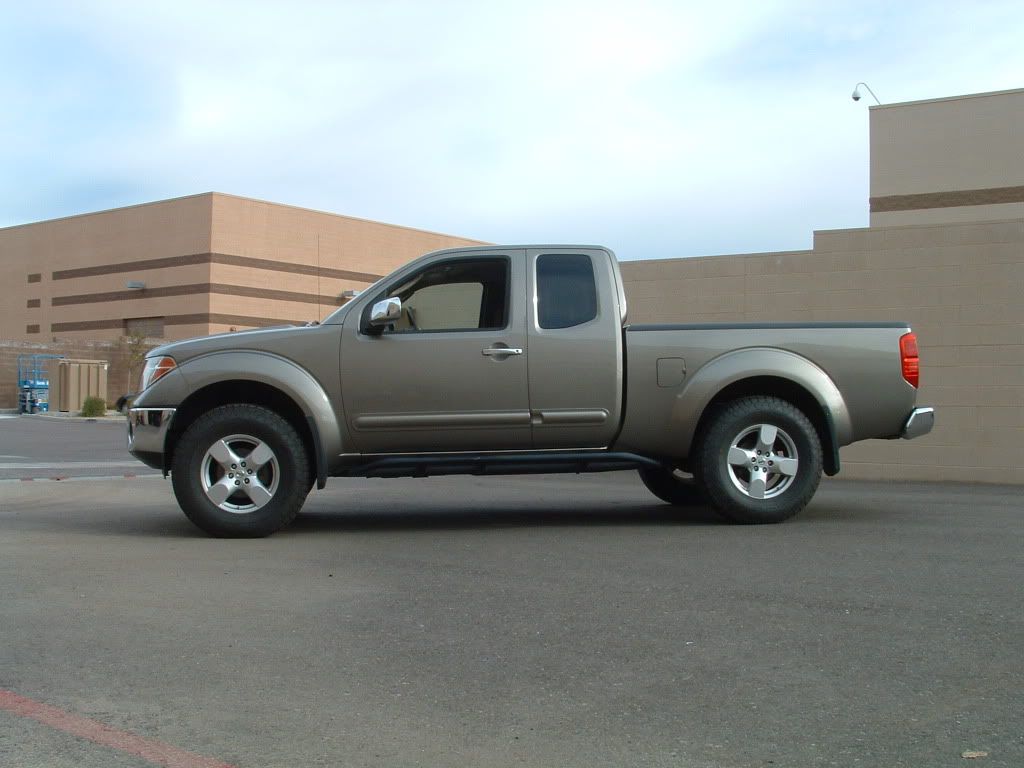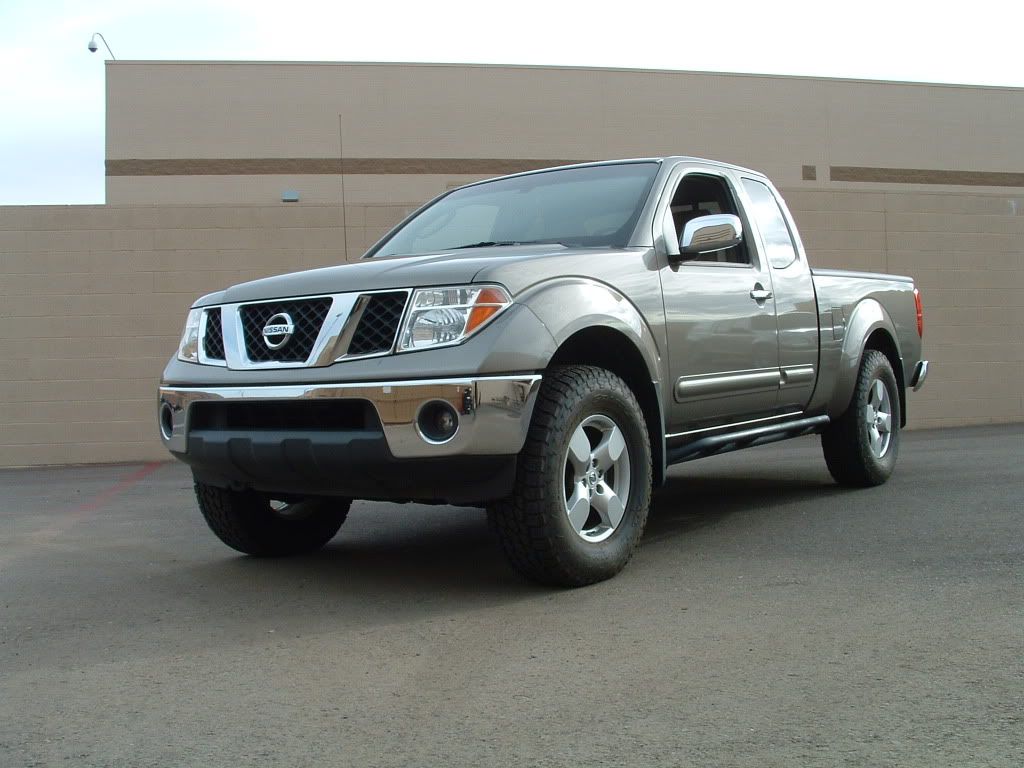 Where this may be what some of you are after, I wanted more. I quickly decided I needed a set of wheels as well. Some of you know we have been working with American Outlaw to make some mold corrections for additional brake clearance. I'm happy to say that we have made some progress and we will soon be carrying some additional offsets and finishes for the frontier. So, I ordered up a set of American Outlaw Buckshots in 17". I thought it would take a few weeks for them to come in but last week my set rolled in. In the boxes were 17x9 +14mm offset black w/polish American Outlaw buckshots. This is a new offset for this size and design and this offset is typically better for frontiers with more than a 2.5" lift because it helps to keep your wheel and tire tucked into the deepest part of your fenders. Offsets lower than +12mm and especially negative offsets will set your wheels and tires out too far for a tire this tall. (unless you install a lift that is 4" or taller) As you can see below, if you do some work you'll be able to fit them.
Here's how the truck sits today...
17x9 American Outlaw Buckshots +14mm offset
285/70R17 Nitto Terra Grapplers
2.5" Front level
1" Rear shackle
*** TO FIT: Had to remove front mud flaps and part of the front bumper lower trim piece, had to do pinch weld mod and had to trim some of the fender liner as well. With 2.5" level I would recommend a higher offset if possible to help keep the tire in the deepest part of the fender. Larger than 2.5" lifts should not need as much modification.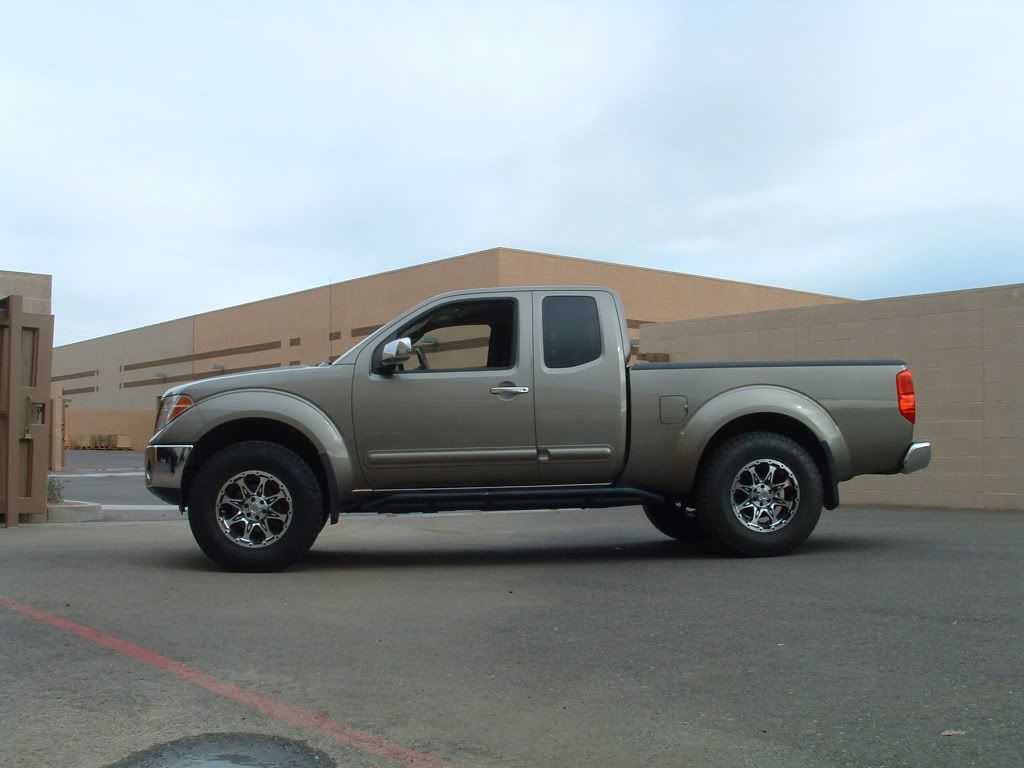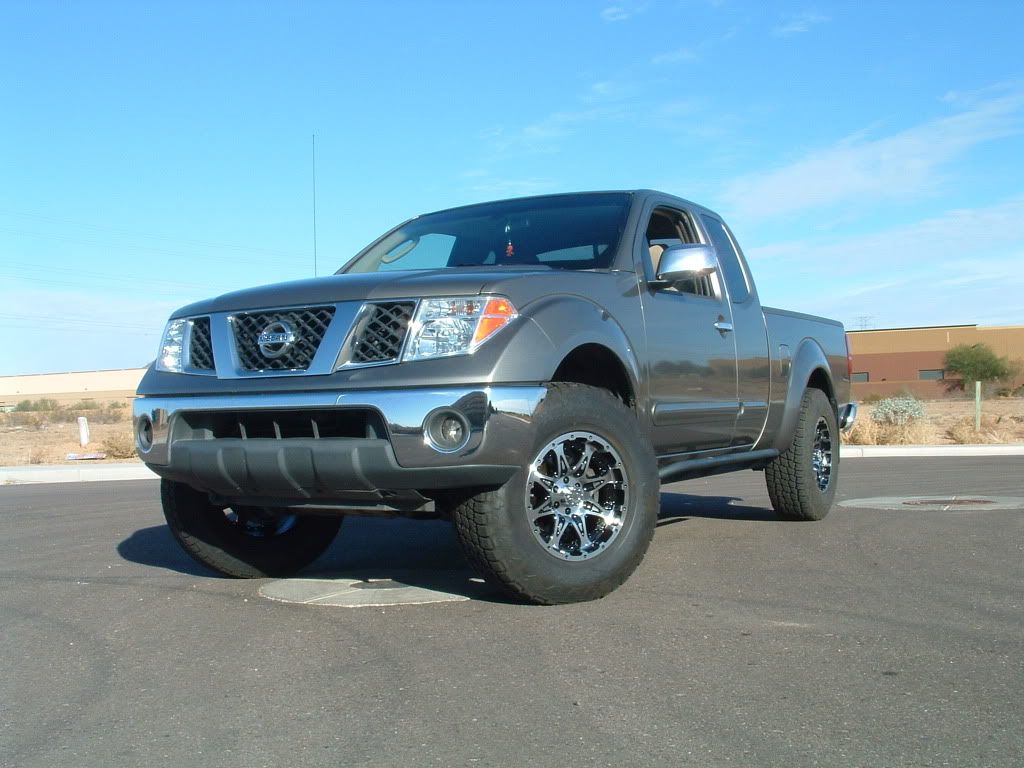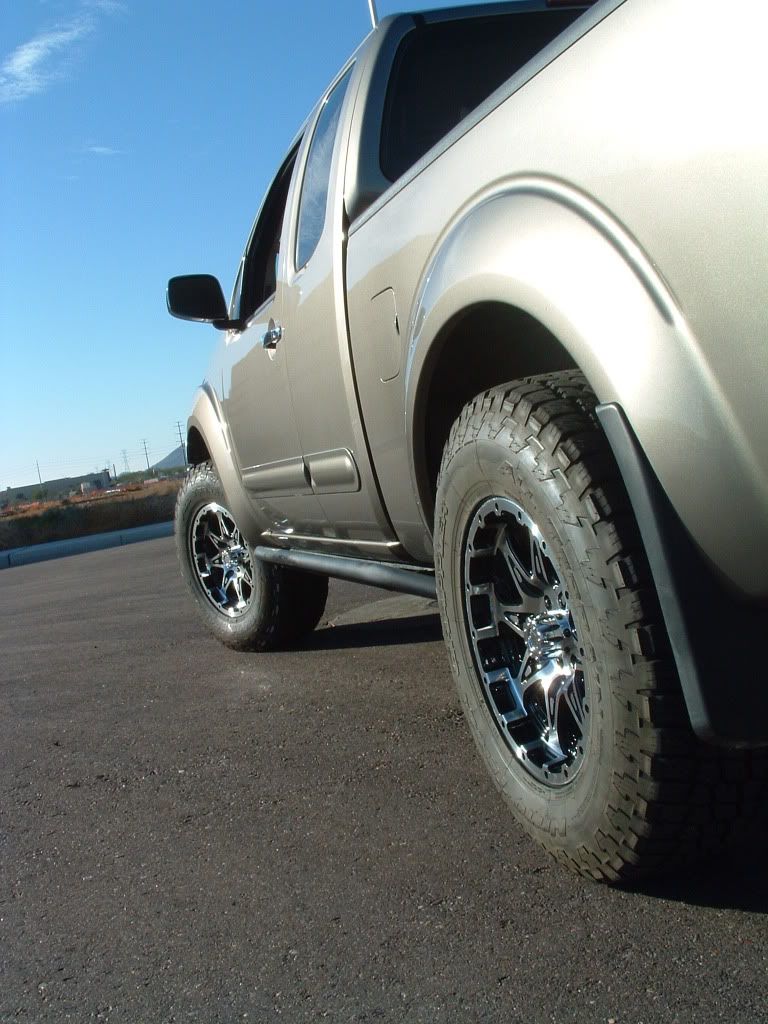 Here you can see the difference from stock wheels with a 285/70R17 and aftermarket 17x9 +14mm wheels. Stock wheels keep this tire size flush with the fenders, aftermarket 17x9 +14mm offset wheels push the tire out about 1/2"
Stock wheels and 285/70R17 Terra Grappler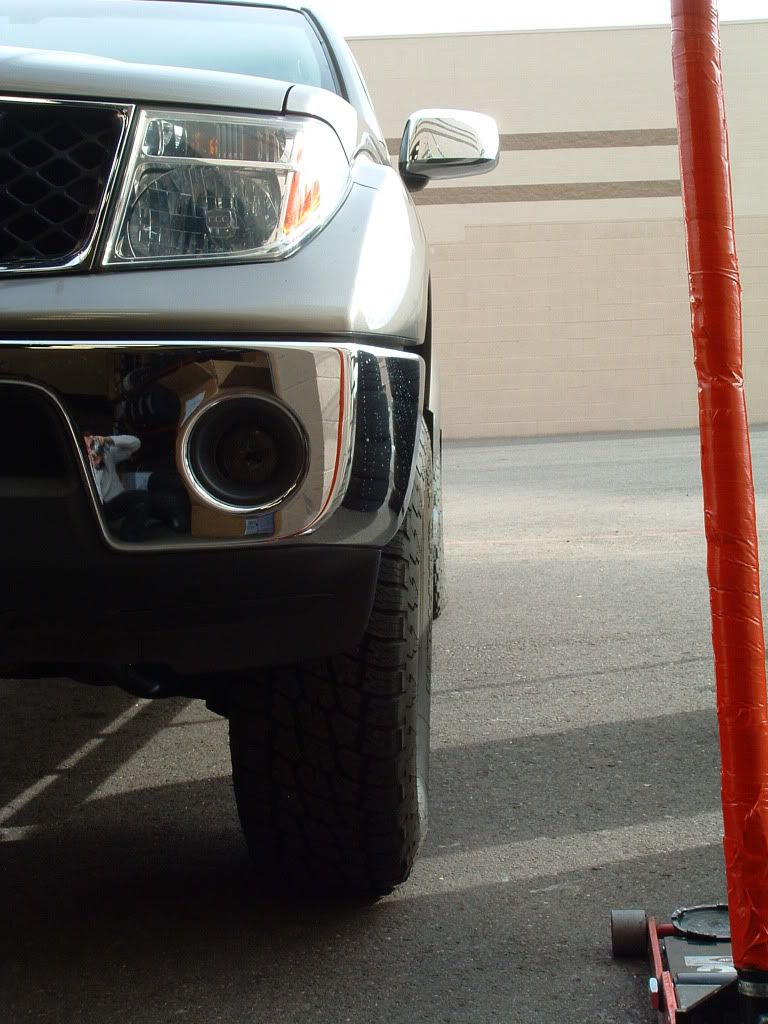 American outlaw Buckshot 17x9 +14mm offset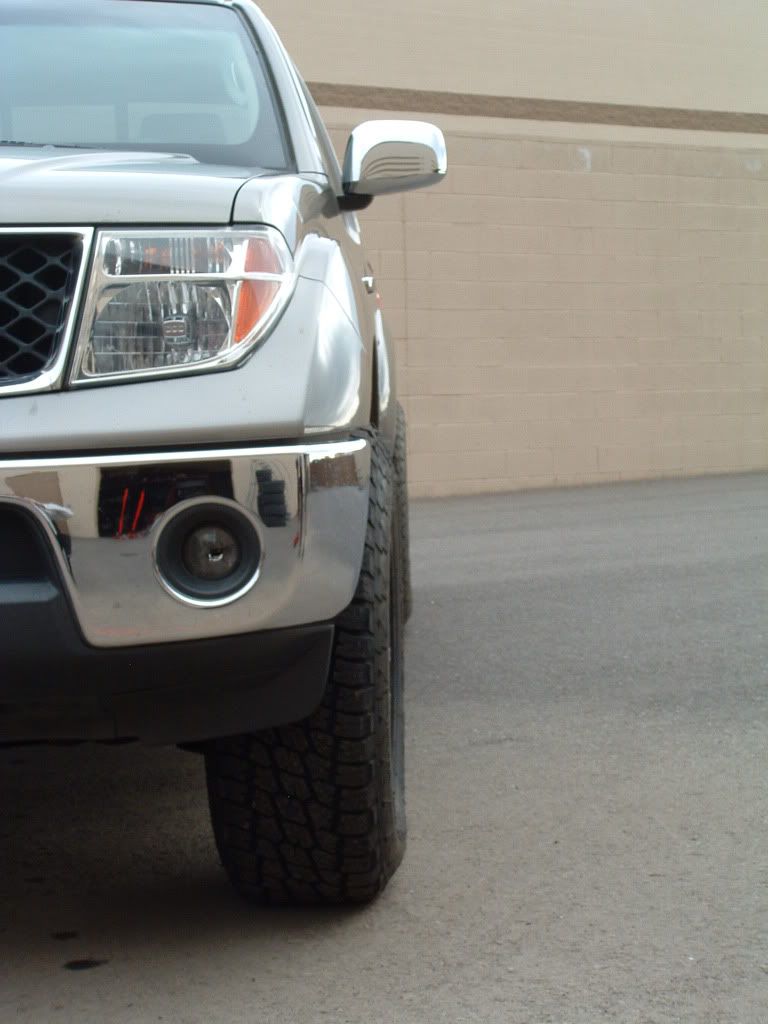 :woot: