I bought my truck used so unfortunately it didn't come with all the utili-tracks installed. I've been looking for a way to install some tie downs in the bed using the original utili-track mounts. Yesterday I was in Harbor Freight and found these.
They cost $2.99 and are rated for 700 lbs.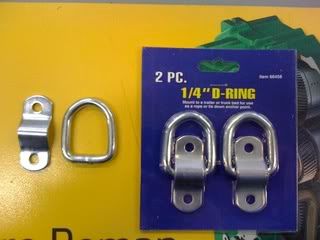 I had to use a step drill to make the hole in the hanger big enough for a 8mm bolt but the holes matched up perfectly to the mounts in the bed for the utili-track.