Discussion Starter
·
#1
·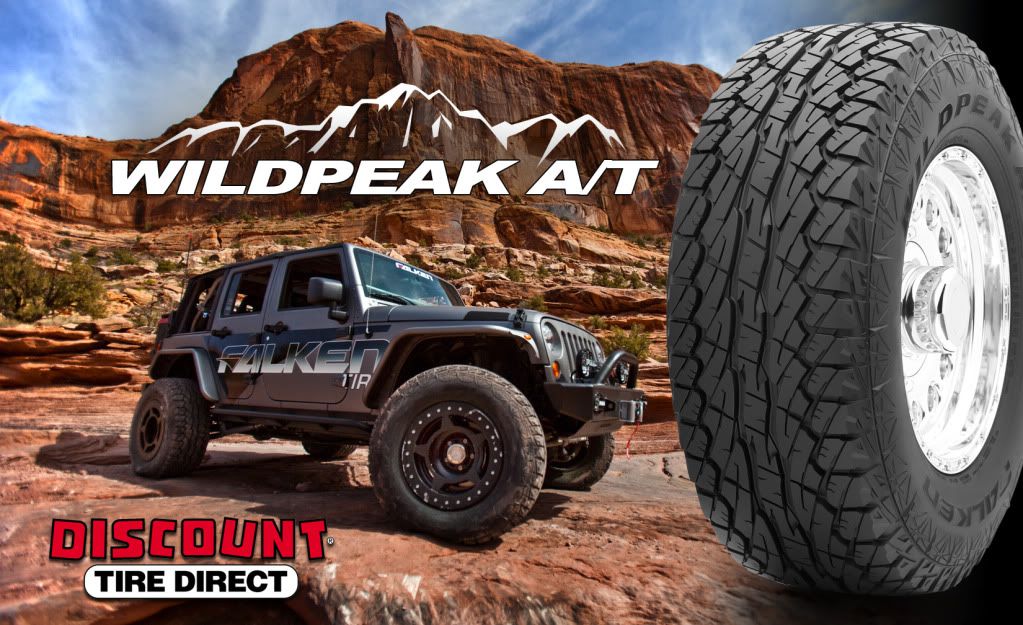 FALKEN WILD PEAK A/T
UTQG: 500 A/B - metric sizes only
Click here for:
Sizes, Specs, and Pricing on the Wild Peak A/T
Additional specs can be found
HERE
Falken Tire has reinvigorated the all-performance sport utility and light truck tire market with the introduction of the new all-terrain, all-season, all-purpose WildPeak A/T. With an aggressive stance for maximum traction, the WildPeak A/T stands out from the crowd, featuring a symmetric five-rib pattern and rigid block designs allowing for exceptional on-road response and optimized off-road handling, coupled with two stiff, extra-wide steel belts for stability.
A key feature of the new WildPeak A/T is the availability of sizes for the expansive sport utility and light truck market. The tire is offered in today's most popular original equipment sizes in metric and LT metric with choices of 15 to 20 inch wheel diameters and many plus-sized applications. In addition, four wide, aggressive multi-angled grooves allow for maximum water, mud and snow evacuation, while aggressive biting block edges provide unparalleled traction and control.
Falken brings its extensive performance advantage to the established light truck/SUV tire market through WildPeak. The benefits of this tire will quickly make it a popular choice among consumers. With a durable, rubber compound, that offers a 50,000 limited mileage warranty, the WildPeak A/T will provide its owners with a long life and a smooth ride, exceeding all driving expectations.
TECHNOLOGY
*
click play button
*
- SQUARE SHOULDER PROFILE, offering an aggressive stance and maximum traction
- JOINT-LESS NYLON BAND, provides first class ride comfort
- HARD BEAD APEX, provides sidewall stability
- TWO STIFF, EXTRA-WIDE STEEL BELTS, for stable on and off road handling
REVIEWS
Falken Wild Peak A/T at Tierra Del Sol (VIDEO)
MEDIA
***
Please note that the 35" and 37" sizes are not yet available. Currently only 33" and below have been released. Falken is working hard on getting the 'big boys' out as soon as possible. The 35's and 37's should be released in January 2011.
If you have any questions or if you are running a set of WildPeaks, please post up :thumb: We, as well as Falken, would love to read them :nod:
-Matt