Discussion Starter
·
#1
·
During a recent trip to the desert to watch a Meteor shower i realized how much i hate my cargo light turning on everytime i open or unlock the doors.
So i figured out how to make the cargo light come on only with the switch.
I will try to make this as simple as i can..
There is two ways the cargo light relay can turn on..
1. the BCM (body control module) sends a ground to the relay to turn it on.
2. the switch sends a ground to the BCM which sends it to the relay.
So what i did was take the BCM out of the cargo light system. I took the ground signal wire from the back of the switch and wired it directly to the relay.
So basically all you do is take the GREY wire coming out of the switch and connect it to the PINK wire going into the relay. Make sure you cap both the wires going in to the BCM and label them so if you ever have to reconnect it it wont be a *****..
Here is a shot of the relay. It is Blue and right behind the switch. Thats the BCM next to it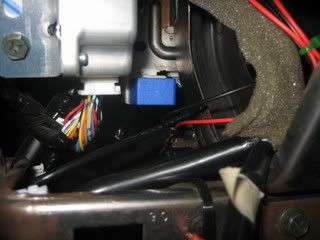 QUESTIONS WELCOME.........