Discussion Starter
•
#1
•
Voting is open and will end January 5, 2015.


Good Luck!




May 2014 - ShawnB26
Username: ShawnB26
Year: 2006
Make: Nissan
Model: Frontier
Trim: Nismo
Color: Storm Grey
Mods:
Interior:
OTTRATTW Contura Switches. (Rear Lights, Roof Lights, Bumper Lights and Burn Out).
Exterior:
Fiberwerx Front Fenders.
Fiberwerx Bedsides.
Blacked out headlights.
Color matched grill, door handles, and mirror caps.
Black chrome emblems
Debadged
2014 Tail Gate "Spoiler"
Drivetrain:
Nismo elocker.
Nismo Dana 44.
PRG diff cover.
Redline fluid.
Wheels & Tires:
17" Method Race wheels (Frontier lug pattern).
35" General Grabbers.
Suspension:
Radflo 2.5 coilovers.
Radflo 2.0 rear shocks.
Deever race pack leaf springs.
Titan LCA's.
PRG Titan UCA's.
CST spindles.
PRG shackles.
Extended brake lines.
Heim steering.
Armor:
Custom made front bumper.
Custom made rear bumper with integrated hidden hitch.
Performance:
Nismo package cold air intake.
Burn Out Mod.
Lighting:
50" LED light bar with custom roof mounts.
22" LED light bar.
2X2 LED pods rear facing.
Silverstar ZXE headlight bulbs.
Gear and Other:
Optima Yellow top battery.
Axel vent mod.
Recessed full size spare in bed.
HF floor jack with skid plate mounted in bed
June 2014 - sudingusnavy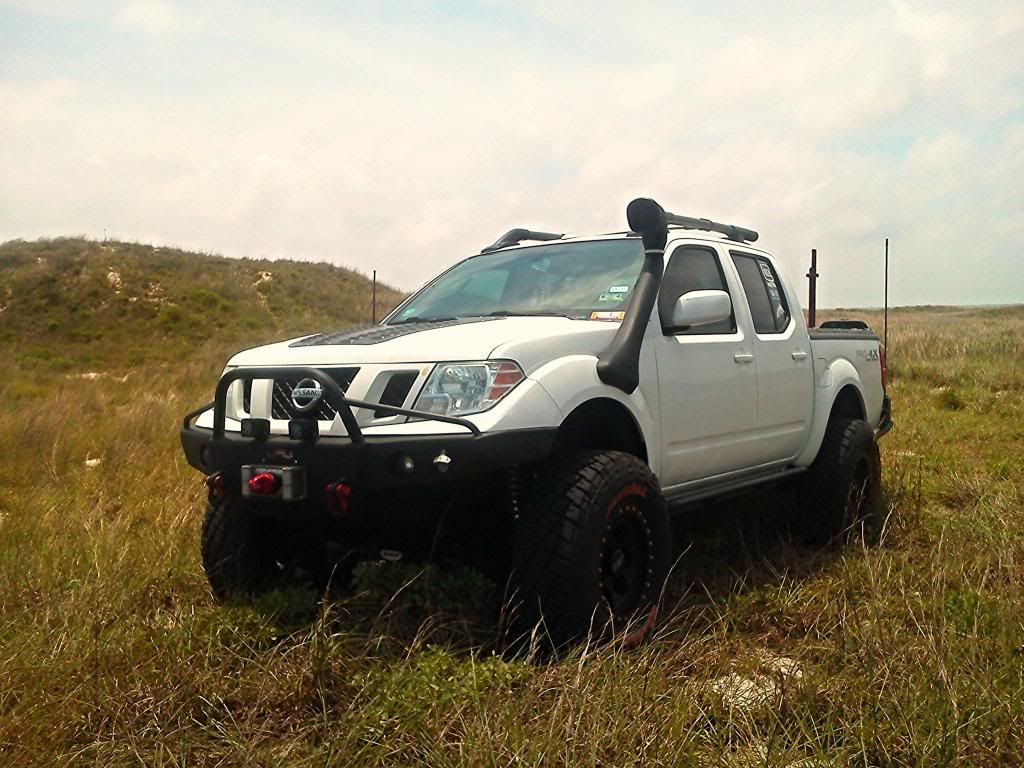 2011 PRO4X
Mods:
Axle vent mod, Intake cone removal, Installed filter on Front diff. breather and tucked, Back up alarm!! BEEP BEEP!! lol!
Interior:
4x4 S-pod, ARB Twin Air Compressor, WeatherTech floor mats, mag-light mount w/ light, amber toggle switch rigid fog lights, cobra 29lx CB, cabin LED lights, and my amazing self in the driver seat!
Exterior:
Poison Spyder Hood Louver, Q9000lb Quadratech winch W/ Factor-55 Prolink, Baja rack, Rigid ind. fog lights, hi-lift mounted on rear bumper, shovel and ax mounted in the bed, fire extinguisher mounted on trac, 4 RotoPax 2 on rear bumper & two mounted in bed, Fire-stick CB antenna, short radio antenna, ammo can mount W/first aid/ recovery gear, Soft topper, 30% tint on front windows, Custom built hitch for hefty bumper. Rigid Ind. Dully bed light, Rigid Ind. Dully back up light.
Drivetrain:
4.56 gears in the rear, 3 1/2in. steel drive shaft, M205 w/ 4.56 gears, and ARB locker in the front.
Suspension & Tires:
Rancho 4in. Titan DB lift, Titan PRG UCA, PRG Heim steering arm links, SS brake lines, Deaver AAL, Rancho 2in blocks , PRG Adj. shackles, stock Titan LCA's, Sway Away 2.5 23in. C/O's 700 spring weight, Bilstein 5125 5in. shocks, 2in wheel spacers in rear, 35x12.50r17 General Grabbers "red letters out", Mickey Thompson Black Classic Lock wheels.
Armor:
Hefty Fabworks full skids, winch bumper w/ Rear bumper / carrier, Shrockworks sliders, titan diff cover and rocky road diff skid.
Performance:
DT Shorty Headers, Kool Vue/ Volant CAI hybrid, Airflow snorkel, Helix TBS, XTP IMS, Prerunner B-Pipes, Custom exhaust w/ Bullet performance resonator & muffler, optimum yellow top battery, SUN Hyper voltage system GT & Hyper grounding system.
In Progress:
Too big to list right now but, I'm sure the list will never end!
July 2014 - SeguraGreenWave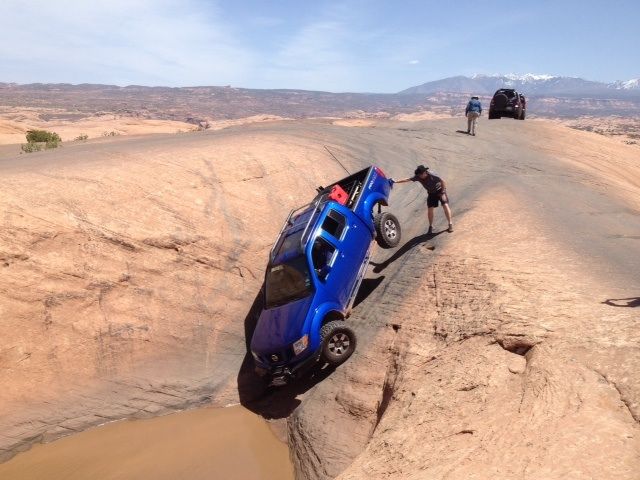 2012 CC Pro-4x lux
Interior:
Cobra 19 DX IV
Exterior:
Alien Aero LED's - 2 sets: 1 flood, 1 euro, Curt rear hitch, Smittybilt XR8 winch, Custom bed-lined Hepsdesigns bed rack - 3 gallon Rotopax, hi-lift, axe, shovel, and spare on rack, Firestick II 4'
Suspension & Tires:
PRG upper arms, Radflo 2.0 lifted coil-overs and 1" top plate, PRG 1.5 rear blocks, PRG Deaver 2" AAL, Bilstein 5125 4" lifted rears, 285/75/16 Pro Comp Extreme MT2
Armor:
BTF Diff Cover, Shrockworks sliders, Calmini winch bumper, Full Hefty Fabworks skids
Performance:
Stock - 2* timing advance
Gear and Other:
48" Hi-lift jack, Foldable shovel and 48" shovel, Hatchet and axe, Multi-tool, Viair portable compressor 85P, Smittybilt winch accessory kit, 3 gallon Rotopax
August 2014 - shooterwillie
2012 Pro-4x Crew Cab
Performance:
Rear wheel- 315 hp and 294 ft lbs torque. Stillen Supercharger kit with UpRev tuning and 725cc injectors and larger 255lph fuel pump with piggy back unit removed. Cooler rated spark plugs. Stillen Cold Air Induction kit with clear plexi-glass cover. Stillen Light Weight Crank Pulley (not Under Drive). Throttle body bored out to 74mm from 70mm. 350z thermostat to lower coolant temps. Saikou Michi oil catch can installed. Doug Thorley headers (ceramic coated). aFe 2.5" exhaust (2 in 1 out) which deletes restrictive "Y" pattern. B-pipes added (rear cats deleted. Vibrant Resonator installed to keep drone out and quiet exhaust when rear cats were deleted. Transgo Shift kit installed for transmission. Optima Yellow top battery. Hypertech calibration unit for speedometer correction. Nismo radiator cap, water wetter in radiator and innercooler.
Drivetrain:
4.10 gears (retained factory front diff). Lokka automatic locker in front and factory e-locker in rear with Red line oil. Stillen large rear diff cover painted "GoManGo"
Suspension/tires:
33" Toyo Open Country ATII (LT285/70x17) E rated tires. MB Chaos 17"x8.5" rims. Factory bilsteins in place with Calmini spacer and shackle lift of 2.5" in front and 1.5" in rear.
Exterior:
Calmini front and rear prerunner bumpers. Powered rear sliding glass window. Grill craft mesh grill added. debadged truck. Lifetime LED headlights and 20" LED light bar on front bumper. GoLight remote control LED spot light (magnet mount). LED cree back up light bulbs. Stainless steel cup holders (I always drink while working on truck; therapeutic). Diamond triband antenna (around 36" I think). 2 AT aluminum gas can holders bolted into bed of truck for 10 gallons of extra fuel (93 octane only). Hi-Lift jack mounted to bed. Power tank Co2 mounted on passenger side fender well. Tan Soft Topper with mesh and clear rear flap. Tint strip to windshield and tinted sun roof. Removed roof rack. Painted front sway bar "GoManGo".
Interior:
Bully Dog tuner used as monitor with a boost gauge just above right knee. JVC DVD player with bypass and back up camera. Yaesu VX-6R Tri Band radio on portable mount to console. Koplin vertical gun rack on transmission tunnel (installed as needed). Auxiliary power port added (removed factory I-pod connector). Kydex coat hanger attached to back of drivers seat. Tablet holder attached to headrest of passenger seat. Ebay steel pedals drilled through.
Various Mods:
Rogue Key mod, rear axle vent mod, TB coolant hose mod.
September 2014 - humz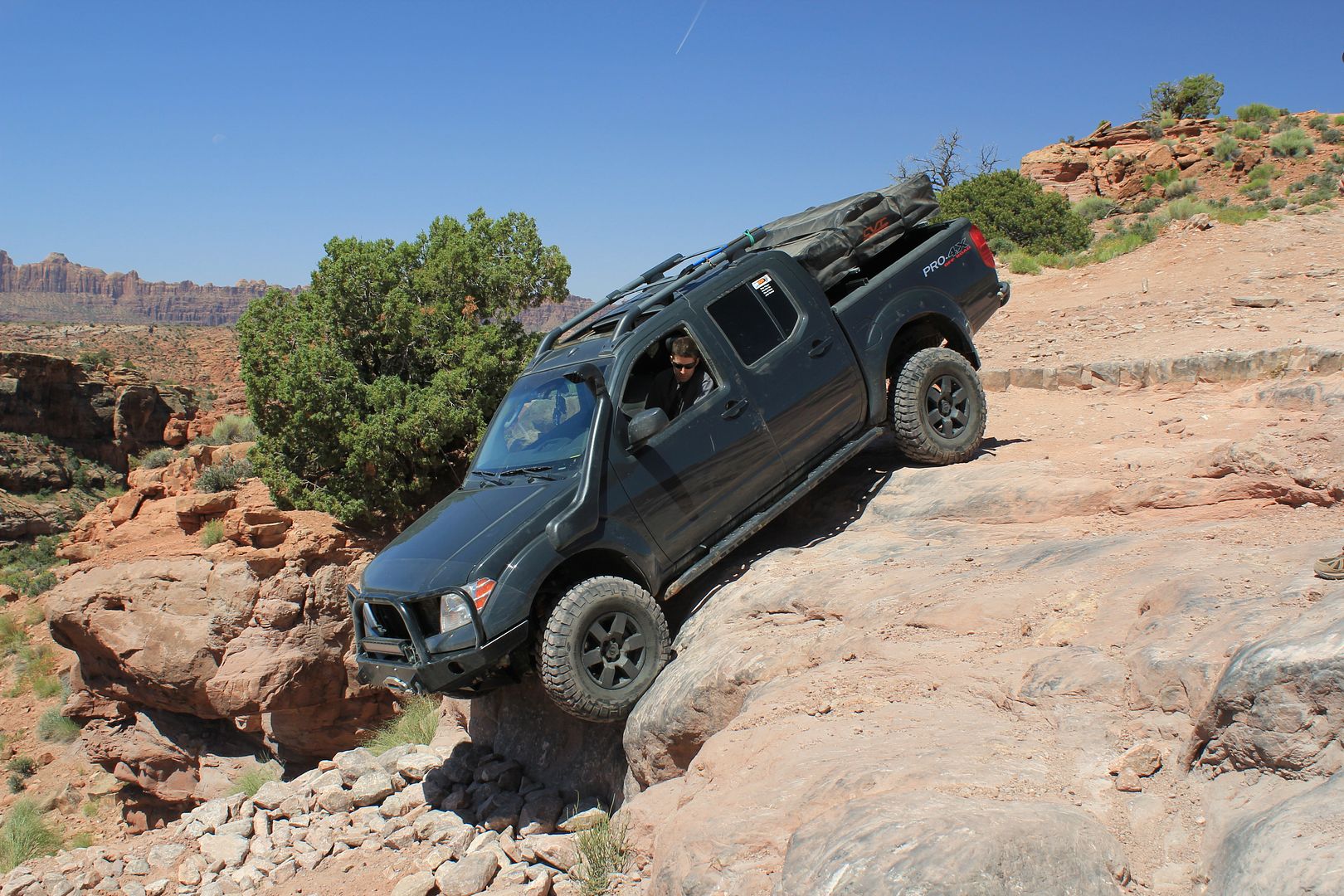 2010 Pro 4x CC
Performance:
XTP IMS, Bullydog GT, K&N
Exterior:
Shrock front, Calmini Rear, Hefty skids & sliders, 20" LED, Safari style snorkel, Hi-lift mounted to uni-strut rack, boxed lower shock mounts (rear), Shrock diff skid.
Tires:
255/85/16 KM2, 285/75/16 Duratracs (winter)
Suspension:
PRG titan swap SAW package, w/ m205, PRG titan uppers, Alcan leaf springs at 3.5" lift at 300lbs added payload, Bilstein 5125 rears.
Recovery/Expedition:
TJM compressor and recovery strap, XRC-8 winch, Whytner 45 QT Fridge/freezer, CVT MT Washington Roof top tent
October 2014 - jcbaert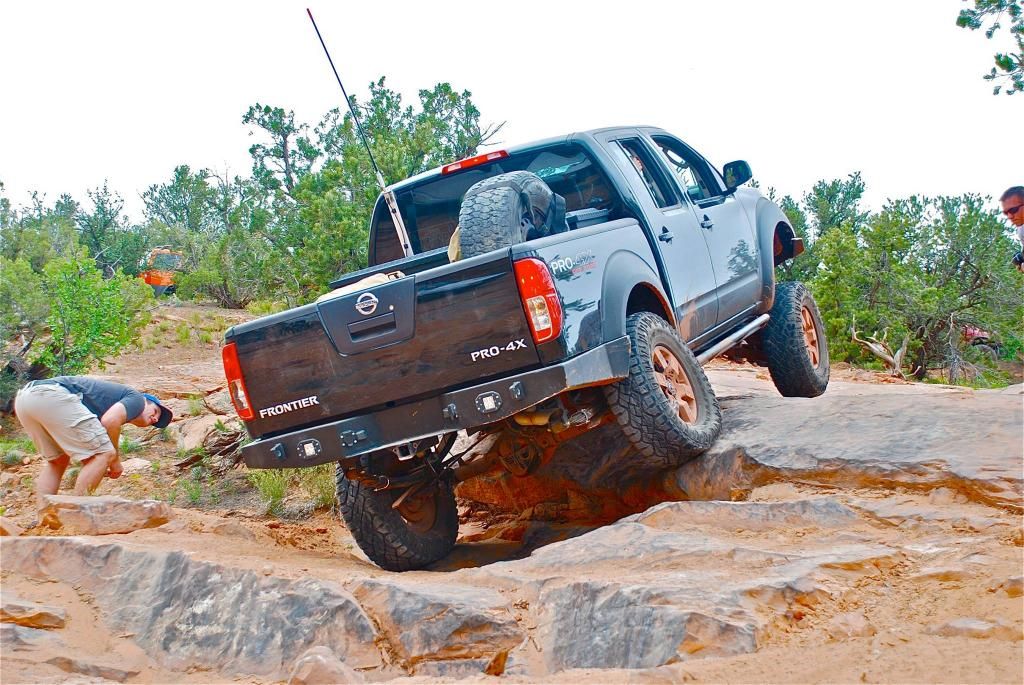 2010 Pro-4X Luxury CrewCab
Lift:
7"(ish) total using Calmini DB, T-Swapped, PRG UCA, 2.5 600# Radflo coilovers, 2.0 Radflo rear, Xterra DIY AAL Pack, adjustable shackles and 1.5" DIY BL
Wheels and Tires:
Bedlined wheels with 285/75/16 Goodyear Duratracs
Drivetrain and Performance:
M205 front diff w/ARB locker, 4.56 Gears, custom steel rear driveline, K&N CAI and Bully Dog GT Tuner
Interior:
Weathertech floor mats, Viper 5704 remote starter and alarm and Cobra 29 LX CB w/PA speaker
Armor:
Custom rock sliders w/bolt on drop steps, Custom front and rear bumpers, Calmini diff skid, Shrock gas and diff skid, custom radiator skid, custom trans skid, reinforced rear lower shock mounts and U-bolt flip kit
Accessories and such:
SmittyBilt X2O 8 winch, High Lift Jack, lots of straps and shackles, Dual Viair 480c OBA with 5 Gallon tank, Front 20" dual LED light bar, Rear in bumper LED reverse lights, OTRATTW switch panel, Utilitrac sliding toolbox, Rustoleum Bedlined rockers and lots of character from off-roading