Discussion Starter
·
#1
·
Sharing my recent/ongoing project on my 98 KC XE 5MT 2WD, which is swapping out the H190 axle for an H233B, and adding some other related goodies. I've seen similar swaps done before, but I approached this one a bit differently. This swap uses the following components:
An H233B axle housing from a D21 V6 2WD
Gears from a D21 V6 2WD (existed with 3.55, 3.70, and 3.90 gears, vs. the 4.375 or 4.625 commonly found)
H233B 3rd member housing from a 96-04 2WD R50 or W/D22 with ABS sensor on the pinion
31-spline W/D21 axle shafts
31-spline LSD differential
WD21 rear disc brake set (best to grab the entire axle shaft with backing plates and all)
OEM Spicer 1310 series H233B pinion yoke (uses outer snap rings, 5153X u-joints)
WD22 Xterra rear sway bar
New speedometer pinion gear
Brake lines
My "expertise" is in Nissan axles and differentials up to 2004 models, so this project is pretty much of an extension of that. I run an 04 Pathfinder SE 4WD with dual air lockers, plus a rear disc brake swap from a WD21 Pathfinder, among other modifications. I still do a few locker installs and LSD repacks, too.
This Frontier has been in the family since new, but in recent years has been relegated to simple truck duties. It only sees a couple trips every few months, and probably no more than 500 miles a year. Rodents were starting to get cozy in the engine bay. I've been wanting to restore/rebuild everything for a while, but other truck projects have prevailed. The original fuel pump finally failed after 212K miles and 23 years, and became the catalyst to starting this project. In reality, it'll be the start of me restoring/rebuilding the entire truck...which still runs fine, but just needs some love.
The reason for doing this swap was in anticipation of building it up a bit...still undecided between keeping it NA, or turbo, or engine swap. Leaning towards turbo right now. I also hoard Nissan axles and diffs, so I'm sitting on LSD units and parts, and happened to stumble across the right D21 and WD21 donors in the same junkyard, about 60' from each other, so I hodge-podged the perfect axle on the spot just for this truck.
I decided to start with the rear because of the fuel pump. Rather than wedge my husky self under a slightly lowered truck to drop the tank, I pulled the bed instead. This gave me all the working space I needed.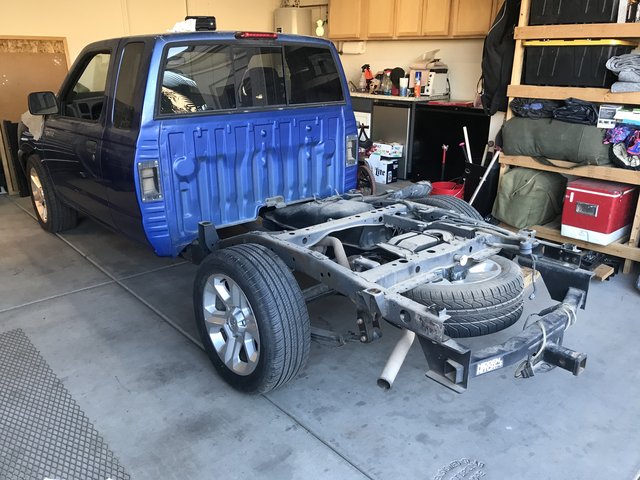 I pulled
everything
off the frame as part of my restoration process...not that any of this is needed for the swap, but all part of the finished result I want.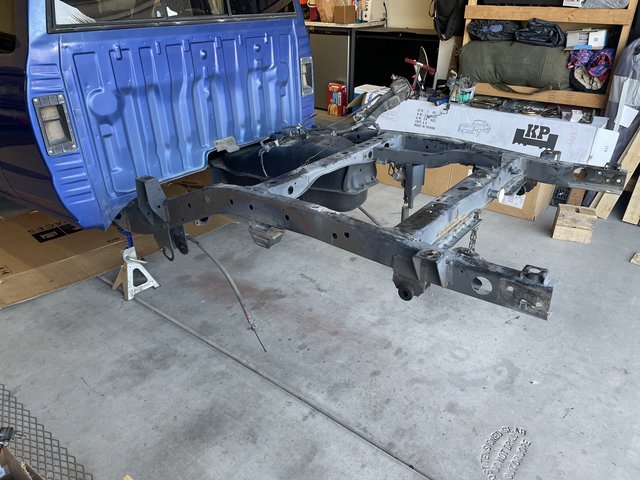 Puny and tired H190...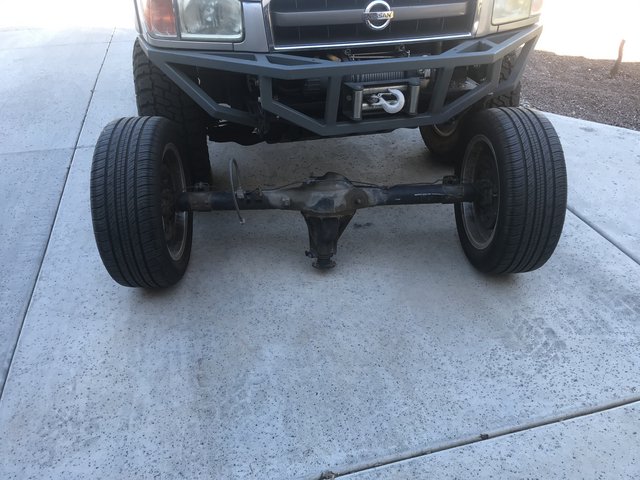 All cleaned up and painted: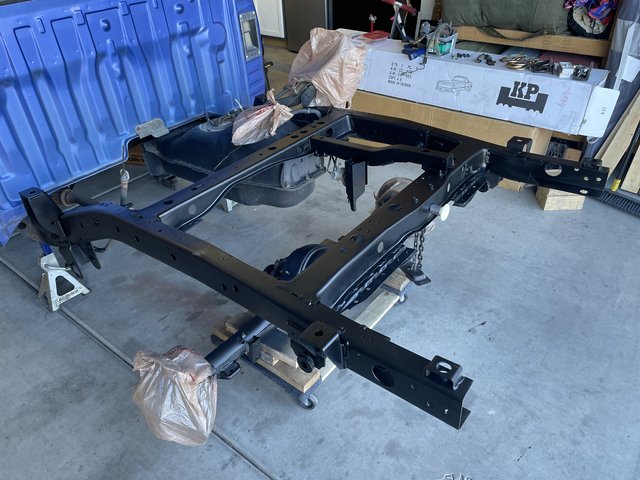 Mostly everything re-installed: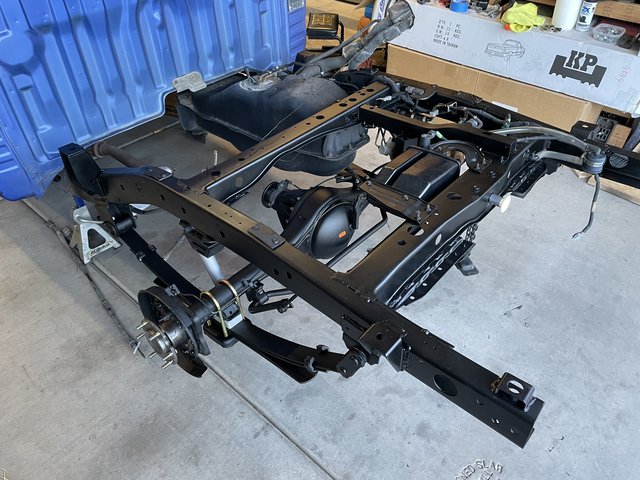 Here's a comparison between an H190 and H233 diff: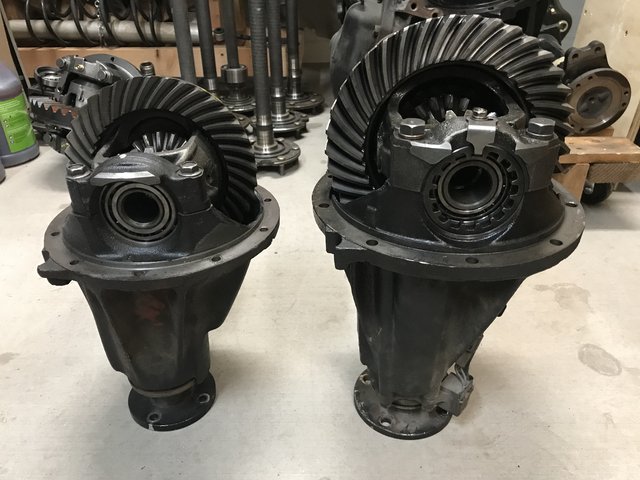 So now, the technical talk part...
The previous builds I've seen have used the full axle from a WD21 Pathfinder because they were available with disc brakes, and usually had a LSD. In order to use that axle, you need to cut off all the 5-link perches and weld on new leaf spring perches. They also have lower gears not found on H190A-equipped trucks (the C200-equipped trucks were a little closer). The D21 V6 2WD axle works well here because it's already got the leaf-under perches that are set to the same width as the D22 2WD; in fact, the axle housing didn't require any modification to fit here. The D21 V6 2WD donors will also have the higher (lower numerically) gear ratios. My truck has 3.7 gears, and the donor has 3.9's...reasonably close, and easily corrected by swapping the gear on the speed sensor (the gears are available from Nissan and can be replaced easily, I'm swapping my 17-tooth gear for an 18-tooth).
Notably, I did have a set of 3.7 H233B gears, which would have been great to use, but they were from an 87 D21 (a rather rare one, actually...VG30
Standard Cab
2WD 5MT with bucket seats, sunroof, power doors and windows...a real gem, but beyond repair unfortunately). Anyway, the older Nissans had a 3rd member with 9 bolts, not the 11-bolt pattern all newer 3rds had. However, the pinion gear also does not fit newer 3rd members, either (the shaft and tail are smaller). So, I sticking with the 3.9's instead, which I think will be better in the long run anyway.
My truck has rear ABS only, which uses a tone ring behind the pinion flange instead of at the ends of the axle housing tubes. If you have the same ABS setup and want to keep it like I do, you'll need a 3rd member housing with it on the snout. Note that some older 3rds have a different ABS sensor (the pic above has the older style); on mine, the H190A sensor fit the H233B collar just fine, and used the same wiring harness. The sensors looked different, though, so I used the H233B sensor. All the 3rd member parts (bearings, seals, pinion, etc.) interchange whether the 3rd has or does not have the ABS collar. To keep the wiring secure, I welded on mounting tabs to the axle housing. Of course, since the truck is not yet driveable, I have no clue if the different tone ring and/or sensor is going to confuse the ABS computer yet...so we'll see.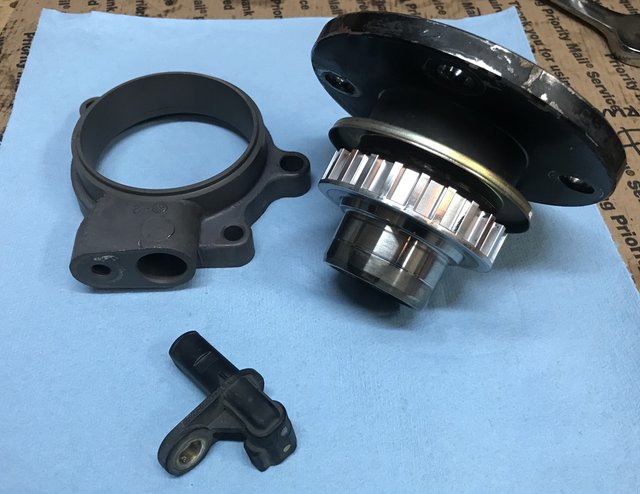 The D21 axle donor had an open diff, so I used a 31-spline LSD diff that I re-packed to 105 ft-lbs. I'm not sure if this is high or low for 2wd street use, but it far exceeds what Nissan thought was suitable in all R50s and 03-04 W/D22s. The LSDs I repack for 4WD usage I usually put around 200-275 ft-lbs, depending on driver needs and parts on hand. I won't go into details about it here because I have a full write-up at NPORA:
How To Repack a H233B LSD
. Note, too, here that you need a 31-spline LSD. A 33-spline LSD won't work well because the WMS on those axles is about 4" wider...I mean, you can put a W/D22 H233B on the truck, but it just introduces problems.
As for the disc brakes, the WD21 axle shaft assemblies install directly into the D21 housing. Only notable here is that some H233B axles used single-cone bearings while others used dual-cone bearings. The single-cone models will have shims at the axle tube openings and a thrust block in the differential (the donor did). Since the WD21 axles were dual-cone, the shims and thrust block in the diff should be removed. Obviously, you can use W/D21 drum brakes, adhering to the same bearing and thrust block usage. Note that the D21 and WD21 axle shafts are the same length, so this is why it's convenient to use the complete WD21 axle shafts...plug and play. In my case, I tore down the axle shafts to clean and regrease everything. I will also not going into full details about the disc brake swap because it's been covered here at CF and Xterra Nation where it's more applicable to D22. Of course, I also have my own R50 write-up about it, too:
R50 Disc Brake Conversion
.
Fun fact: if you have a C200, you can also do the disc brake swap.
I'm still working on the parking brake setup. On my R50, I made some spacers that adapted the R50 cable to the WD21 backing plate, but for this, I will be splicing the WD21 mounting feet to the D22 cables using a 2/0 compression butt splice. The parking brake cabling between my R50 and D22 are very similar, but note that some D22 use a cross-over cable that's completely different and won't work with the WD21 parking brake setup without extra work, if at all.
For the driveshaft, the H190 pinion flange has a smaller bolt pattern than the C200 and H233, which are the same. The workaround here is to replace the H190 driveshaft yoke with another one that was available on H233 that used outer clips on the u-joints. My driveshaft uses the same outer-clip u-joints, so the yoke can just be swapped on. However, the H233 diff is 1" longer than the H190, so the driveshaft also needs to be shortened 1". I'm still deciding whether I want to do this myself, or have a shop do it (the shops I've called don't seem to want to do the work...as soon as you mention "Nissan" to probably Jeepers, they brush you off; I'll still want a shop to at least balance it). The driveshaft uses Spicer yokes, and a brand new, weld-in yoke runs about $20-$25. The driveshaft OD is 2.5", so there are two possible Spicer yokes depending on the tube wall thickness (which I don't know yet): 2-28-367 and 2-28-277. The code stamped on the OE yokes appears to be obsolete, and I've not been able to find an old reference. I'm not yet ready to cut the tube to find out.
I decided to put an D22 Xterra sway bar on because...why not? This is optional, of course. I welded the perches on the axle a little lower than they are on the X to avoid potential routing issues with the brake lines. I made my own mounts, but weld-on kits exist. This also required welding on upper mounts to the frame.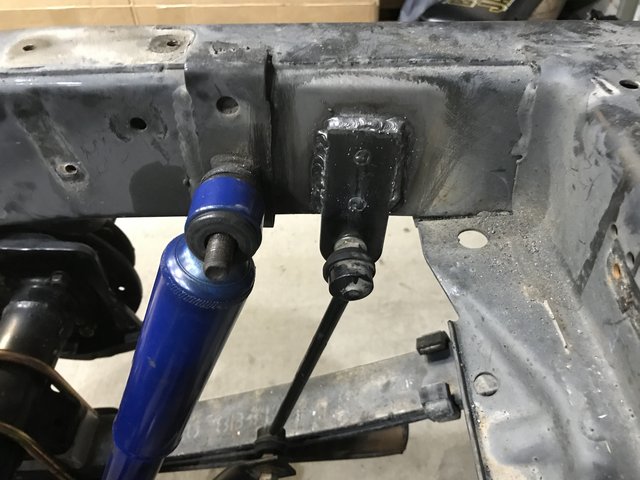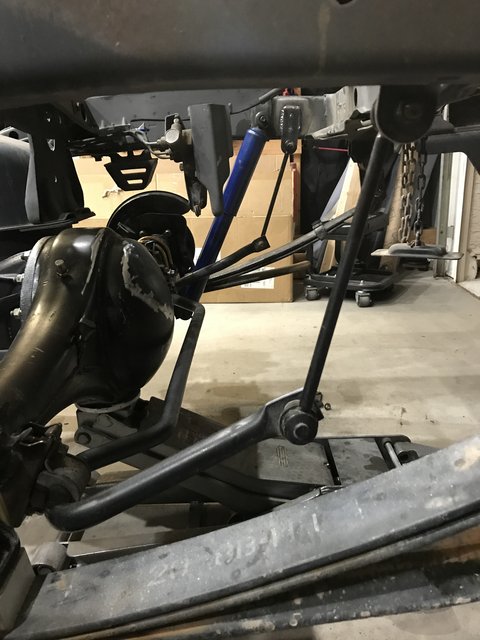 Lastly, brake lines. You should be able to bring over the WD21 brake lines, but I usually see them damaged and unusable. Instead, I use some readily-available Poly-Armour brake lines that already have fittings and flared lines installed. The lengths I used were 51" (PAJ-351) and 20" (PAJ-320), and they're about $5 each. They are 3/16" lines with M10x1 fittings. I used the same brand/style on my R50 conversion.
The near-completed result: