detailing guide
---
Ok so there has been a lot of questions on how to do a full exterior detail. Here is my rough guide and most of you know how good my truck looks.
Things you need in no real order:
Clean bucket
Sponge or wash mitt
Good spray nozzle
Car wash soap
Wax, what every your flavor
Spray wax
Spray detailer
Bug and tar remover
Foaming tire cleaner
Tire wet
Clay bar
Micro fiber cloths
California blade or shammy
Wax applicator pads
Back to black
Tire wet applicator
Metal polish (I use mothers power metal polish, works well with polishing ball or by hand)
Rags
Keep them out and near you when working on the truck
Starting point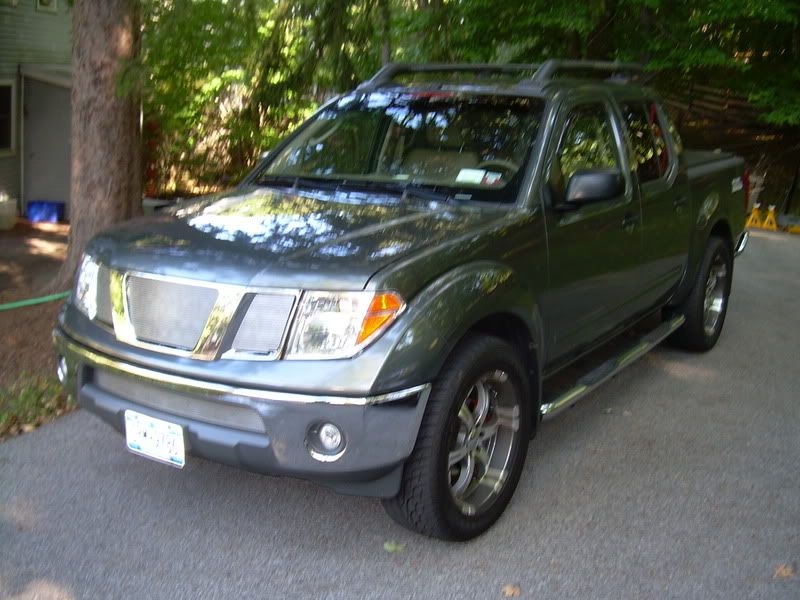 Faded front cowl
Step 1:
(only for guys with stock rims) spray the tire cleaner on the tire and wheels and let sit, (every one) use the bug and tar remover spray the front of the truck where the bugs are and any bird spots on the rest of the truck.
Step 2 :
spray down the truck with water. Donít go full blast other than the bird dropping spots and front end. Also hose off tire cleaner for the wheels.
Try and keep you spray looking like this (nice and light)
Step 3:
washing the truck, mix up some soap and water in the bucket. I like going a little heavy on the soap so there is more foam but thatís just me. Use the sponge or wash mitt, I like a mitt personally, in long horizontal stokes no swirls or up and down, this keeps swirl marks down.
Then spray clean using a good amount of pressure from the water hose
Repeat if needed (I like doing it twice)
Step 4:
Drying, I use a California blade to get the water off my truck but you can also use a shammy. For either one I like going from the top of the truck towards the ground that way water will also use gravity to come off the truck.
Video: using a cali type blade
Step 5:
How to clay bar (been a lot of people asking about this recently so here is how I clay bar. (note can be done when the truck is wet as well) First get a fresh bucket of soap and water and clean off your sponge or wash mitt (even better if you have a fresh clean one) Again go in horizontal motions but do small areas at a time. Then take your clay bar and go across the body in horizontal motions. If the bar becomes hard to slide add more soap and water. When the bar slides freely with out any sound (you rear it scraping up the imperfections) you can move on to the next part. Always try and keep the clay looking clean so youíll need to mush it and make the bar again.
Video of my style of clay baring
---
Past 2006 SE with way too many mods.
Current 2015 TRD OR Tacoma
Shift_Obsessed
Step 6:
Waxing. I know most of you have seen the karate kid and the whole wax on wax off method. DON'T EVER DO THAT AGAIN. Get it circles are bad very, very bad, using circles when you wax will equal swirl marks in your paint. I use the sane method that I use when I clay and wash, basic use long horizontal stokes. There are 2 basic types of wax, solid and liquid. When using the solid wax I like a large pad and work wax into one side then apply to the truck. When using liquid I like a smaller pad, put a small amount of wax on the paint and then work in with the pad (again no circles only long horizontal stokes) When removing wax use the same method along with a clean mirco fiber cloth
Video 1, solid type wax, video 2, liquid wax, video 3 removing wax
(optional spray wax) I've found that if I spray wax the truck after doing a wax that it will last longer and clean up better. So spray wax the truck spray a small area work in with a clean cloth then remove any haze or access with another cloth,.
Step 7:
Cleaning and dressing up wheels and tires. First spray some tire wet onto the pad. Then work your way around the wheel making sure you get it even. Note if you have raised white letters use an old junk rag and clean the letters off (makes the tires looks a lot better) Once you have the tire clean spray the rim with detailer and clean with micro fiber cloth. (painted wheels only) take some spray wax and spray your painted areas and wipe off with another clean micro fiber cloth.
Video 1, tire dressing, Video 2, cleaning the rim
Step 8:
Cleaning chrome and polished parts. To clean chrome and polished parts I use 2 methods, either works. Use the spray detailer on the part you want to clean. Work in with one part of a micro fiber cloth then work off with another part of the cloth, again try to keep going in one direction. The other way to do it is using a power metal polish. I take it pour it onto a rag work into the part then take off with a micro fiber cloth.
Before: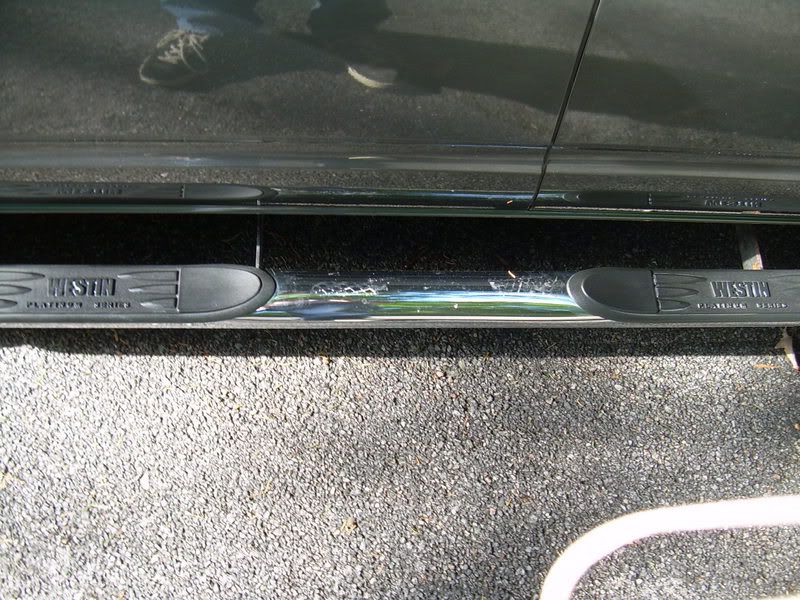 After: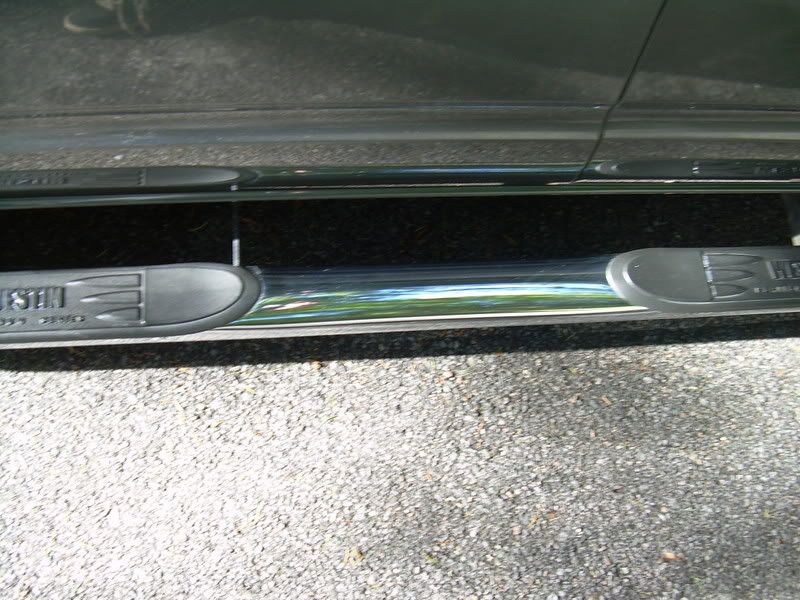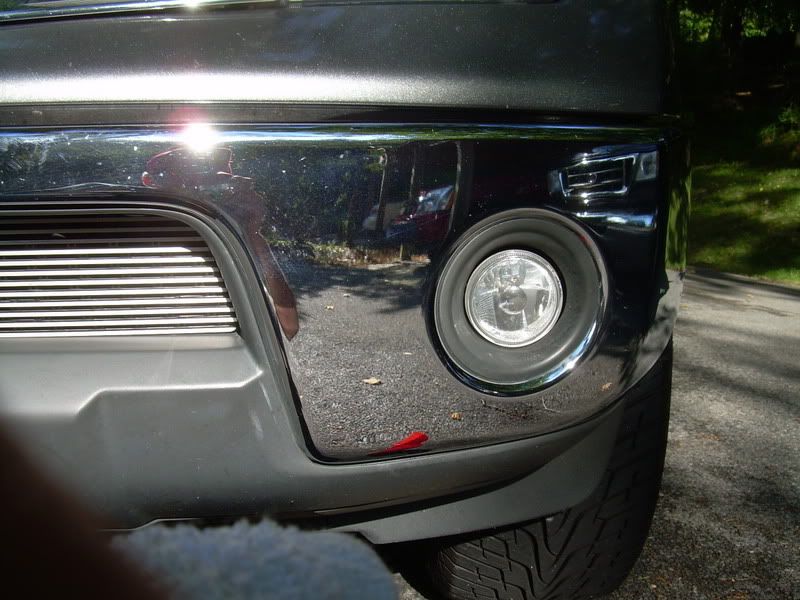 ---
Past 2006 SE with way too many mods.
Current 2015 TRD OR Tacoma
Shift_Obsessed
Step 9:
cleaning plastic parts, AKA back to black. We all know how our trucks love to go from nice black plastic to this faded grayish white. To get them back to black I use mothers back to black liquid. For areas like the cowl and the bed caps apply it in a thin bead and work in with a cloth. For handles and the window trim put a small amount on a clean rag and work into the part, (not if really faded you might need to do this a few times)
Pics,
Faded plastic cowl
See the line I stopped at with first application of the back to black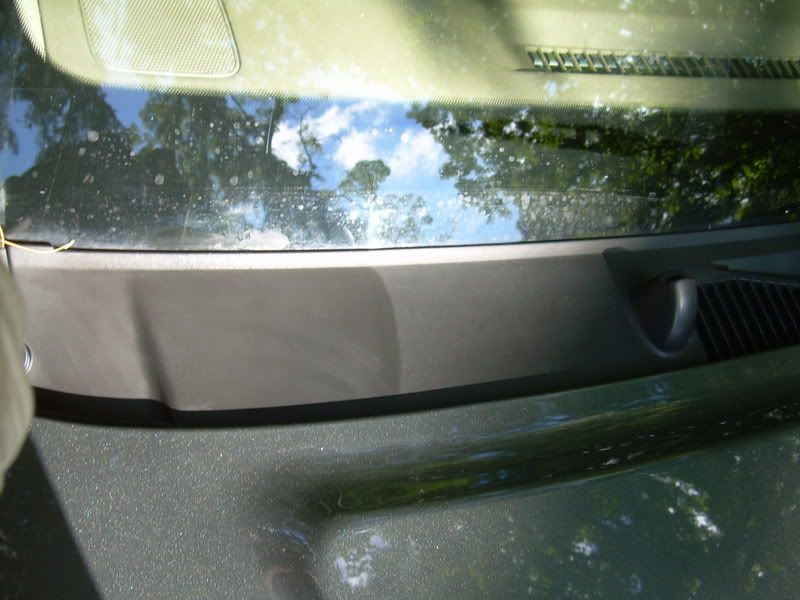 After one coat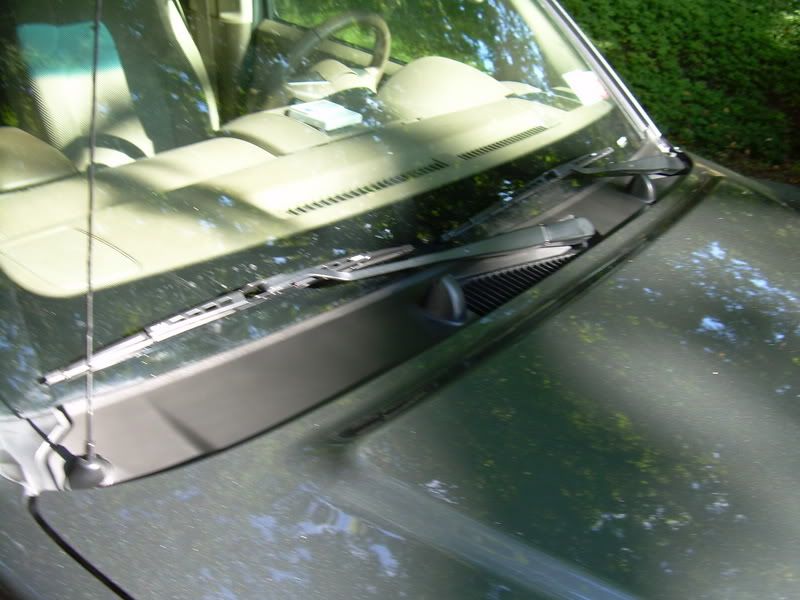 Step back and enjoy your fully detailed ride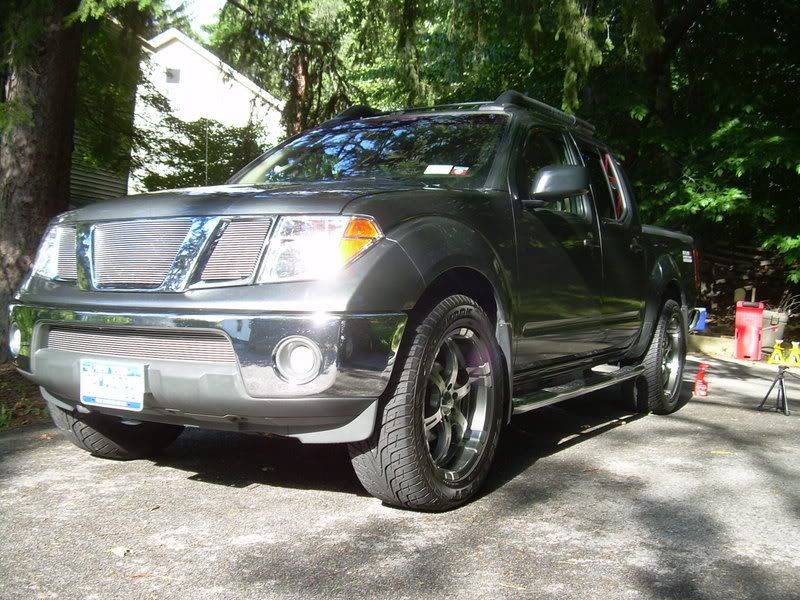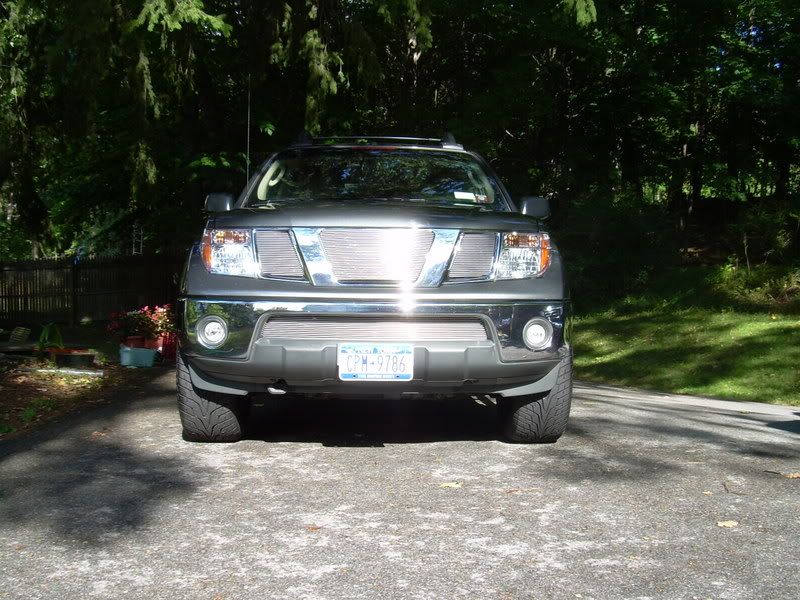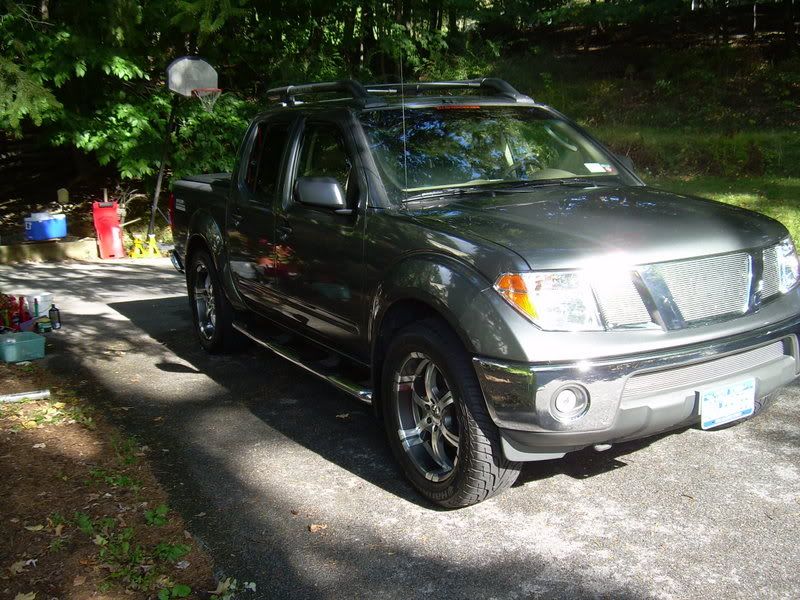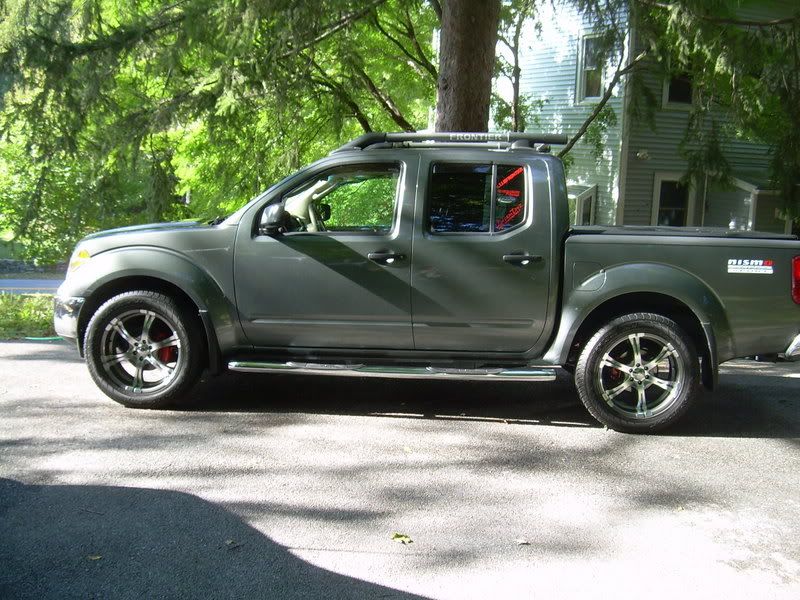 (more show off pics coming soon)
---
Past 2006 SE with way too many mods.
Current 2015 TRD OR Tacoma
Shift_Enthusiast
Join Date: Mar 2007
Posts: 106
Mentioned: 0 Post(s)
Quoted: 0 Post(s)
Thanks: 0
Thanked 0 Times in 0 Posts
Feedback Score: 0 reviews
Very nice job. Your truck looked pretty good to begin with. I'm sure this will help out a bunch of people who never really did a full detail.
I gotta say, that first pic with all your cleaning products. Damn, that looked like a store shelf. I don't have nearly that much stuff. But I'm slowly building my collection of favorites.
I shall be doing my truck within the next two weeks once i get my PC in. I am very excited about that. First time for me not doing it hand-method. I'll do some before and afters too. Thanks agan for the write-up
Shift_Obsessed
that photo is a little deceving, i have like 4 bottles of spray detailer 2 bottes of spraywax, tire wet and some others becasue I won a car care kit a car show a few weeks back, but I have been building quite a collection of stuff and if its a nice day i dont mind hanging in my driveway doing it with some music blasting
---
Past 2006 SE with way too many mods.
Current 2015 TRD OR Tacoma
Shift_Hardcore
Join Date: Jun 2006
Location: Regina, SK Canada
Posts: 1,624
Mentioned: 0 Post(s)
Quoted: 0 Post(s)
Thanks: 5
Thanked 22 Times in 18 Posts
Feedback Score: 2 reviews
Good write up Drew.....
---
Interior Mods:
Pioneer AVIC D3 w/IPOD and Sirius, Hertz ECX 690 6x9 speakers, Hertz ECX 165 6.5 speakers. Husky floor mats.Wood grain dash. Wet Okole seat covers. Superchip Cortex Tuned.
Exterior Mods:
18 Inch Nismo wheels with LT285/65R18 BF Goodrich A/T's. Rhino Lined Bed. Sylvania Silverstar headlights. Stainless grill inserts. Chrome OEM mirrors and door handles. OEM hood protector and fogs. Stubby antenna. LED taillights and brakelights.
Suspension Mods:
Radflo lift coil overs, PRG UCA's, Removed sway bar, Deavers, Radflo Ext. Res. shocks.
Shift_Newbie
Join Date: Dec 2006
Location: Snellville, GA just outside Atlanta
Posts: 72
Mentioned: 0 Post(s)
Quoted: 0 Post(s)
Thanks: 5
Thanked 0 Times in 0 Posts
Feedback Score: 0 reviews
Good info. I find that detailing is like barbeque in the South, everyone has their own way of doing it and their own favorite.

Unfortunately, with a total watering ban in GA hand washing is out and I won't take mine through a commercial car wash.
---
GA Fronty
Radiant Silver
'05 SE CC
6 Speed 2WD
Shift_Obsessed
Quote:
Originally Posted by beefy242
what? no invisible glass and newspaper????
everyone has their own way for windows do didnt touch on that
---
Past 2006 SE with way too many mods.
Current 2015 TRD OR Tacoma
Shift_Enthusiast
Join Date: Oct 2007
Location: Orlando, Florida
Posts: 169
Mentioned: 0 Post(s)
Quoted: 0 Post(s)
Thanks: 0
Thanked 0 Times in 0 Posts
Feedback Score: 0 reviews
Good write up. Nice to see some one else who puts the same thought and time into their truck as I do. Makes me feel normal he he he.
---
Bouncerhouse23 '05 Crew, short bed, 6spd, RWD. Upgraded Headlight Bulbs and an Extang Classic Platinum Tunneau, but nothing else done yet...I still use if for work and don't want to screw up any mods. Should become a project truck soon. Only regret is that it is not a diesel...Damn US limited engine choices.
Currently Active Users Viewing This Thread: 1

(0 members and 1 guests)
Posting Rules

You may not post new threads

You may not post replies

You may not post attachments

You may not edit your posts

---

HTML code is Off

---